Explore Prince William Sound—and do so at your own pace, with an eye toward your own interests, thanks to this family-run water taxi and tour operator based in Whittier. Captain Mike and his staff know and love Whittier and Prince William Sound—and with good reason. This is a dynamic area, with the highest concentration of tidewater glaciers you'll find anywhere. In less than an hour, you can be at the base of two different tidewater glaciers.
Custom Glacier & Wildlife Cruises
All tours are on one of Lazy Otter's two water taxis which feature comfortable indoor seating and an outside deck space for photography. One vessel holds just six passengers, making it ideal for small groups. These tours stay intimate: Lazy Otter will do trips for groups as small as four (and for a party of less than four, they'll try to match you with another group). The other vessel can hold up to 22 passengers, making it ideal for larger groups.
Best of Prince William Sound Cruise
Capt. Mike asks your personal priorities and design the 8-to-9-hour day ($260 per person) accordingly: cruising among the numerous glaciers in College Fjord and seeing ancient icebergs and the faces of towering tidewater glaciers. Or you can cruise deep into the heart of Prince William Sound looking for humpback and killer whales—as well as seeing Dalls porpoise, large rafts of sea otters, and rookeries of fascinating sea birds. There's also room for beach combing, hiking or tidepooling, and capped off with a delicious Alaskan style lunch
6 hour Wildlife and Glacier Cruise
This cruise offers a little bit of everything. We will cruise into western Prince William Sound and to the group of islands know for the bird rookeries and sea lion haul outs. Puffins and other sea birds like these secluded island away from predators. Continuing our cruise will visit Lake Bay for the commercial fishing action at the Wally Norenberg Hatchery. Here we often see Steller sea lions, bald eagles, and sea otters taking advantage of the salmon heading back to the hatchery to spawn. On to Blackstone Bay where we will visit the glaciers in this fascinating fjord. Blackstone and Beloit are two tidewater glaciers and Northland is a dramatic hanging glacier with a spectacular waterfall. Your experience will leave you with a vivid understanding of the history of glaciation. *This is a great option for folks with limited time but want glaciers and wildlife including puffins! This 6-hour trip is $230 per person.
Blackstone Glacier Cruise (winter dates available)
This 4.5-hour journey ($185 per person) up Blackstone Bay takes you by sheer cliff walls and tumbling waterfalls in route to two tidewater glaciers, Beloit and Blackstone. You'll eat lunch tucked up in a safe nook between Blackstone and Northland glacier, at the base of a spectacular waterfall, then spend the rest of the day exploring a kittiwake rookery and bald eagle nests. There's also time to step ashore to experience the natural geology of this glacial carved fjord —this is a great place to experience the history of Glaciation before your very eyes. Visiting outside of the main summer season? This trip is available through October, and starts up again the end of February through April.
Ride-Along Adventures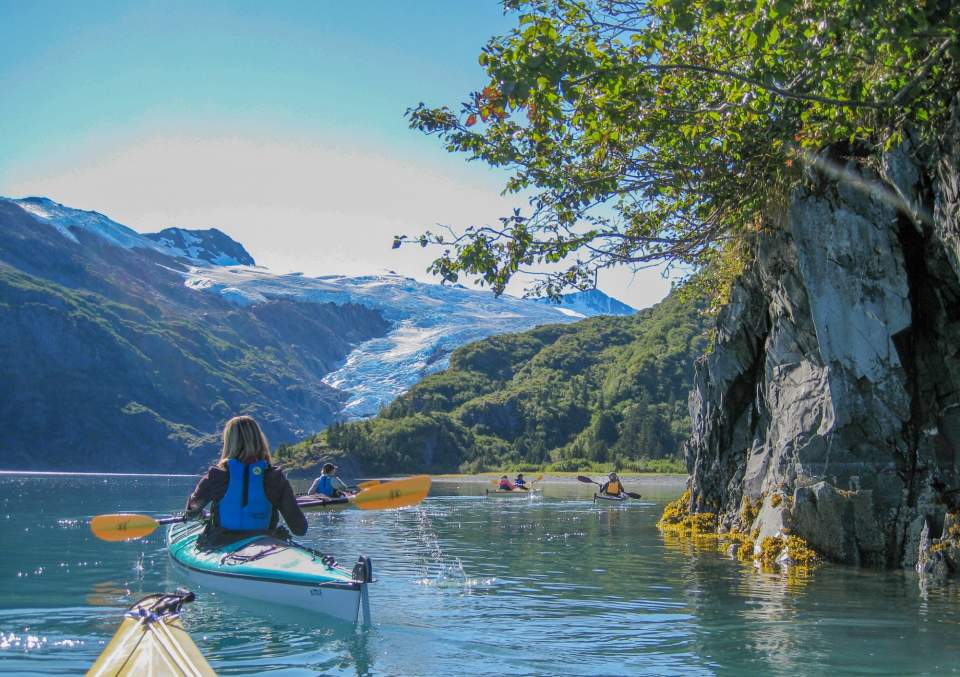 Whenever Lazy Otter is already going out to drop of kayakers at some location, you can ride along at a per-person price for the 3-to-5-hour trip. You'll get to places where your normally wouldn't on a sightseeing trip. Prices are based on destination, call in advance for pricing. You can also check availability on the ride-along calendar.
Kayak & Water Taxi
Lazy Otter does offer classic tours, but this is water taxi, so they'll also take you anywhere you want to go within Price William Sound—or just customize a tour to whatever you want to see. Maybe that's glaciers, or whales,—or maybe it's quiet time on a secluded beach, or a peaceful morning kayak among sea life such as otters and puffins. Lazy Otter can also help facilitate taking you and your family on a camping trip to a public use Forest Service cabin. You're not held to any strict schedule, either: if, on a day tour, you can spend more time in one spot if you want to see if a glacier will calve.
The calm waters are also perfect for kayaking, with a gorgeous backdrop of the Chugach Mountains' serrated peaks. Rent, or take a guided tour. Keep an eye out for the creatures that walk the shores and swim in the sea: orcas, humpback whales, sea lions, puffins, seals, sea otters, eagles, goats, and bears. Whichever option you choose, the Lazy Otter folks will also keep you caffeinated and happy at their onshore café.
We just do things a little bit different here. I love that everybody lives here for a reason.
Meet me