Explore Prince William Sound with guided kayak tours or transportation to secluded areas of Prince William Sound.
Whittier's Wow Factor
Captain Mike, Kelly Bender, and their staff know and love Whittier and Prince William Sound—and with good reason. This is a dynamic area, with the highest concentration of tidewater glaciers you'll find anywhere. In less than an hour, you can be at the base of two different tidewater glaciers. The calm waters are also perfect for kayaking, with a gorgeous backdrop of the Chugach Mountains' serrated peaks. Keep an eye out for the creatures that walk the shores and swim in the sea: orcas, humpback whales, sea lions, puffins, seals, sea otters, eagles, goats, and bears.
Guided Kayaking Adventure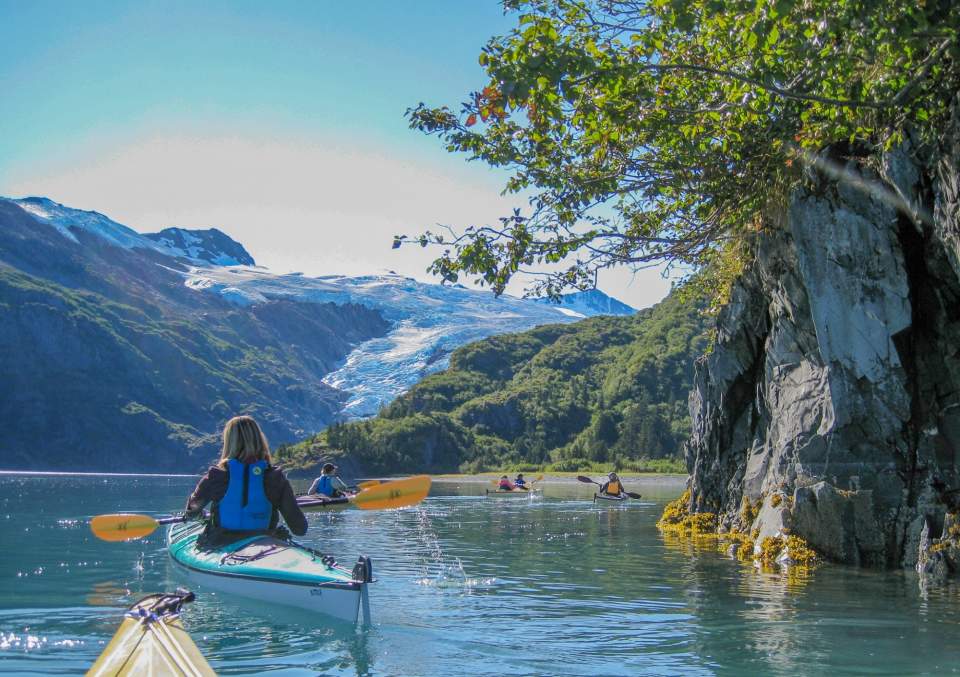 The guided kayaking trip starts with water taxi ride into Blackstone Bay. There you'll pull up to the beach and load into the kayaks, after a safety briefing and kayaking instructions. You will paddle around the ice bergs and Beloit Glacier for a couple of hours. For lunch you will head to the beach enjoy a picnic lunch and a short hike, then back to the kayaks for another bit of paddling to Blackstone Glacier. Your water taxi will transfer you back to Whittier to arrive back in town. This full day excursion includes water taxi, kayaks, gear, guide and a hearty lunch.
Your Tour, Made to Order
Lazy Otter does offer some classic tours, but this is water taxi, so they'll also take you anywhere you want to go within Price William Sound. Maybe that's being dropped off at a place where you can paddle among glaciers, or whales,—or maybe it's quiet time on a secluded beach, or a peaceful morning kayak among sea life such as otters and puffins. Lazy Otter can also help facilitate taking you and your family on a camping trip to a public use Forest Service cabin.
Sit Back, Paddle or Order an Espresso
You'll ride on one of Lazy Otter's three water taxis which feature comfortable indoor seating and an outside deck space for photography. One vessel holds just six passengers, making it ideal for small groups. The other vessels can hold up to 22 and 27 passengers, making it ideal for larger groups. Check out their Share a Ride Calendar to reach sea kayaking hot spots.
We just do things a little bit different here. I love that everybody lives here for a reason.
Meet me