Photo Credit: Kerry Williams
Getting There
| | |
| --- | --- |
| Anchorage | 1 |
How Long to Spend
2 - 4 nights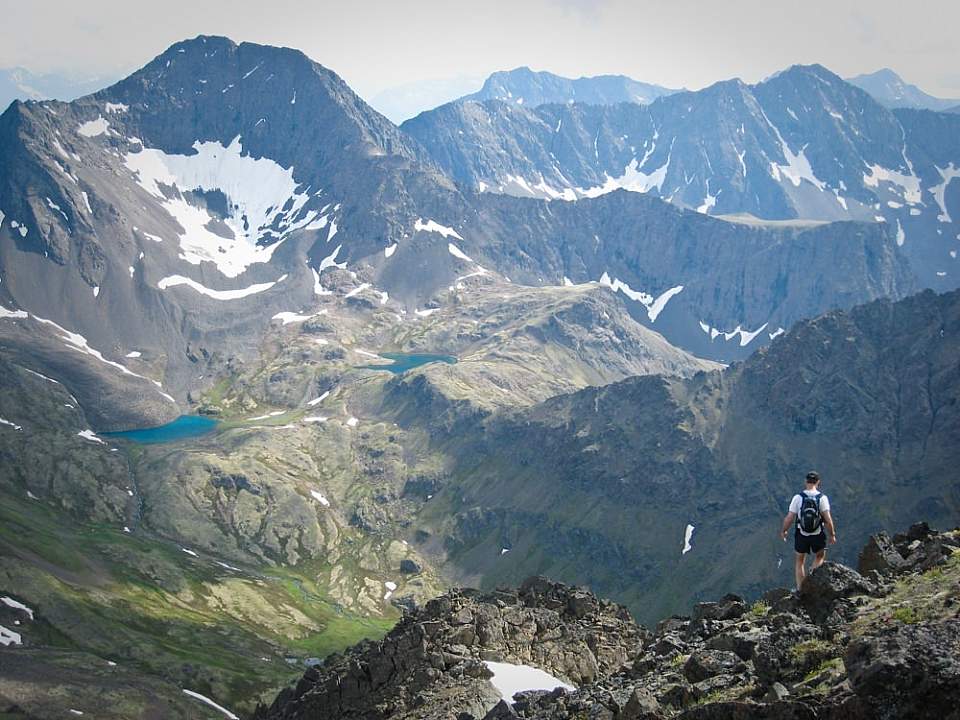 Beginning just 35 miles south of Anchorage on the Seward Highway, the Chugach spans the heart of Southcentral Alaska. As the second largest national forest in the nation—larger than New Hampshire—its 6.9 million acres stretches from Turnagain Arm and the Kenai Peninsula across Prince William Sound to the Copper River Delta and beyond. This vast landscape features almost every geographic zone found in Alaska—rain forests, coastal inlets, boreal woods and immense wetlands. Its 20 tidewater glaciers emerge from a snowbound coastal range with some peaks rising two miles high.
Despite such geographic scope, the Chugach is easy to visit!
The forest features scores of developed access points, often with parking and toilets at hand. Its front country straddles some of Alaska's most traveled byways and connects to a half dozen communities and ports such as Girdwood, Whittier, Hope, Cooper Landing, Moose Pass, Seward and Cordova. Along the way, you'll find two major visitor centers, 500 miles of maintained trails, dozens of campgrounds and recreation sites, and 41 public use cabins. More than 500,000 people a year visit the Chugach.
To help plan your visit, check out The Chugach's Three Regions for suggested itineraries.
Favorite Attractions
Do the Whistle Stop: For a unique outing to an active lake-terminating glacier, take the Glacier Discovery Train to the Spencer Glacier Whistlestop in the mountains beyond the head of Turnagain Arm. Ascending Path and Chugach Adventures offer guided hikes, mountaineering and kayaking amid icebergs, with camping and hiking options. The very popular Spencer Bench public use cabin offers a bird's eye view of the scene.
View Wildlife: With its unique highway access—often traversing valleys with sweeping views of surrounding mountains—the Chugach National Forest offers extraordinary potential to see wild animals during road trips. Try Tern Lake where the Seward and Sterling highways meet, with potential views of Dall sheep, mountain goats, black bears, moose, terns, swans and bald eagles. For a primal encounter with salmon determined to spawn, visit the Williwaw Fish Viewing Platform in Portage Valley or hike to the Russian River Falls. Marine wildlife thrives in Prince William Sound and Resurrection Bay, accessible aboard cruises out of Whittier, Valdez and Seward.
Visit Glaciers: Living, flowing ice dominates much of the national forest, with a glaciers perched in just about every alpine nook or remote valley. The famous Portage Glacier spills icebergs into its own lake, with an easy hike to Byron Glacier (where there be ice worms!) close by. The Begich, Boggs Visitor Center on the lakeshore features interactive displays and information about the glacier, plus general natural history, heritage and geography about the region. Or ride a marine charter to tidewater glaciers in Prince William Sound or Resurrection Bay from Whittier, Valdez and Seward.
Getting There:
Chugach National Forest extends a couple hundred miles across southern Alaska and includes many areas requiring boat or aircraft access. Most first-time visitors start in Anchorage and simply drive southeast down the Seward Highway. The forest begins about 35 miles south by Girdwood, and covers the northeastern quadrant of the Kenai Peninsula, including Whittier, Moose Pass, Hope, Seward and Cooper Landing.
Things to Do in Chugach National Forest