Photo Credit: Sunny Cove Kayaking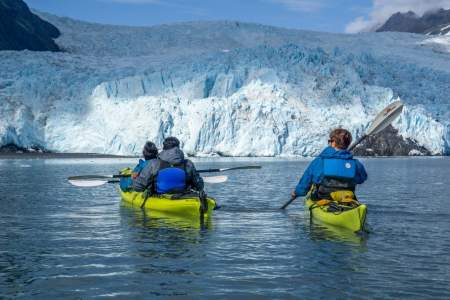 Season: May 1 – 3rd week of September $69+ 3-10 hrs
Take a bou­tique, small-group kayak­ing trip with expe­ri­enced guides at Liq­uid Adven­tures and get close to glac­i­ers in kayaks or pad­dle­boards while look­ing for whales and oth­er marine mam­mals. You can even com­bine your adven­ture with a jet­boat, heli­copter, or wildlife cruise. There's noth­ing quite like it in all of Alaska!
Season: About May 19 to Sep 07 $89+ 4 hrs - 7 days
Mem­bers of 1% For The Plan­et, Kayak Adven­tures World­wide strives to ful­fill their mis­sion to inspire an active stew­ard­ship of our nat­ur­al world. Through small group sea kayak tours in Res­ur­rec­tion Bay and Kenai Fjords Nation­al Park, they focus on safe­ty, edu­ca­tion, and con­nect­ing guests with the unique and frag­ile ecosys­tems you'll visit.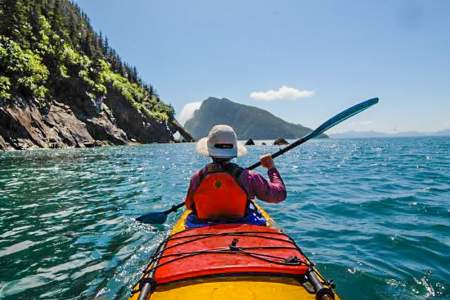 Season: May 01 to Sep 26 $79+ Half day to full day excursions
For a clos­er, qui­eter, and more peace­ful ver­sion of the Alaskan glac­i­er and wildlife cruise, trav­el by sea kayak. Pad­dle the shore­line of Res­ur­rec­tion Bay, where encoun­ters with sea otters, seabirds, and spawn­ing salmon are com­mon. Choose from a vari­ety of three-hour excur­sions or take a full-day trip.