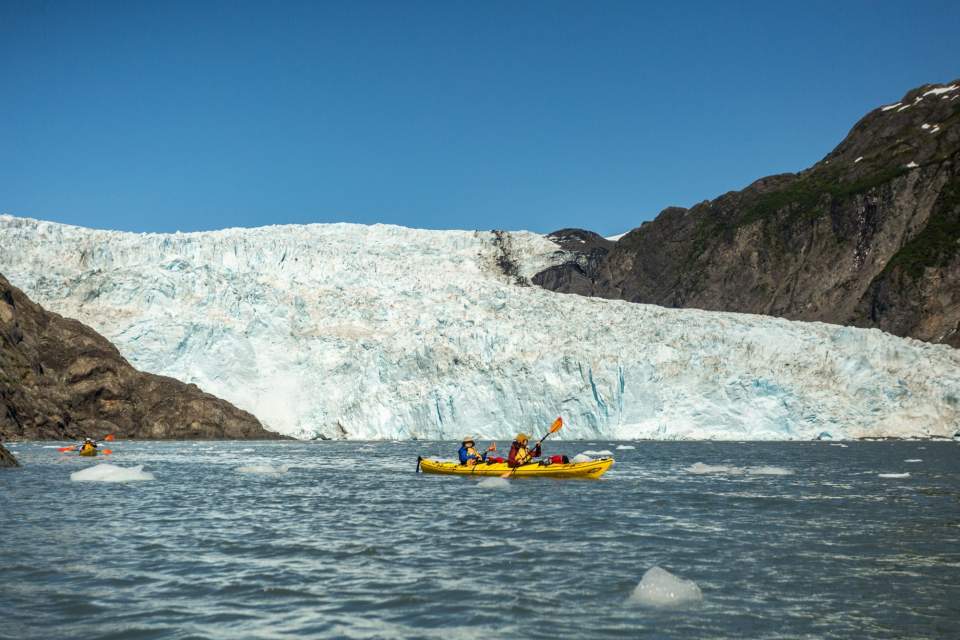 Kayaking out of Seward is like nowhere in the world: You're surrounded by the sweeping beauty of mountains and glaciers, but dramatically up close to wildlife. This seasoned operator offers hands-on tours of Resurrection Bay, Fox Island, and Kenai Fjords National Park—where you might see salmon swimming upstream within arm's reach, sea otters paddling by, or orcas rubbing up on the beaches.
Having a guide in these parts is key: Even if you're an experienced paddler from other parts of the world, you're better off with a guide in these parts—the weather can change on a dime, and the water can get cold. Plus, the local guides are so well versed in the geology, flora and fauna, they can tell you the best places to get out for a walk or to see wildlife. No doubt, Sunny Cove's guides are experienced both in kayaking and the watery wilderness around Resurrection Bay and Kenai Fjords National Park. They're all wilderness first responders with extensive backgrounds and—perhaps most important— a passion for this area.
Indeed, a love of Fox Island is what inspired the business. Sunny Cove Kayaking founder John Page was living in a cabin on the island in 1996 and was looking for a way to justify staying—and found it by paddling over to the then-lodge in Halibut Cove and taking guests out on tours. Today, Sunny Cove Kayaking has about 12 guides and offers departures daily from Seward to Resurrection Bay, Fox Island, and Kenai Fjords National Park. Choose from half-day, full-day or multi-day kayak camping adventures—whether you're a first timer or a seasoned kayaker. Start by choosing your destination:
Resurrection Bay
Choose from 4, 7 and 9-hour tours. All tours begin with a fully-narrated van tour through Seward's harbor area and historic downtown. Upon arrival to the launch beach at Lowell Point, the kayak guides will take over, beginning with a short paddling and safety lesson. The shorter tours, with up to 12 people, include paddling the shoreline of Lowell Point State Recreation Area to Tonsina Creek to view spawning Salmon (mid-July to September) as well as a 'ghost forest'. The longer tours spend more time exploring the shoreline and include beach walking, rainforest hiking to a waterfall or a World War II subterranean fort.
Fox Island
With these tours, each paddling adventure is paired with a scenic wildlife cruise from Seward Small Boat Harbor to Fox Island, in conjunction with Kenai Fjords Tours. You can do shorter tours, centered around 2.5 or 3 hours of paddling, combined with a plated salmon and cake dinner. Or choose a full-day trip, where you'll kayak for about 5.5 hours total, bookended by a picnic lunch on the beach and then that prime-rib-and-salmon buffet dinner later, all before returning to Seward. You can also do a late-day version of the lunch tour, with a four-hour afternoon of paddling, followed by the buffet dinner.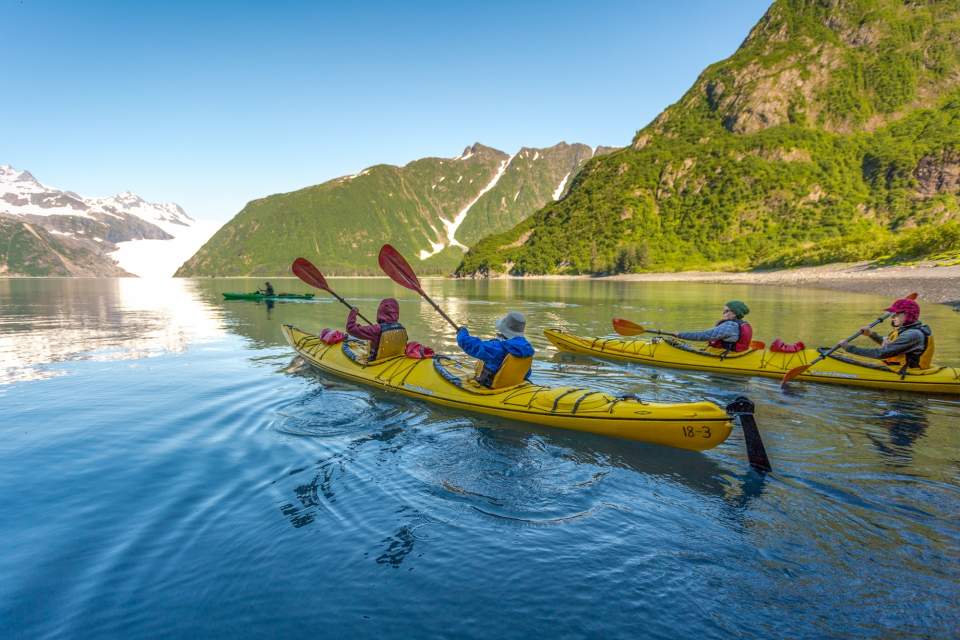 Kenai Fjords National Park
To explore the national park for a full day, take the Grand Day Wildlife Cruise & Glacier Combo, starting with a charter boat ride out to the fjords—including looks at Aialik Bay, Holgate Glacier and sometimes Aialik Glacier, depending on weather. Once out at the park, you'll paddle for about 3 hours, have lunch on the beach, then take a leisurely cruise back. You can even extend it into a multiday trip—typically 3 to 5 days—in both Aialik and Northwestern Fjords. You'll get food, camping gear, and great guidance, all based on your group and what you'd like to see.
Whichever tour you choose, you'll see why so many people who have taken these trips call them mind-blowing, saying it's the best thing they did in Alaska. Not only are the tours a great value (starting at just $99), but they offer a vivid education on this gorgeous area—all within reach in more ways than one.