Photo Credit: Nome-Teller Highway Scenic Drive
A leisurely drive at your own pace through some of the world's most beautiful scenery—is it any wonder that driving tops many peoples' lists of favorite Alaskan activities? Wherever you go, wilderness surrounds you: mountains loom large, animals show themselves, and small towns appear like mirages. And whenever you like, you can explore a side road, make discoveries, and linger for as long as you like.
Anchorage is a great base for scenic day drives—it's easy to rent a car here, and iconic sites are easily accessible. Take off on the legendary Parks Highway, with views of Denali (Mt. McKinley); meander on the Seward Highway, enjoying coastal views; or set off down the Glenn Highway to witness the Matanuska Glacier. Each has its own detours, and each detour has its own stories. So take the wheel and create some stories of your own.

Southcentral & Interior Alaska
Roadside glaciers, scenic valleys, coastal views and more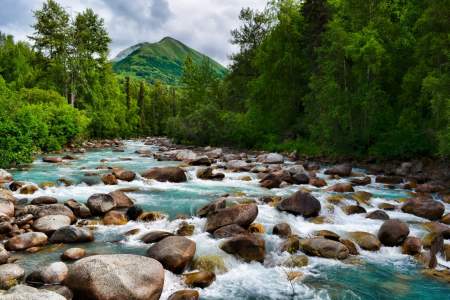 In the Tal­keet­na Moun­tains between the towns of Wil­low and Palmer, Hatch­er Pass is a local favorite for recre­ation or a scenic dri­ve. Hike in alpine tun­dra dot­ted with wild­flow­ers and ptarmi­gan, ski fresh, deep pow­der, or vis­it Inde­pen­dence Mine His­tor­i­cal State Park.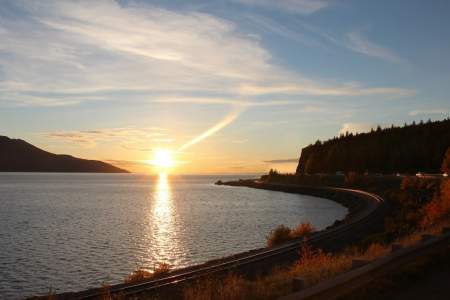 The Seward High­way hugs the dra­mat­ic shore­lines of Tur­na­gain Arm. One of the most beau­ti­ful stretch­es of high­way in America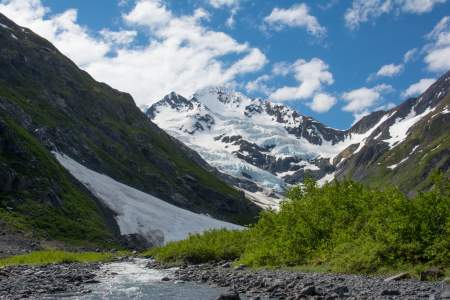 Portage Val­ley south­east of Anchor­age at the head of Tur­na­gain Arm offers so many poten­tial adven­tures that you might have to tow a trail­er loaded with gear to sam­ple them all. What will you find here? Bik­ing, hik­ing, pic­nick­ing, fish­ing, pad­dling, wildlife view­ing, poten­tial ice­berg sight­ings — plus a nat­ur­al his­to­ry vis­i­tor cen­ter packed with inter­ac­tive dis­plays about the ecosys­tem of the val­ley and Prince William Sound. It's like an outdoor ...more
Access to beaches, mountains, state parks, and historic sites
Less than 150 miles from the Arctic Circle, there are no trees, so you can see forever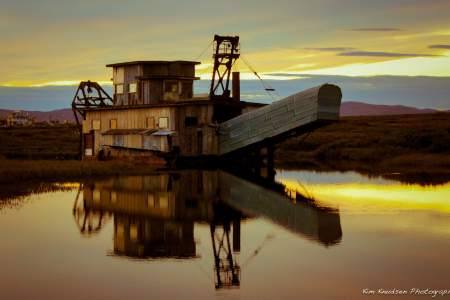 Nome — Coun­cil Road spans 72 miles (East) and takes 2 hours one-way with­out stops. For spec­tac­u­lar bird­ing, sweep­ing coastal views, and the famous ​"Last Train to Nowhere," explore the Nome — Coun­cil Road. Addi­tion­al high­lights include the Safe­ty Road­house, which is the last stop on the Idi­tar­od Sled Dog Race, and the small com­mu­ni­ty of Coun­cil, which boast­ed a pop­u­la­tion of 15,000 in its heydey.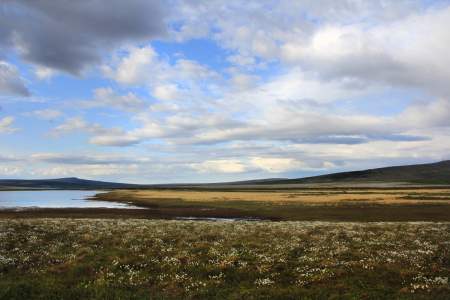 When locals want to see trees, they head north on The Nome — Tay­lor Road (also called Beam Rd. or Kougarok Rd.) The 85-mile grav­el road runs north-south and takes 2 hours one-way with­out stops. The route winds past many old min­ing claims, the pop­u­lar Salmon Lake, and offers a side trip to his­toric Pil­grim Hot Springs.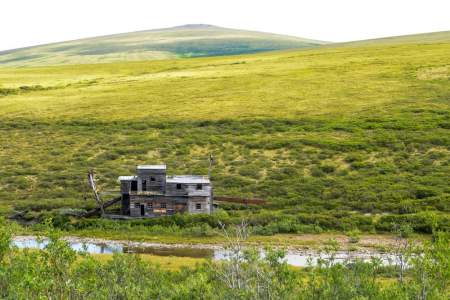 The Nome – Teller Road brings you with­in 55 miles of Rus­sia, and is as close as you can dri­ve to the Bering Strait Land Bridge. The road trav­els 73 miles north­west and takes about 2 hours one-way with­out stops. You end at Teller, an authen­tic Inu­pi­at vil­lage of few­er than 300 peo­ple who sur­vive on a sub­sis­tence lifestyle.