Photo Credit: Ultima Thule Lodge, Wrangell St. Elias National Park
This is the real Alaska—the way everyone would see the state if they could afford it. You get one of earth's finest nature experiences coupled with five-star amenities.
You're way off the Beaten Path
Remote wilderness resorts might be set on their own emerald-green glacial lake, their own island, or far up a wild river valley, 40 miles from their nearest neighbor. The only way to get there is by small boat or air taxi. Some offer world-class bear viewing and fishing (referred to as bear viewing lodges or fishing lodges). While most visitors seek out easy-to-reach destinations, you truly own your own wilderness staying at a remote lodge, usually seeing only your hosts and a few other guests.
Note: Don't confuse roadside wilderness lodges with remote wilderness lodges. Many companies label their roadside lodges as wilderness lodges, but you need to know the difference. Road-accessible lodges are wonderful (and we recommend them)—but they're often not as wild, exclusive, or upscale as high-end remote wilderness lodges.
Create your Land Tour with a Collection of Wilderness Lodges
You can add a 2-3 night remote wilderness lodge stay pre- or post- to any land tour or cruise—or spend a full week and make it your entire Alaska vacation. You'd seldom want to spend more than 3 nights at most roadside lodges (other than Camp Denali or fishing lodges). Click here to see a list of sample itineraries or contact us for booking help.
Personalized service
Your hosts are generally warm and passionate about Alaska. Carrying on the tradition of innkeepers of the past, they'll likely take you on personalized tours of the area—perhaps hiking, flying to locations of your choice, fishing, bear viewing, rafting, canoeing, beachcombing, kayaking, glacier viewing or dog mushing (in winter). You might go berry picking with your hosts, or bird-watching, or learn how to cook a four-star salmon dinner that you'd pay top dollar for back in the city. Or you can book a remote lakefront chalet for a private experience for your family or a group of friends.
You can also spend your days on your own, doing activities or just soaking up the scenery. These lodges seriously boost your chances of seeing wildlife—maybe right outside your door.
They're plush
Remote does not imply primitive. Some offer the most luxurious accommodations in Alaska, complete with gourmet cuisine, wine tastings, high-thread-count linens and expert guides.
Prices can range from $400 to $1,000 a night. But keep in mind that many of these lodges are all inclusive. All of your meals and activities are included in your price—and for many people, the rewards far outweigh the cost. This is an authentic and unique experience.
Wilderness Lodges
Backcountry Wilderness Lodges
Wilderness Lodge Itineraries
Collections of Wilderness Lodges for a Complete Land Tour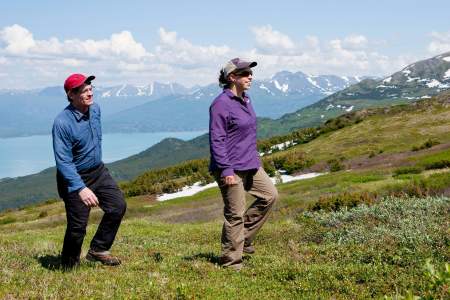 Season: Early June through early September
From $2215
5 Days
Visits: Cooper Landing, Kasilof, Anchorage
Land Package Type: Adventure Tours
The fol­low­ing is a 5 day, 4 night sam­ple itin­er­ary that seam­less­ly com­bines two nights at the Kenai River­side Lodge with two nights at Kenai Back­coun­try Lodge for a great trip that high­lights river­side and back­coun­try wild Alas­ka. Com­bi­na­tion pack­ages give guests the flex­i­bil­i­ty to choose trip dates between late May and mid-Sep­tem­ber from three to five days or more.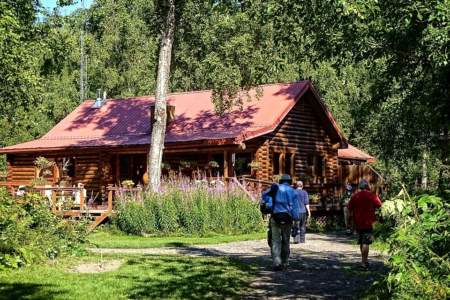 Season: Summer, based on availability
$1095+ per person
Land Package Type: Guided Backcountry Adventures
In just 24 hours you can expe­ri­ence an Alaskan float plane ride, an overnight in a deluxe wilder­ness lodge with a gourmet din­ner, and a taste of Alaska's famous riv­er fishing.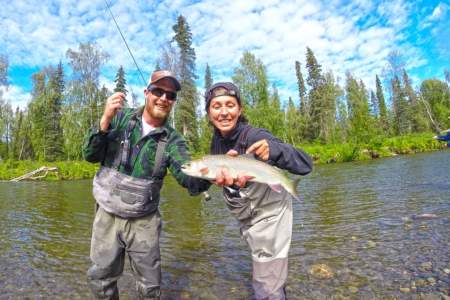 Season: June 15 - July 10
$2,544+
2 – 4 Night
Land Package Type: Guided Backcountry Adventures
Expe­ri­ence the best of June fish­ing at the remote, fly-in Wilder­ness Place Lodge where you'll tar­get rain­bow trout, arc­tic grayling, and north­ern pike.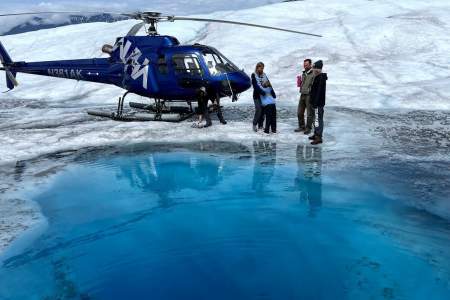 Season: Jun 12 to Jul 12
$5,200 per person
6 day / 5 night
Land Package Type: Guided Backcountry Adventures
Com­bine the best of Alas­ka sum­mer expe­ri­ences (flight­see­ing, fish­ing, dog sled­ding, bear view­ing, and more) dur­ing the month around sol­stice, when the weath­er is warm and there is 24-hours of daylight.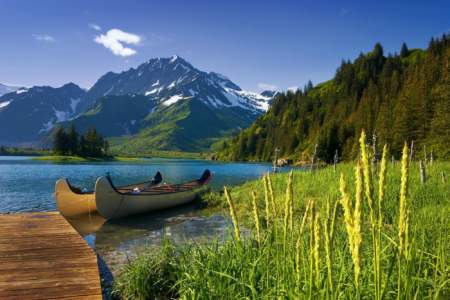 Season: June through mid September
From $4185
Visits: Soldotna, Cooper Landing, Seward, Anchorage
Land Package Type: Adventure Tours
This 7 Day, 6 night sam­ple itin­er­ary from Anchor­age makes it easy to vis­it all three Alas­ka Wild­land Adven­tures prop­er­ties in less than a week! Vis­it the Kenai River­side Lodge and Kenai Back­coun­try Lodge, before embark­ing by small boat to view hang­ing and tide­wa­ter glac­i­ers, bird and sea lion rook­eries and scan­ning for whales en route to Kenai Fjords Glac­i­er Lodge. Canoe, kayak and explore at the Lodge before return­ing to Seward. Return to ...more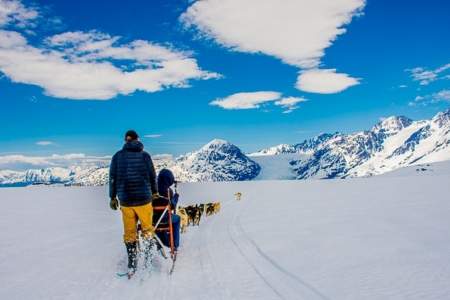 Season: June 12 - Aug 15
$2680+ per person
2 – 4 Nights
Land Package Type: Guided Backcountry Adventures
This amaz­ing adven­ture com­bines two wilder­ness lodges, fine cui­sine, a float plane ride, heli-glac­i­er tour and guid­ed riv­er fish­ing – all with­in a con­ve­nient 100-mile radius of Anchorage!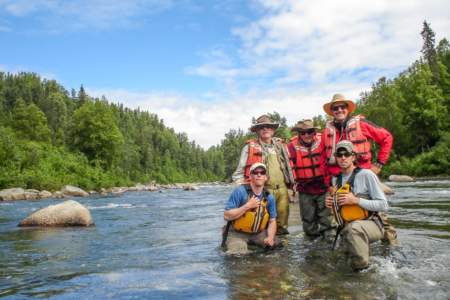 Season: June 15 - July 15
$4,520+
5 Days / 4 Nights
Land Package Type: Guided Backcountry Adventures
This tour com­bines a scenic float-plane trip with relaxed days fish­ing and float­ing along dynam­ic rivers. It's ful­ly guid­ed and out­fit­ted, so you can sit back and enjoy all the activ­i­ties along with com­fort­able accom­mo­da­tions and superb meals. You also ​"glamp" it for a night at an even more remote loca­tion that lets you tru­ly get away from it all.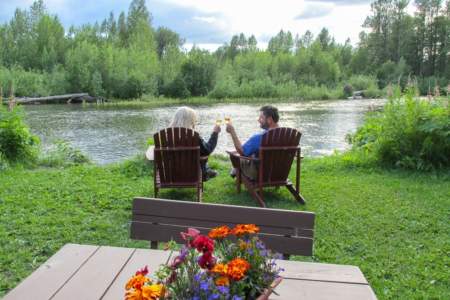 Season: Jun 15 to Aug 01
$4,995 per person
4 night / 5 day
Land Package Type: Guided Backcountry Adventures
This pack­age com­bines the most impres­sive aspects of inte­ri­or remote Alas­ka; flight­see­ing, glac­i­er hik­ing, dog sled­ding, fish­ing, pho­tog­ra­phy, and a deluxe Alaskan lodge. Play hard by day, then wine and dine your­selves to a bliss­ful sleep in your pri­vate cabin.