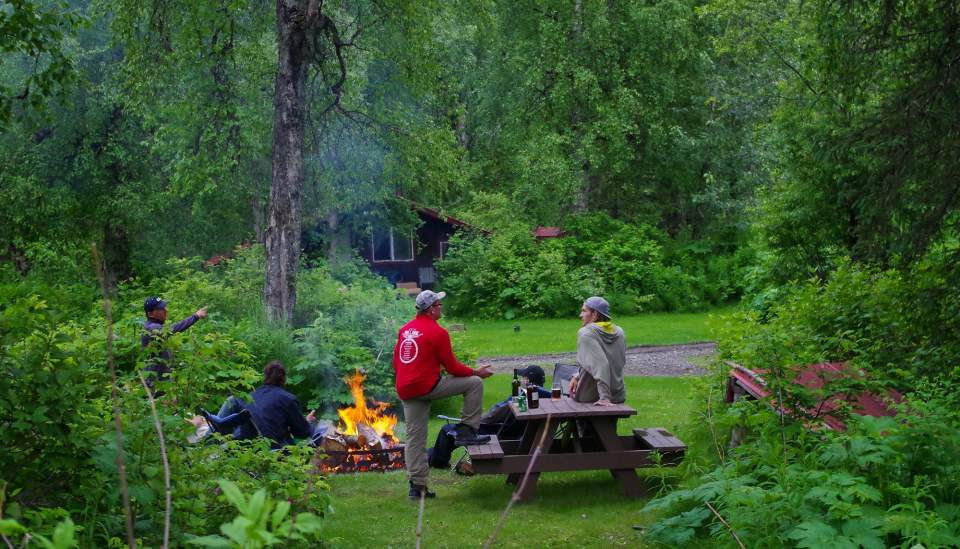 Your small group of 2-4 will settle into Alaska's remote territory while enjoying the comforts of an all-inclusive five-star lodge. This tour combines a scenic float-plane trip with relaxed days fishing and floating along dynamic rivers. It's fully guided and outfitted, so you can sit back and enjoy all the activities along with comfortable accommodations and superb meals. You also "glamp" it for a night at an even more remote location that lets you truly get away from it all. This is your chance to pack in adventure as you fly, float, and fish the iconic Alaska of your dreams.
Tour Itinerary
This is available as a 3, 4, or 5 night package. Itinerary below shows 5-night.
Day 1 - Anchorage overnight
The day prior to your adventure, arrive in Anchorage and you'll be put up for the night at a partner hotel, complimentary!
Day 2 – Welcome to Wilderness Place Lodge
Depart Anchorage at 11am by float plane, arrive at Wilderness Place Lodge for noon lunch prepared by their chef team. Spend the afternoon fishing on the river with your personal guide. Target trout, grayling, pike or salmon depending upon dates and availability. Enjoy a 4-course dinner in the lodge inclusive of local beer and wine. Overnight in one of the modern deluxe riverside cabins.
Day 3 – Full-day Fishing
A full day of guided fishing and / or fly fishing instruction. Take a side trip by boat to a chain of lakes to fish northern pike and/or stay on the river to target trout and grayling. Enjoy a shore lunch prepared by your guide. Dinner and overnight at the lodge.
Day 4 – Ultimate Glamping at Pioneer Cabin Wilderness Retreat
Depart the lodge after breakfast for a short 10-minute flight north and land on a small lake at the dock of the Pioneer Cabin Wilderness Retreat, the ultimate in Alaska glamping! Enjoy a full day of kayaking on the lake, relaxing at this historic refurbished Alaskan log cabin, walk the trail down to the river and fish. Overnight at the cabin. Food and beverages are catered and served.
Day 5 – Float and Fish
Following breakfast, your guide will inflate the raft and you will have the day to float and fish your way back down to wilderness place lodge. The float trip is approximately 5 river miles with lunch served on the river mid-day. Arrive back at Wilderness Place Lodge mid-afternoon, hit the showers, have a beverage and prepare for your float plane flight back to Anchorage at 6pm.