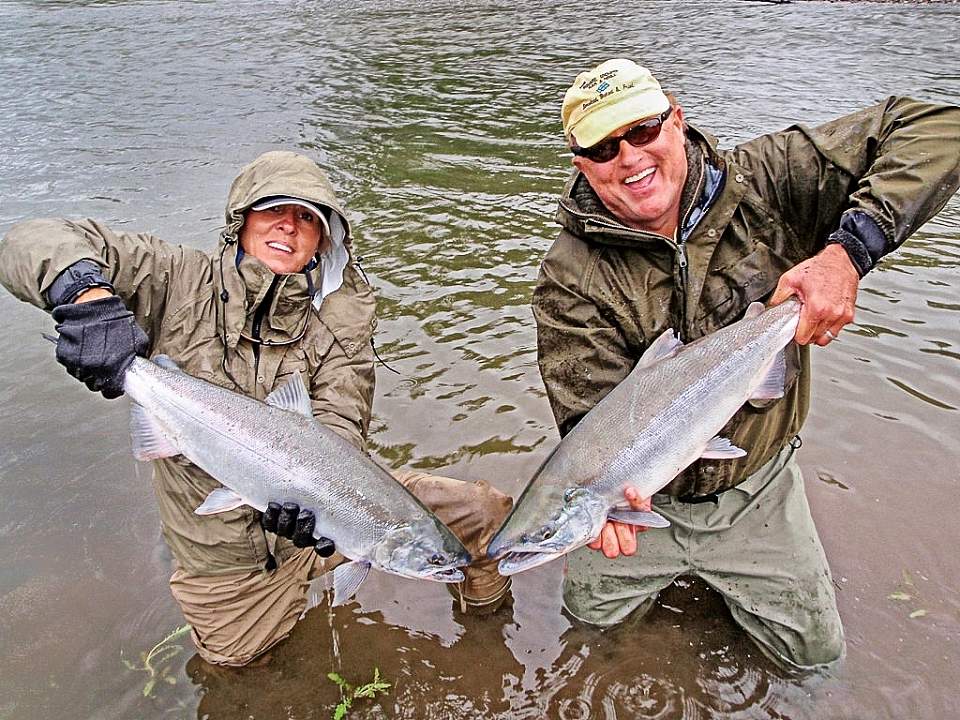 Exploring Alaska's backcountry lakes, forests and rivers is a phenomenal experience. Wilderness Place Lodge—tucked away on a remote river northwest of Anchorage—offers excellent access to nearly any freshwater fish you came to Alaska for, along with a unique eco-travel experience that comes with a high level of service, a variety of non-fishing activities and the mellow freedom to create an Alaskan experience that suits your own taste.
An Idyllic Location—and a Lot of Fish
Wilderness Place Lodge sits on the banks of Lake Creek—a clear-water, freestone Alaska river that runs south of Denali National Park, and which gets strong runs of all five species of Alaska salmon. The river also boasts a healthy native population of rainbow trout and arctic grayling.
Wilderness Place Lodge was established in 1986 by Ed and Judy Sharpe. Long-term guides Jason Rockvam and Cory Wendt purchased it in 2001, building a backcountry experience that guests appreciate year after year. The friendly lodge staff of 18 pride themselves on being a little different from larger, corporate lodges, with a flexible and up-close-and-personal approach, offering the highest quality and service of fly-in Alaska lodges.
Personalized Fishing Guides
For starters, the fishing here is primarily wade-fishing the expansive gravel bars of lower Lake Creek's many meandering river channels. As the lodge is located right on the river, your close proximity to the best fishing spots maximizes your time fishing during your stay. Your personal guides are eager to assist and offer instruction with both spin and fly fishing: They offer a very flexible daily fishing schedule and adapt to meet the individual expectations of their guests.
Plus, it's hard to compete with the lodge's incredible staffer-to-guest ratio—1:1. Indeed, with room for just 16 guests at the lodge, and with 18 staffers at the ready, you won't be lacking for any guidance, if you want it, for your fishing, or for any creature comforts you want at the lodge itself.
Private Cabins, All Your Gear—and Hearty Dinners
Indeed, the lodge is the ideal home base highly touted for it's fine accommodations and phenomenal cuisine! The timber-rich main lodge is made of natural Alaska pine and Sitka spruce, with lots of large, outside decks with river and forest views. It makes a comfortable spot to relax at the end of day, sipping a beer or glass of wine, or trying your hand at tying one of many effective Alaska fly patterns. If you want to mix and mingle with other guests, that's great, but if you'd rather stay on your own, that's fine and easy to do, too. All cabins come with all-important private bathrooms with showers, electricity. Enjoy a peaceful, deep sleep by way of beds equipped with memory-foam mattresses.
The dining experience is flexible, and the chef team caters to all dietary preferences. Dinner in the main lodge is a spectacle, including plenty of fresh seafood—from salmon to Alaskan halibut and crab-stuffed chicken breast—as well as prime rib, rack of lamb and pasta. Full breakfast and lunch is served in the lodge too, or you may elect to have those meals prepared to take on the water. Fireside shore lunches can also be arranged with your guide for a day or two during your stay.
And being an all-inclusive package, all the meals (including beer and wine) and other details are covered: the trips include round-trip scenic float plane flight from Anchorage, your cabin, and all of the gear for spin or fly fishing, including rods, reels, tackle, flies, waders and more.
Bundled Adventure Packages from The Alaska Adventure Company
Wilderness Place Lodge's parent company, The Alaska Adventure Company, offers several conveniently bundled, and adventure packed itineraries for guests.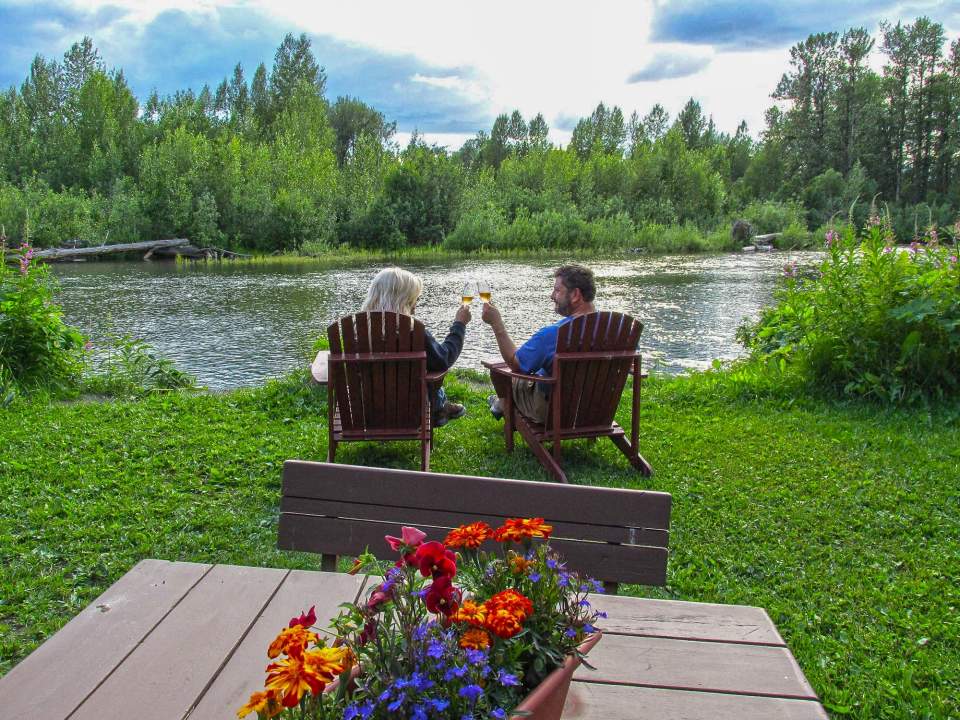 Even if time is short, you can still get the fly-in lodge experience and enjoy an incredible backcountry setting in just 24-hours. Enjoy a four-course gourmet meal, plus fine Northwest wine on the house! Stay overnight in your own private riverside cabin. Finally, get a taste of Alaska's famous river fishing, fully outfitted with all gear and personal guide!
Ultimate Remote Alaska River Experience
Five days of fully guided adventure takes you to two remote locations, one riverside and one lakeside. Sit back and enjoy all the activities along with comfortable accommodations and superb meals. This is your chance to pack in adventure as you fly, float, and fish the iconic Alaska of your dreams.
Trout/Pike/Day Float Fishing Bundle
Combine deluxe lodging, excellent cuisine and top-rate hospitality with guided river fishing for king salmon and rainbow trout on this amazing summer solstice fishing adventure. Fish the nearby lake chain for northern pike, and enjoy a fly-out day raft fishing float, all a part of this unique bundled package!
This package combines the most impressive aspects of interior remote Alaska; flightseeing, glacier hiking, dog sledding, fishing, photography, and a deluxe Alaskan lodge. Play hard by day, then wine and dine yourselves to a blissful sleep in your private cabin.
Ultimate Alaska Off-Grid Adventure
This amazing adventure combines two wilderness lodges, fine cuisine, a float plane ride, heli-glacier tour and guided river fishing – all within a convenient 100-mile radius of Anchorage! This all-inclusive, guided, and fully outfitted trip is designed for groups of 2-4.
Get Creative with Custom Itineraries
A lot of visitors also build combination packages: a couple days of fishing, a fly-out remote cabin with kayaking, photography tours or a day for flightseeing (with acclaimed operator Rust's). There are many add-on adventures that may be of interest to the adventure-traveler looking for a great fishing experience, high quality lodging and a good mix of south central Alaska's best wilderness pursuits. They have their own float trip company, too, so you can take a six-night float-fishing-package that covers 60 miles of the Lake Creek River. Following the wilderness fishing float, you can choose to spend one or more nights at the lodge. Let them know what you're looking for and they'll happily suggest the best adventure itinerary!
Just looking for a day trip? That is an option too! Wilderness Place Lodge will schedule a float plane flight out of Anchorage for you. Arrive at the lodge at 8:30am and enjoy a day full of remote fishing. All equipment is provided, as well as lunch on the river.
Prepare to Love It
Wilderness Place Lodge gets a lot of repeat guests from all over the world. They realize that their ideal Alaska fishing trip and wilderness eco-adventure includes the freedom to plan and play as they please in this gorgeous remote setting.