Photo Credit: Arctic Circle Aurora Overnight Adventures
Winter Multi-Day Adventures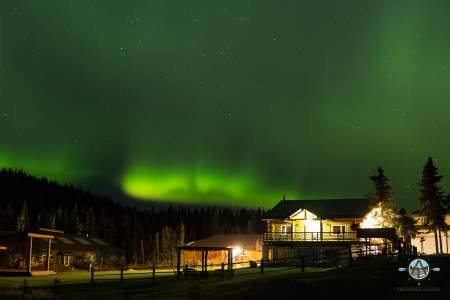 Season: Oct - April Custom, Call for Quote 3+ Days
Tra­verse Alas­ka cre­ates cus­tom tours in the Denali Nation­al Park area that allow trav­el­ers to enjoy the mag­ic of Alas­ka at their own pace. Win­ter itin­er­aries include icon­ic Alaskan cold-weath­er activ­i­ties in South­cen­tral and Inte­ri­or Alas­ka. After all, Alas­ka in win­ter is a very spe­cial time of year — qui­eter, full of snow-frost­ed trees, and frozen snow-cov­ered ground cre­ates an out­door play­ground in every direction.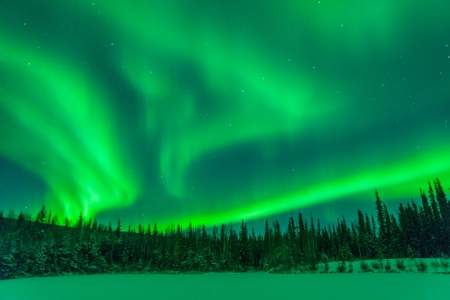 Season: Nov 01 to Mar 28 $129+ 4 hrs - multi-day packages
Won­der­ing how folks up here deal with Alaska's long win­ter days? It's easy when the inky night sky comes alive with an amaz­ing light show like the auro­ra bore­alis. Brav­ing the cold is noth­ing if you get a chance to see the lights danc­ing and wav­ing over­head. Com­bine your auro­ra view­ing trip with a few oth­er high­lights planned out by Salmon Berry Tours, and you'll expe­ri­ence the best of win­ter in Alaska.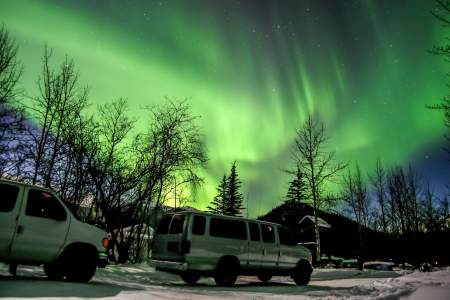 Season: Aug 21 to Apr 21 $799+ per person 2+ nights
Spend some time above the Arc­tic Cir­cle under the mys­te­ri­ous, eerie north­ern lights. From mid-Sep­tem­ber to late April, when you have the best chance of wit­ness­ing phe­nom­e­non of the auro­ra bore­alis, you'll fly from Fair­banks to the remote vil­lage of Cold­foot, in the Brooks Moun­tain Range. After the spec­tac­u­lar flight­see­ing expe­ri­ence, you'll have either 3 days/​2 nights or 4 days/​3 nights to explore this rugged, fas­ci­nat­ing land­scape, with ...more