Traverse Alaska offers private day trips, multi-day tours and custom winter itineraries in interior Alaska in late winter/spring (February-April). The Traverse team works diligently to immerse clients in educational exploration. From winter hiking adventures through snow-covered spruce trees to learning how to drive a team of sled dogs, our local guides help create a unique and meaningful Alaska experience.
Private Day Trips - Denali
Private day trips offer visitors a glimpse of how the locals play outside. Private day trips are customized depending on your interests and desired activity level. Favorite activities include a winter hike or cross-country skiing (conditions permitting). Get off the beaten path and enjoy a full day of adventure with your private guide.
Night Hiking with Northern Lights Viewing - Denali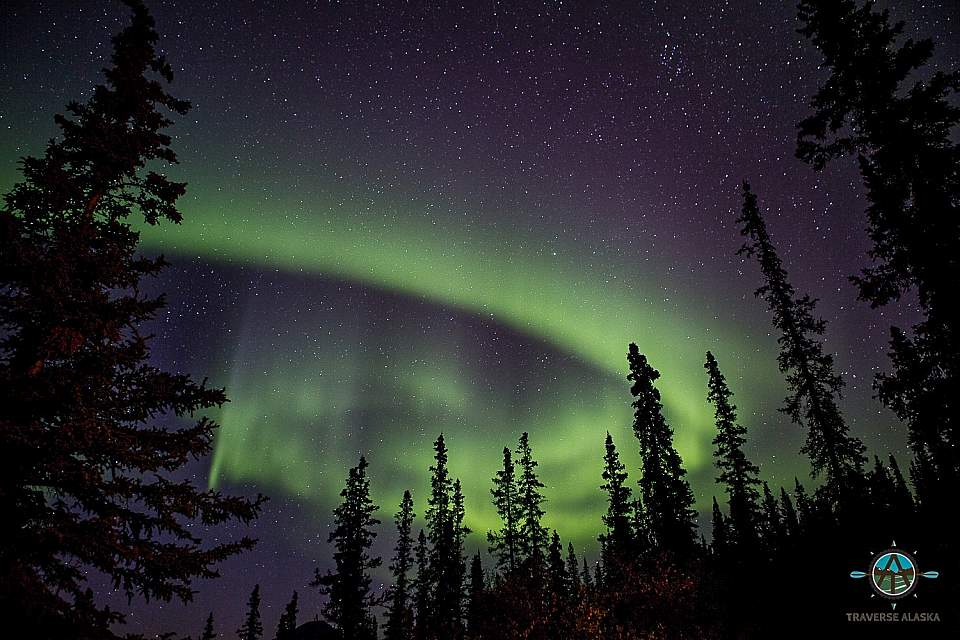 Traverse Alaska's night hiking trip will take you through pristine alpine tundra to a remote and isolated location ideal for viewing the northern lights. If the conditions are right you'll be able to view the aurora borealis. If the northern lights are hiding you'll relax and enjoy hot chocolate under the clear Alaska night sky.
Dog Sledding Excursions - Denali area
Have you dreamed of running your own dog team in the Alaska wilderness? Traverse Alaska offers a variety of dog sledding trips including a half day introduction to dog sledding, a night dog sledding experience with opportunities to see the northern lights, or a multi-day trip complete with winter camping.
Private Transportation options - Denali, Anchorage and other Alaska destinations
Travel between locations with peace of mind. Our local guides are experts at navigating Alaska's winter conditions and will ensure you arrive at your destination comfortably and safely. Private transfers can easily incorporate a winter hike or driving tour if desired.
Custom Itineraries - Denali, Anchorage and other Alaska destinations
Traverse Alaska partners with Alaska's highest quality lodges and restaurants to develop your entire winter getaway. Custom itineraries include lodging and activities during your trip and can incorporate time for you to explore independently if desired. Trips can be fully guided - including private transportation between destinations, or partially guided - a mix of guided activities and traveling the state independently.
Multi-day Winter Packages - Denali area
February, March and April only
Looking for a complete winter experience? Multi-day winter packages are based in the Denali area and can incorporate a variety of winter activities depending on your interests. Spend a day winter hiking in Denali National Park, give cross-country skiing or dog mushing a try. Custom trips are designed based on your interests and desired activity level. Packages include lodging and your very own private chef during the stay.
About Traverse Alaska
Traverse Alaska is a small, Alaska-owned company based in Denali Park, Alaska. They're dedicated to providing experiences that build meaningful connections with Alaska. All staff call Alaska home and work diligently to immerse clients in educational exploration. Each and every adventure is personalized to challenge clients while discovering the last frontier at their own unique pace.