Air taxis can fly you to remote national parks, public use cabins, wild rivers for backcountry float trips, backpacking expeditions, and more. With only 20% of Alaska accessible by road, there is so much more to be discovered!
Southwest & Western Alaska
Kodiak & Aniak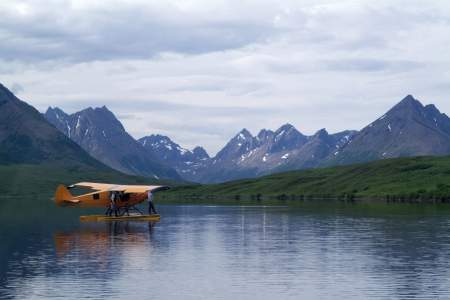 Season: April – October $2,250 - $2,950 per person (unguided); $4,900 per person (guided) 5 - 10 days
Expe­ri­ence Alas­ka at its most beau­ti­ful­ly remote on a ful­ly out­fit­ted float trip with Ani­ak Air Guides. Whether your pas­sion is raft­ing, fish­ing, hunt­ing, back­pack­ing, wildlife and out­door pho­tog­ra­phy, or gold pan­ning, Ani­ak Air Guides can set you up with every­thing you need, then fly you to the per­fect loca­tion to DIY the trip of a lifetime.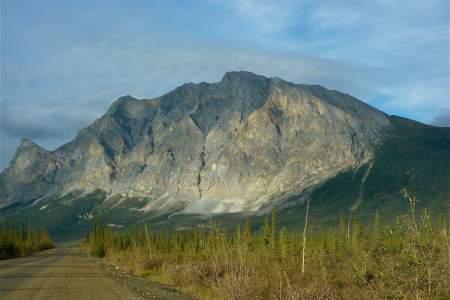 Season: May 15 to Sep 15 $489 4 hrs
Fly from Fair­banks and trav­el 80 miles above the across the Arc­tic Cir­cle on a scenic and his­toric adven­ture. Depart­ing in the evening, you'll pass over the stark ter­rain of north­ern Alas­ka and land at the Athabas­can vil­lage of Fort Yukon. Then, with your guide, you'll spend an hour learn­ing all about this fas­ci­nat­ing area — the his­to­ry, how peo­ple take care of them­selves in a pun­ish­ing envi­ron­ment, and some of the char­ac­ters who have called this ...more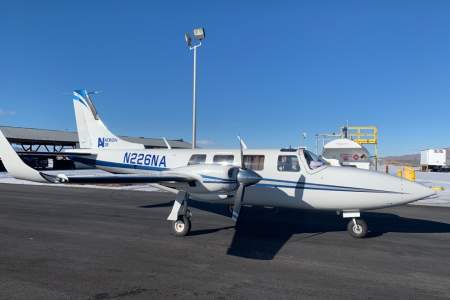 Season: Year Round Call for Rates & Availability
With Natron Air you can char­ter flights on your sched­ule for up to 5 pas­sen­gers. Their lux­u­ry Aerostar 601P Super­star 700 is the world's fastest pis­ton twin. Des­ti­na­tions include Sol­dot­na (their home base), Anchor­age, Fair­banks, Kodi­ak, King Salmon, Port Alsworth, Dilling­ham, and Pilot Point.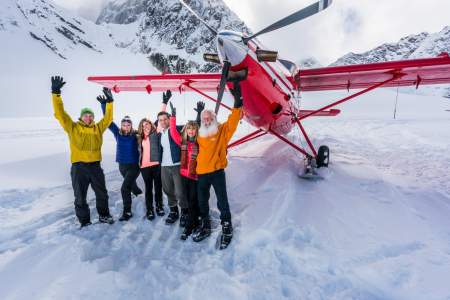 Season: Year Round $230+ 1 to 2 hrs
While you may nev­er join the ranks of climbers who have sum­mit­ed Denali, an up-close view of North Amer­i­ca's tallest peak can still be yours. K2 Avi­a­tion offers once-in-a-life­time flight­see­ing tours among and above the Alas­ka Range. Add a glac­i­er land­ing to get a sense of how immense these peaks real­ly are.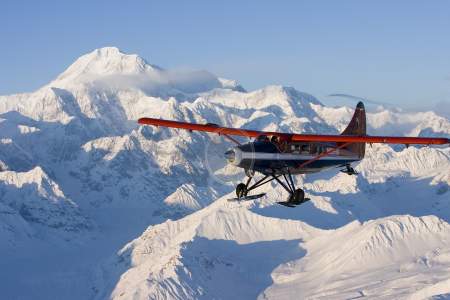 Season: Year Round $225+
Local­ly known as ​"The Glac­i­er Land­ing Com­pa­ny," TAT has been fly­ing climbers and sight­seers to the Alas­ka Range and Denali since 1947. Tal­keet­na Air Taxi fea­tures a cus­tom-designed fleet of planes, a ded­i­cat­ed cus­tomer ser­vice team, and a vari­ety of tours for every budget.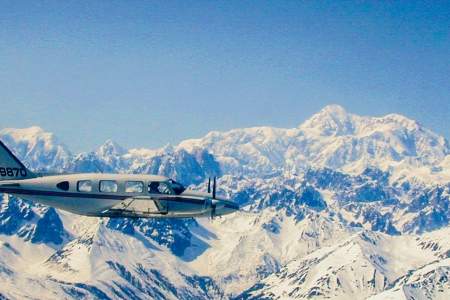 Season: May 09 to Sep 15 $429 1.25 hrs
A lot of peo­ple swear to it: the best way to see Alas­ka is from an air­plane, and there may indeed be no bet­ter way to get close to the face of Denali. This one-of-a-kind flight­see­ing oper­a­tor makes it easy to see up close to the Great One with­out spend­ing a great deal of time.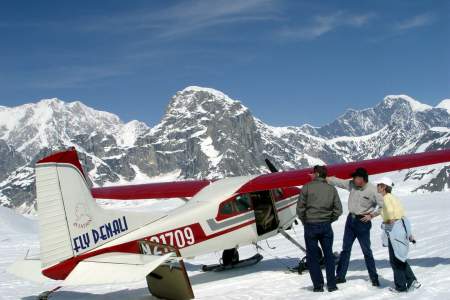 Season: May 13 to Sep 18 $599 With Glacier Landing 2 hrs
Fly Denali is the only com­pa­ny north of the Alas­ka Range with a per­mit to land on glac­i­ers inside Denali Nation­al Park. The result is a world-class flight-see­ing trip, with land­ings on Denali's glaciers.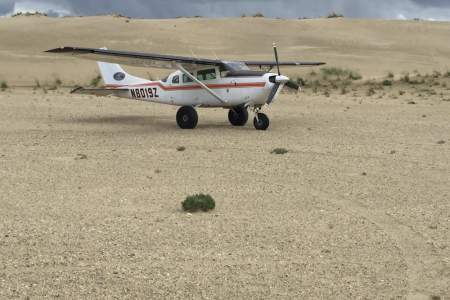 Season: Year Round
1+ hours
Expe­ri­ence the thrill of flight­see­ing in areas that most tours can't reach. Go with Gold­en Eagle Out­fit­ters and enjoy ful­ly cus­tomized flight­see­ing tours from Kotze­bue or Delta Junc­tion — or take advan­tage of their air-taxi drop-off and pick­up ser­vice to access some of the most beau­ti­ful and remote parts of Alaska.
Season: May 15 to Sep 15 $250+ 30 min to 2 hrs
If you want to get a true sense of the 13 mil­lion acres with­in Wrangell-St. Elias Nation­al Park — which has a mere 100 miles of road­ways — start with an aer­i­al view. Since 1992, Wrangell Moun­tain Air has been offer­ing safe and fas­ci­nat­ing tours of this remote king­dom, which boasts North Amer­i­ca's largest assem­blage of glac­i­ers as well as its largest col­lec­tion of peaks above 16,000 feet. Choose from three main tours.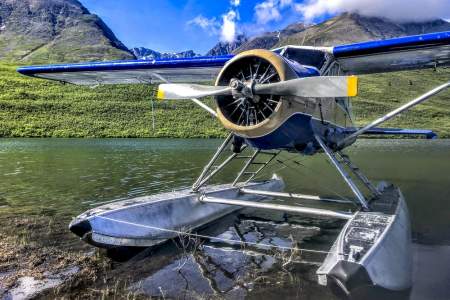 Season: Year Round Flightseeing $250+ | Air Taxi $380+ One Way 1+ hrs
Year-round air ser­vice from Glen­nallen, Alas­ka. Short on time? Check Alaska's largest nation­al park off your list with a flight­see­ing tour that includes a land­ing in the wilder­ness of the park. Trav­el­ing to McCarthy / Ken­ni­cott? Trav­el like the locals and hop on a mail plane flight. See how back­coun­try mail is deliv­ered and enjoy speedy trans­porta­tion to McCarthy. Or, opt for their sched­uled air ser­vice. Both have depar­tures from Anchor­age and ...more