Experience real Alaska by flying aboard a plane delivering mail, or take a stunning flightseeing trip, all from Glennallen.
Small planes are the indispensable workhorses of Alaska, doing everything from everyday transportation to thrilling flightseeing rides. One of their everyday tasks is delivering mail to remote locations of the state—and this is your chance to come along for the ride on a mail run! But that's not all that Copper Valley Air Service offers. In fact, they can take you just about anywhere in any season. Visit remote regions only accessible by plane—including float plane and ski plane. You can land among the wilds of Wrangell St. Elias National Park—America's largest national park or soar high above the tundra, looking down on glaciers and rivers. Whatever you decide to do, you'll be in the experienced hands of veteran Alaskan pilots who have flown all over the state with skis, floats, and wheels on their planes!
Mail Plane Flights to McCarthy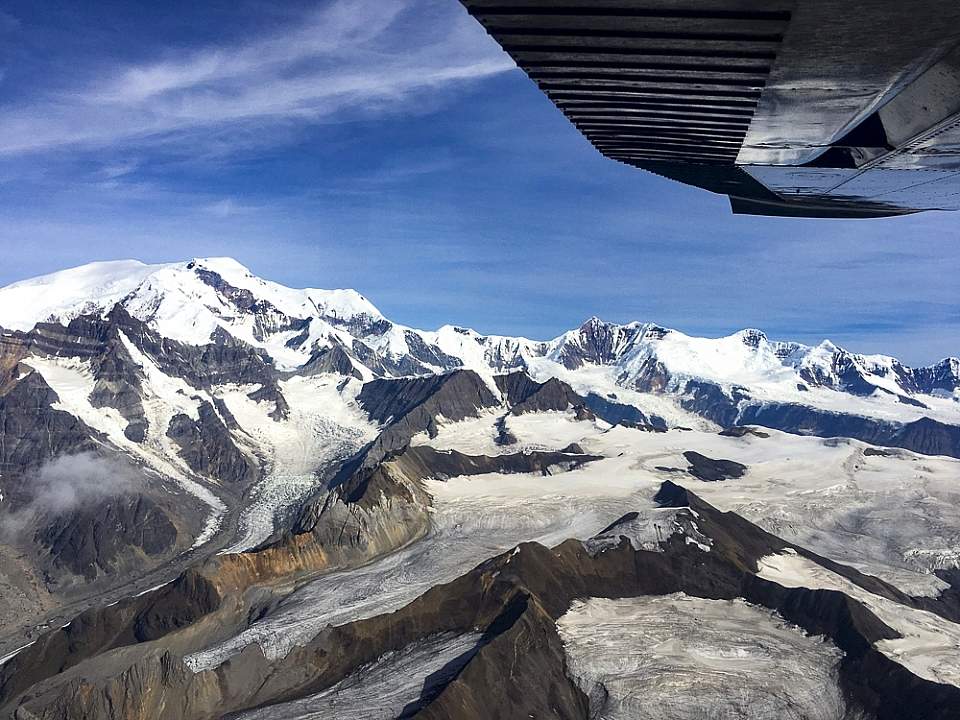 What's more authentic than delivering mail? Mondays and Thursdays year-round, you can have the unique experience of flying with planes full of mail. You'll hop from Anchorage to Glennallen (or you can drive yourself), then fly almost 45 minutes to the remote town of McCarthy. You might do some short stops along the way—after all, this is how the mail gets delivered! Just be prepared to travel light; only small bags are allowed.
Scheduled Service to McCarthy
You can also choose to fly without the mail. Explore the same route on Wednesdays and Saturdays from early June to early September. Spend a day or a few days exploring the fascinating towns of McCarthy and Kennicott, set in the heart of Wrangell St. Elias National Park. Flying is by far the easiest way to get there, since the other option is to make the 60-mile drive on a rough gravel road (which not all rental cars are allowed on).
Flightseeing Tours: Wrangell St. Elias National Park & Beyond
60- or 80-minute flight
Look down on glaciers, rivers, and wildlife as you take this stunning trip over Wrangell St. Elias National Park. Catch some volcanic activity along the way as well; sometimes there's steam coming out of the active volcano of Wrangell. See even more when you take the 80-minute option!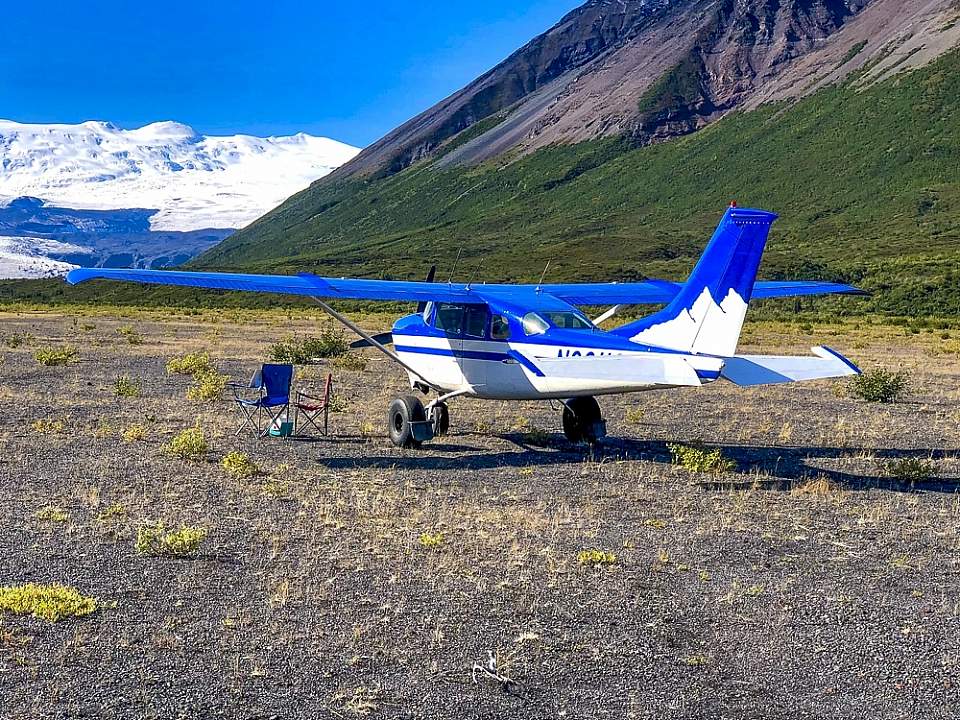 Heart of the Park
Short on time but want to set foot in Wrangell St. Elias National Park - America's largest national park? This 60-minute flightseeing expedition includes an unforgettable backcountry landing next to a river in the park, with the opportunity to walk around for 15 or so minutes, surrounded by dramatic mountains. Get your park passport stamped or just take in the awe-inspiring beauty and silence around you.
Float Plane Flight from Lake Louise
If you've never taken off in a plane from the water, this is your chance. You'll board right from the dock at Lake Louise Lodge, then set off for an amazing airborne exploration of the dramatic Chugach Range. See Tazlina Lake and Tazlina Glacier; you may even be able to see Valdez and Prince William Sound on a clear day. You can also do this flight from Tolsona Lake, just a quarter mile off the Glenn Highway.
Charter Flying
If you have 4-5 people, consider chartering a flight to McCarthy on your own schedule. Or skip the rental car and fly lodge-to-lodge between McCarthy, Glennallen, Anchorage, Cordova, Valdez, Fairbanks, Seward, and Kantishna in Denali. You'll hop around quickly and see more than by driving. You can also get dropped off and explore the backcountry. This is how some climbers, hikers, campers, hunters, and rafters travel. Or take a day (or several) and go fishing for trout, grayling, or salmon in the rich lakes of the Copper River Basin.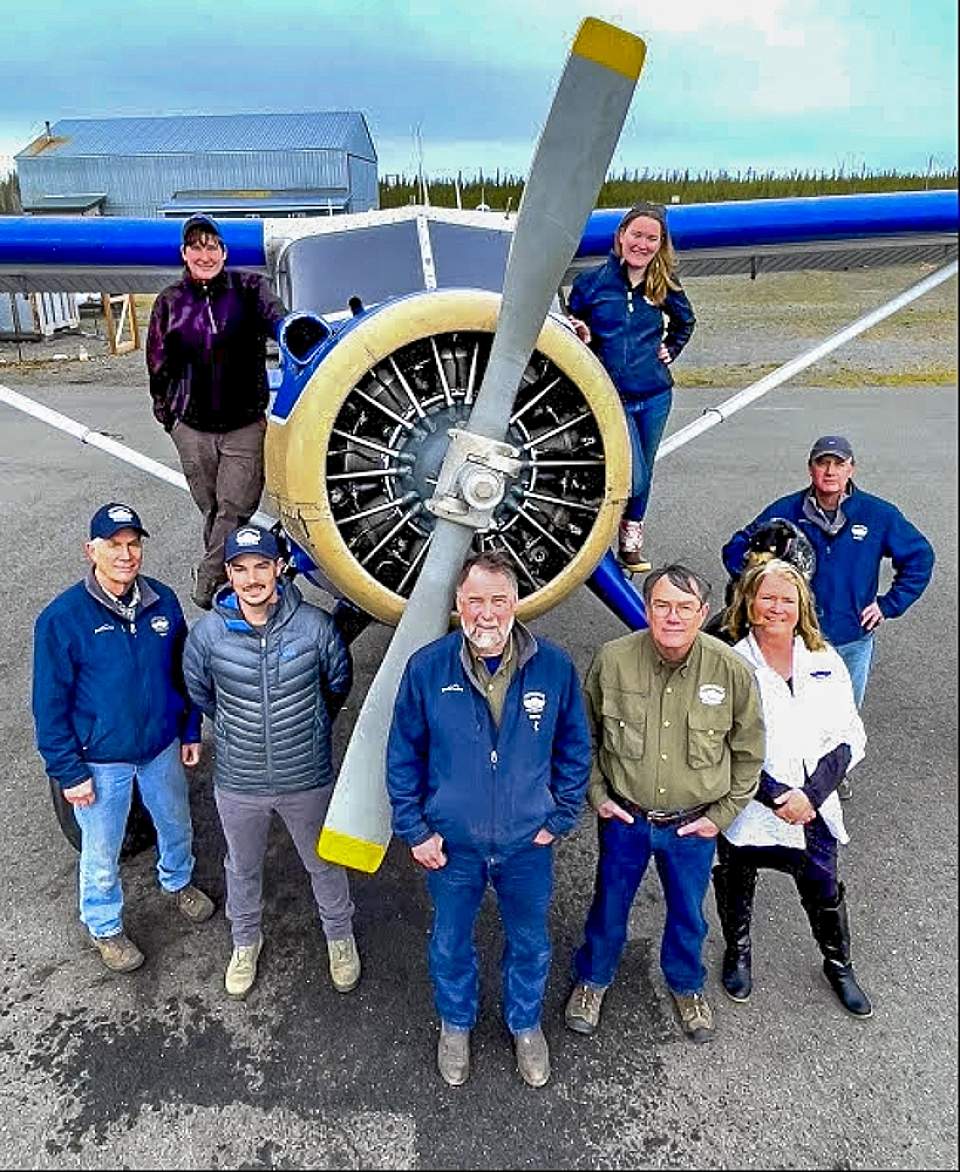 Utilitarian Flying
While travelers won't be doing a lot of this, it's interesting to know that Copper Valley Air Service flies workers and others around to do fire detection flights, animal surveys, gold mine servicing, and game management units—even to shoot some reality TV!
About Copper Valley Air
Copper Valley Air's owner and founder, Martin, hitchhiked up to Alaska in 1981 for a summer. Smitten, he returned with his pilot's license and started flying. He flew out of McCarthy for some 15 years, then purchased Copper Valley Air in 2015—an air service with a long history under various names. Today they operate out of the Gulkana Airport in Glennallen. Now there have been three generations of companies doing air taxi work and delivering the mail. Today they can do just about anything in any season, putting skis on the planes in winter and floats in summer, and will try to cater to whatever requests guests have to make their trip a success!