Experience the thrill of flightseeing in areas that most tours can't reach. Go with Golden Eagle Outfitters and enjoy fully customized flightseeing tours from Kotzebue or Delta Junction—or take advantage of their air-taxi drop-off and pickup service to access some of the most beautiful and remote parts of Alaska.
Custom Flightseeing & Air Taxi Services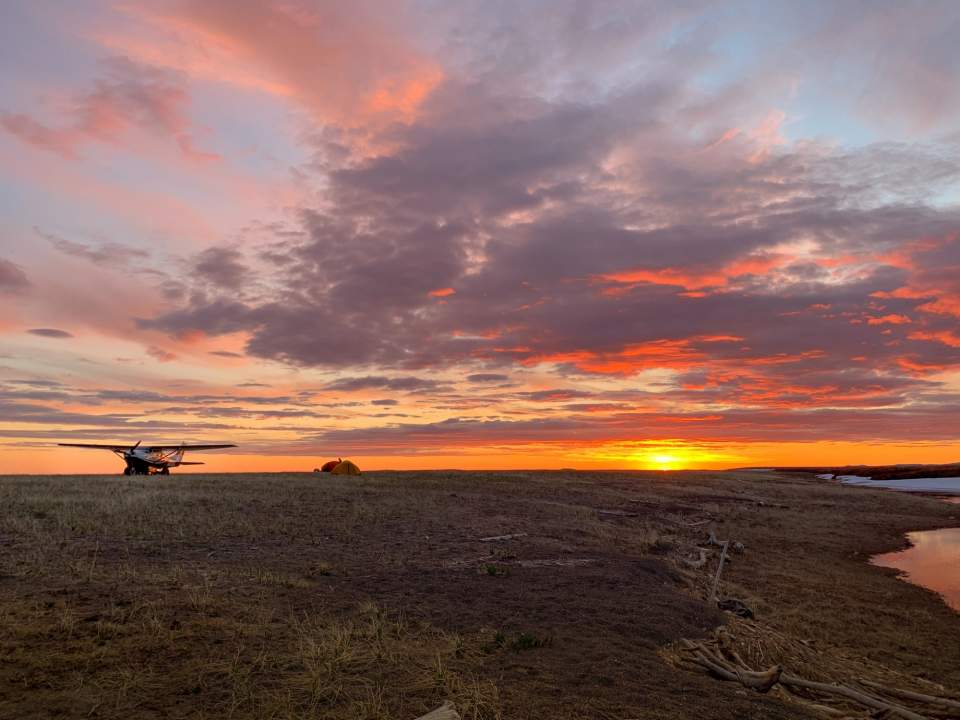 Take off for flightseeing over little-visited national parks and other hidden corners of the state when you go with Golden Eagle. Soaring over these remote parks makes for spectacular flightseeing, and you'll usually touch down for a few moments to get the feel of the wilderness around you as well. You can also fully customize the tour according to your interests. Want to go hiking, rafting, birding, skiing, or more? Golden Eagle can help organize guides and equipment, then drop you off and pick you up.
You'll be flying with a small family-run business—second- or third-generation pilots who add a family feel to your journey. All pilots are fully certified and approved and have a combined 60 years of accident-free bush flying.
They not only take great joy in sharing their home with visitors, but also bring a commitment to the Alaska wilderness, working with local and national agencies to ensure best practices in environmental protection and conservation.
Flights from Delta Junction
If you're driving the Richardson Highway, stop off in Delta Junction for an unforgettable flightseeing tour—you'll be able to access parts of the state that most flightseeing tours miss. It's easy to fit in a one- to two-hour flightseeing tour that's fully customizable based on your interests.
Most travelers request to fly over the Alaska Range—and the whole section south and west of Delta Junction is stunning. You'll see the massive wall that is Mt. Hayes; the winding ice floes of Trident Glacier, and the impressive peak of Mt. Silvertip. Black Rapids Glacier is another popular sight in the Alaska Range—it runs along the Denali Fault and it's possible to see shifts from recent seismic activity from the air. Take as little as an hour or as many as 3 to check out whatever you'd like.
You can also go see Yukon Charley National Preserve and Wrangell St. Elias National Park. Fly over both and touch down in each; it's takes roughly 3–4 hours to do, and it's great for National Park Passport stampers!
No matter what experience you'd like to have outdoors, Golden Eagle can help get you there—and bring you home. Want to spend more time in Yukon Charley & Wrangell St. Elias? The company can help you arrange a hiking guide, then transport everyone out to the middle of the wilderness for amazing hiking. The same is true if you'd like to go mountain climbing or hiking from one place to another in the Alaska Range.
Fan of float trips? The area boasts some amazing rivers—Good Pastor, Robinson, Salcha, Johnson, Little Delta—all with stunning scenery. But access is key, and Golden Eagle can get you there and recommend area outfitters for gear and guides. Or, if backcountry skiing and snowboarding is your jam, you'll love the glacier and mountain skiing in the Alaska Range. Come from February to August and Golden Eagle can organize your trip!
Flights from Kotzebue
Over in the northwestern part of the state, the most popular trips are to the northernmost, most remote parks in Alaska. These fly-in only parks are on many national park bucket lists: Gates of the Arctic National Park, Kobuk National Park & Preserve, Noatak National Preserve, Krusenstern National Monument, Bering Land Bridge (Serpentine Hot Springs), and Selawik National Wildlife Refuge.
You can see all five of these gorgeous places in one day if you want: It takes about 8 hours. The most popular are Gates of the Arctic and Kobuk, which take about four hours. You'll make a quick landing in each to soak in the majesty from the ground, and then take off. Of course, if you want to spend more time on the ground or see more places, the flights are fully customizable. Along the way, you'll have headsets and you can talk to the pilot, get the history, and check out the wildlife he points out.
If you're interested in other activities, Golden Eagle can make that happen as well.
Wilderness rafting. Beautiful rivers abound in this part of the state, like the Noatak, Kobuk, Ambler, and Wulik, or any of the tributaries that flow into the Noatak. Packrafting/hiking trips are popular as well. You can even rent rafts from Golden Eagle.
Birders and wildlife viewing. Anytime from spring through fall is the perfect time to see shorebirds, birds of prey, ducks, geese, and swans. Even the grey-headed chickadee (Siberian tit)—the hardest bird to spot in North America—can be seen here, along with 50 other species of migratory and song birds and hundreds of thousands of migratory birds.
Fly-in fishing. Go casting for Dolly Varden, northern pike, sheefish, arctic grayling, salmon, char, and lake trout. You'll find many rivers accessible from Kotzebue; Golden Eagle can recommend the best spot for you.
Backcountry Skiing, Ski Mountaineering, and Touring. Winter sports abound from February through August. Call and they'll organize a trip for you to go skiing on glaciers and mountains in the Alaska Range.
About Golden Eagle Outfitters
Jim, Jesse, and Jared Cummings are the owner-operators of this company that started in Delta Junction with just a single pilot taking folks out for fishing trips. Back in 2000 they became a certified air-taxi operation, and in 2009/2010 they launched a base in Kotzebue and began offering trips into the remote northern national parks. Along with arranging unforgettable trips for travelers, Golden Eagle does a lot of work for the government, along with statewide wildlife surveys.