Get whisked off to the Alaskan wilderness for a day or more of world-class fishing, located in some of Alaska's most beautiful and remote country.
Angling Adventures, from Lake Hood
We love Rust's Flying Service, which has been safely carrying anglers far away from the crowds since 1963. Rust's offers two main options: a day or overnight guided trip based out of a lodge, or a do-itself multi-day trip at a wilderness cabin. Either way, your day begins at Anchorage's Lake Hood, the world's busiest seaplane airport. Enjoy a window-seat view as your pilot flies you off to a fish-filled body of water surrounded only by wildlife and woodlands.
For Novices or Experts
This trip is a good option for both experienced and inexperienced fisherman, couples or families—grandchildren included. This does not mean that if you and your buddy are expert anglers, you won't enjoy this trip. You'll get a local insider who will lead to the best fishing spots—and you have a kindred spirit to talk about fishing gear.
Fish to Your Limit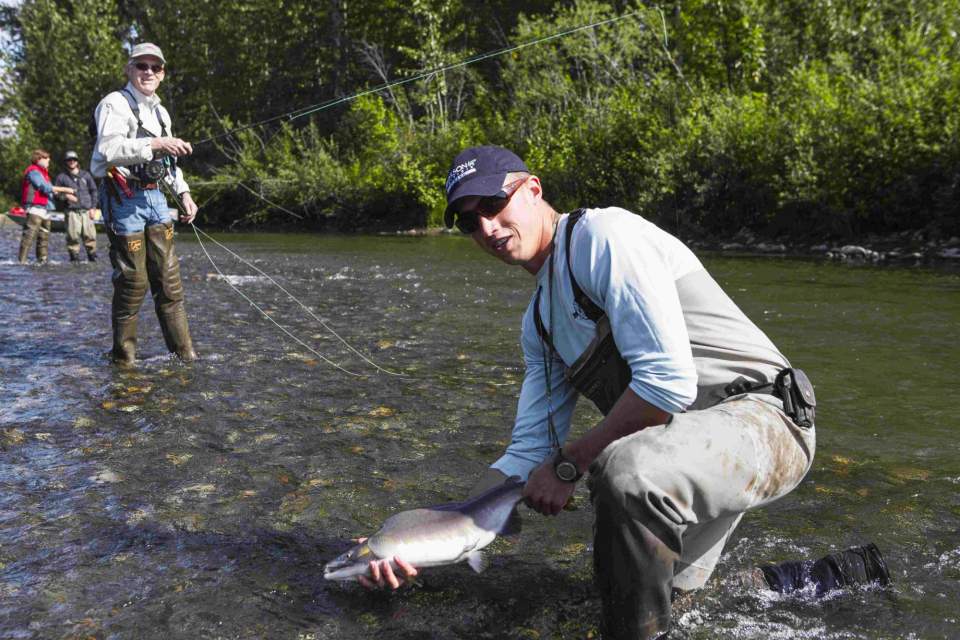 Once you land on a remote river or lake, you'll meet your guide, who will outfit you with gear, and offer advice on equipment and technique. Then you'll start fishing, testing your skills and more than likely reaching your limit in king, red or silver salmon—or, grayling or trout, depending on the time of the summer. You'll take a lunch break for a delicious meal at the lodge and go back to fishing in the afternoon.
After an amazing day of fishing, hop on the plane and take your catch—cleaned and packaged for you—back to Anchorage.
When Night Falls, Choose Between a Lodge and a Cabin
If you opt for the overnight stays, you can spend the evening (or a few evenings) at a lodge, about 25 minutes from Anchorage, where all meals and creature comforts are taken care of. If you opt for "roughing it" in a cabin, Rust's will fly you to a cabin on a lake and leave you with the basic necessities—boat, stove, drinking water—for premier fishing. You bring your own food, fishing gear and sleeping bag. This is a good option for people who have outdoor wilderness experience. You should consult the crew at Rust's for the best time to reserve, since different species of salmon run at different times.
No experience necessary. No minimum age.