Enjoy a bird's eye view of Alaska's scenic highlights on a flightseeing tour with Rust's Flying Service. Fly among the rugged peaks of the Alaska Range, with stunning views of Denali. Soar over the glaciers and wildlife of the pristine Prince William Sound or beautiful Knik Arm. Or take in Anchorage from above, set between the waters of Turnagain Arm and the Chugach Mountains. Your tour begins at Anchorage's Lake Hood, the world's busiest seaplane airport. Every passenger gets a window seat and a two-way headset for pilot narration.
Rust's was founded in 1963 when retired Air Force Colonel Henry "Hank" started flying hunters and fisherman into depths of Alaska. Over the years, that expanded to include several flightseeing tours. Today's Rust's has a very strong reputation for safety and reliability, and is the largest and oldest seaplane operator on Lake Hood. Choose from these tours:
Greatest Hits Tour
The Anchorage Flightseeing Safari (30 minutes) offers a scenic taste of Anchorage and its surroundings while also offering a lot of value. It's just $100 per person, and is an easy way to squeeze in a flightseeing trip into a short or busy trip. You'll take off and land at Lake Hood, and get to see the Chugach Mountain Range, from its secluded valleys to the Dall sheep that live on its steep slopes; you'll also soar over Captain James Cook's Turnagain Arm in search of beluga whales. On a clear day, you might even get a glimpse of Denali in the distance. Your trip also includes a bird's eye view of the bustling metropolis of Anchorage, as you listen to your experienced Alaskan bush pilot tells you some interesting facts about the Last Frontier.
Instant Denali
Discover Denali & Denali National Park (year round, 3 hours) is Rust's most popular air tour—because everyone wants to see Denali National Park, but not everyone wants to make the 8-hour train ride or 5-hour drive to the park. With this trip, you can skip the buses and crowds, and see the sights from above. You'll fly over the foothills of Denali National Park to view the entire length of the Ruth Glacier, the Great Gorge, and the massive south face of Denali, where you may spot climbers headed for the top. You'll come within six miles of the 20,320 ft. summit. Before returning to Anchorage, your pilot will make a photo-stop landing, either on a lake at the base of the mountain or in Talkeetna. This is an excellent tour choice during the winter months since the skies are generally quite clear.
Wildlife and the Knik
Fly along the Chugach Mountains and the Knik Arm on the Knik Glacier and Wildlife Tour (1.5 hours / year-round, 2.25 hour tour with lakeside stop / summer only) for the opportunity to see a variety of Alaskan wildlife, such as Dall sheep, mountain goats, moose, and black bears. As you fly over the expansive Knik Glacier, you'll sense the motion of the ice and see how it has shaped the beautiful Knik River Valley.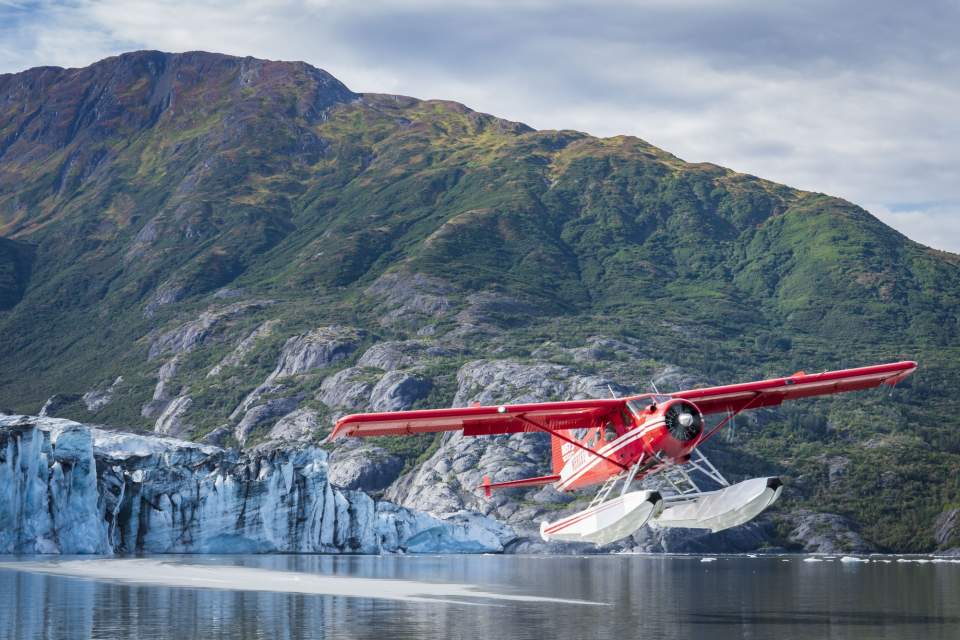 Glaciers Galore
Take flight on the Prince William Sound Glacier Tour (summer only, 2.5 or 3 hrs) into Prince William Sound encompasses over 15,000 square miles of Fjords and Inlets. While you'll see a few glaciers on the other flightseeing tours, this one really takes the cake, flying above dozens of tidewater glaciers. Add an additional half hour (extra) and see Columbia Glacier, Prince William Sound's largest tidewater glacier, breathtaking with its vast amount of ice at the water's edge. You'll have the chance to see glaciers calving into the sound and sea otters basking in the sun on the floating icebergs. The sound's clear sea waters produce a rich marine life. Watch for whales, seals, eagles, otters, and black bear. This tour, along with the Knik tour listed above, is best for spotting wildlife. Your pilot will make a photo-stop landing at a secluded cove before returning to Anchorage.
No experience necessary. No minimum age. If you are prone to motion sickness, take the normal precautions, just as you would on a boat or in a car.