Want to boost your chances of seeing bears without resorting to the Alaska Zoo? Rust's Flying Service will whisk you off into the Alaskan wilderness for a day of world-class brown-bear viewing in their natural habitat. We love Rust's, which has been safely carrying people far away from the crowds for decades and provides two-way headsets and window seats for every passenger.
A Legend in Flightseeing
Rust's was founded in 1963 when retired Air Force Colonel Henry "Hank" started flying hunters and fisherman into depths of Alaska. Over the years, that expanded to include several flightseeing tours. Today's Rust's has a very strong reputation for safety and reliability, and is the largest and oldest seaplane operator on Lake Hood. You'll take off for an all-day bear viewing expedition past glaciers and volcanoes to the land of the giants, the brown-bear country of southwest Alaska. You can choose from three different tours:
Bearpalooza at Brooks Falls
The Katmai Bear Viewing Tour takes you to Brooks River Falls in Katmai National Park, where during salmon runs, the fish pool under the waterfall — or in other words, bear-viewing central. During your 200-mile journey—the flight takes two to three hours—you can often spot numerous bears from the air (along with gorgeous scenery) as well. Once you arrive at Brooks, the tour is not very guided, which gives you plenty of freedom to do as you please. You'll stand on a Park Service viewing platform, watching bears snatch salmon as they jump up the falls.

At Brooks Falls, you'll typically see more bears than other tours —and get to see the quintessential Alaskan scene of bears fishing for salmon swimming up falls. The only downside is that you'll see them from a greater distance. Keep in mind: The peak season for Brooks River Falls is July. Otherwise, weather sometimes shuts down the trips, since you're flying through two passes. But don't worry—weather doesn't affect the bears.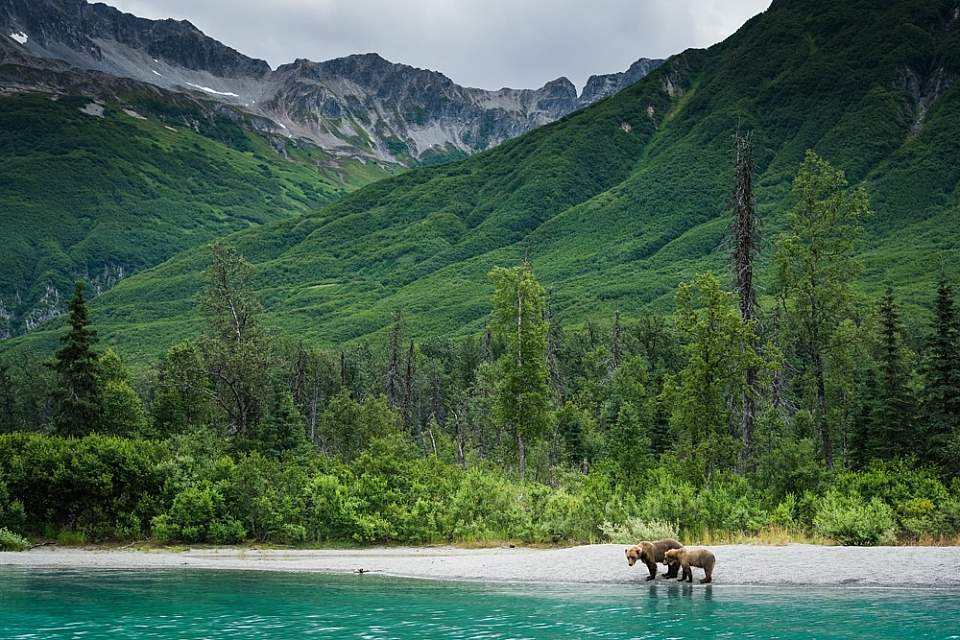 Up Close at Redoubt Bay
Or, you can choose the Redoubt Bay tour, which takes you 70 miles southwest of Anchorage in a flight that last a little less than an hour. You'll arrive at the entrance of Lake Clark Wilderness Preserve, home of the Redoubt Bay Lodge and excellent bear viewing. An experienced natural history guide will take you by boat through bear country, where Wolverine Creek empties into Big River Lakes.

You'll see bears as they fish for salmon—and plenty of other flora and fauna as well (you'll get a checklist of flora and fauna to watch for along the way). While you may see fewer bears here than at Brooks, here the bears might come very close to your boat, as they lunge for salmon in the lake. The season is also longer: You can enjoy good bear viewing anytime between mid-June and mid-August.
Bears—Plus Volcanoes—at Lake Clark
The third choice is more similar to the Redoubt Bay package, but has some different viewing opportunities along the way. The full-day Lake Clark National Park tour (10 hours) departs from Lake Hood and heads west over Cook Inlet; you'll fly (for a little more than an hour) over two active volcanoes (Redoubt and Illiamna) before landing on Crescent Lake in the Lake Clark National Park and Preserve. You'll then ride in a viewing boat with a roof (which holds just 10 people) on Lake Clark, which is home to a huge salmon run. You'll see bears fishing for salmon, as well as mama bears teaching their cubs the tricks of the trade. You'll get some fabulous photo opportunities here.