If you want to get a true sense of the 13 million acres within Wrangell-St. Elias National Park—which has a mere 100 miles of roadways— it's a good idea to start above the park. Since 1992, Wrangell Mountain Air has been offering safe and fascinating tours of this remote kingdom, which boasts North America's largest assemblage of glaciers, and its greatest collection of peaks above 16,000 feet. (After all, four mountain ranges converge here.)
Most of the operator's offerings are tours of the park, but they also provide one highly convenient service: travel from Chitina to McCarthy-Kennicott, a popular flight that allows you to avoid driving the McCarthy Road, which is off-limits for many rental cars.
Wrangell can also fly you to any number of backcountry destinations for hiking and rafting, including several point-to-point backpacking routes. And if your needs call for a charter flight anywhere in the state, Wrangell can handle that, too. They commonly pick up and drop off visitors at cities and towns across Alaska.
On any flight, your pilot will point out the most interesting features and explain how this beautiful land came to be. The pilots are especially good at spotting wildlife after many years.
Tour Options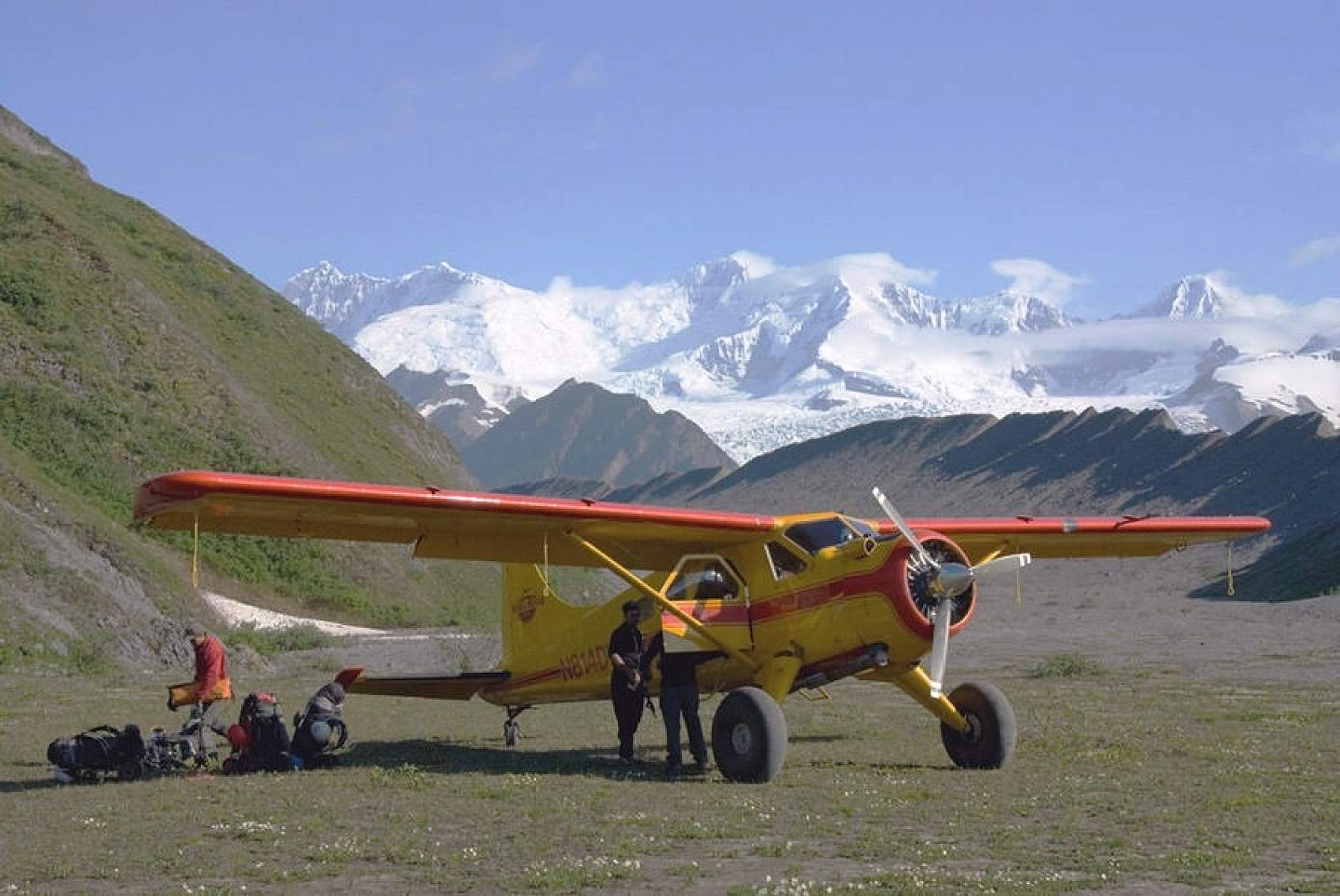 Mile High Cliffs Tour
This 50-minute tour is a shortened version of the Mountain Tour, including highlights such as the Sourdough Rock Glacier, the Mile High Cliffs, the towns of McCarthy and Kennicott and the iceberg-choked lake at the toe of the Nizina Glacier.
Thirteen Glacier Tour
This popular 70-minute tour soars above 13 glaciers, Chitistone Canyon, the warped limestone of the Mile High Cliffs, the 7,000-foot Stairway Icefall, and Erie Mine, which clings to the mountainside 3,000 feet above Root Glacier. You'll see the nearly century-old ruins of the Nizina Bridge (1920's) and the massive Sourdough Rock Glacier.
Bagley - or - University Tour
You can choose from two 90-minute flightsee options—each grand in its own way on the day you go, weather may dictate the best one). Option 1 hits the park's big three: massive peaks Mt. Logan and Mt. St. Elias as well as Bagley Ice Field, the largest non-polar ice field in the world. Option 2 packs in 15 glaciers, mountains galore, and the Stairway Icefall. Option 3 flies past Mt. Wrangell, an active volcano, the Mile High Cliffs and Nabesna Glacier, the longest valley glacier in North America.
Jewel of the Wrangells Tour
This 120-minute tour is for guests who want it all choose to have the pilot fly a custom route based on their personal preferences. At 13.2 million acres, Wrangell-St. Elias National Park can astound even the most experienced of fliers.
Service to, and Tours of, McCarthy-Kennicott
Avoid the McCarthy Road and take the 30-minute flight from Chitina, which offers also great flightseeing along the way: the Wrangell Mountains, the Kennicott and Root Glaciers and past the Kennicott mines. Make it a day (or overnight) trip by adding a guided glacier hike or a history tour half-day hike on the Root Glacier (with crampons!), and lunch.
No experience necessary. No minimum age requirement.