Stunning snow-capped peaks and intense blue meltwater pools await travelers who choose a flightseeing and glacier landing tour with Talkeetna Air Taxi (TAT). Locally known as "The Glacier Landing Company," TAT has been bringing climbers and sightseers to the Alaska Range and Denali since 1947.
What do they all find?
A Team Dedicated to Customer Service
The Talkeetna Air Taxi team has one goal: to make sure customers experience a safe, enjoyable trip. What does this mean to you? A relaxed, friendly atmosphere with knowledgeable staff who will brief you on current weather conditions and share their enthusiasm about the flight you are about to embark on. In the event Mother Nature does not cooperate, they will either work with you to reschedule your flight if your travel plans permit or refund any payment you have made.
A Custom-Designed Fleet
The aircraft you fly in has a huge impact on the quality of your flightseeing experience, which is why TAT uses the latest innovations in safety and comfort. Its fleet consists of eight aircraft that have been modified to maximize safety and viewing potential. Each passenger has a window and individual headset.
Knowledgeable Crew
Annie, from TAT says "If only we had a dollar for every time a customer has said, "Our pilot was so informative!"." Seeing amazing views is much more meaningful when a guide can provide background information, history and geologic details, as well as a perspective on distance and how massive these mountain ranges and glaciers really are. Talkeetna Air is also the only operator with tours translated into Mandarin, Korean and Japanese.
Tours for Every Budget
Southside Explorer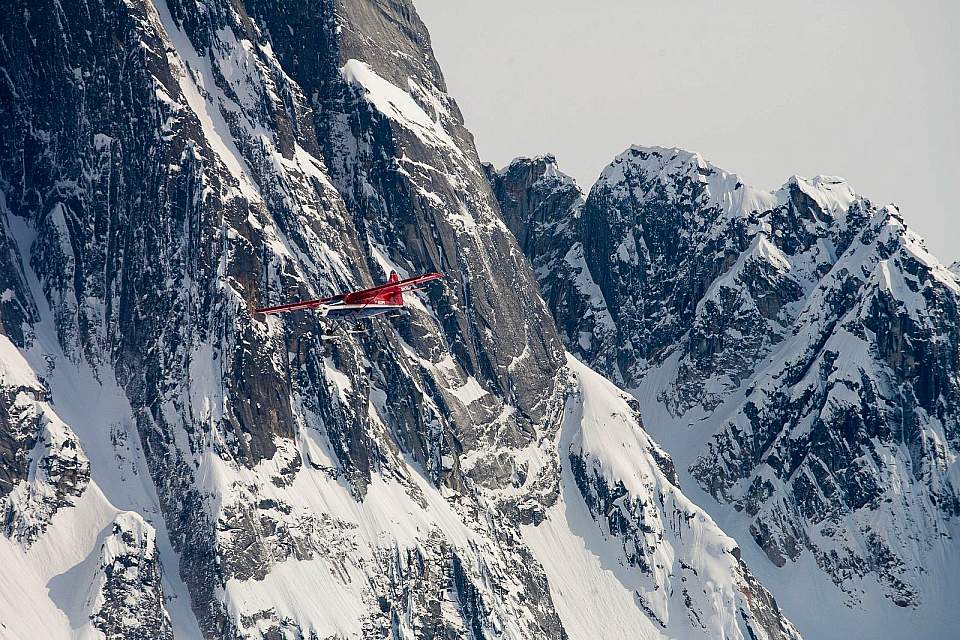 A one-hour tour filled with spectacular views of the Alaska Range and Denali, including the Don Sheldon Amphitheatre and the Great Gorge of the Ruth Glacier, the deepest canyon in North America.
Mountain Voyager
The office staff and pilot favorite, leads right into the heart of the Alaska Range. In just fifteen extra minutes, you soar over the South, East and West faces of Denali and all the major glaciers that blanket the south side of the Alaska Range and view Base Camp, where climbers begin their 3-week Denali journey. All of the uniquely interesting land structures are located on the south side.
Grand Denali
Along with views of the south side, you see the entire north side of Denali, which features the Wickersham Wall, one of the highest vertical rises in the world. You will circumnavigate Denali and witness its dramatic hanging ice glaciers, colorful rock formations and geological wonders. Spend an hour and a half seeing more of Denali National Park than any tour available.
Summit Flight
Gives you a bird's eye view of the Alaska Range. Spending time at higher altitudes during this tour as you view the summits of Denali, Foraker and Hunter, appreciating the oxygen-equipped De Havilland turbine Otter.
Heli-Hike
Lift off from the lowlands of Talkeetna's boreal forest for a thrilling helicopter flight into the Talkeetna Mountains above. Talkeetna Air Taxi partners with Alaska Nature Guides for this unforgettable experience. You are in the company of an experienced naturalist guide who will show you the way and get you home safely. The difficulty can range from easy to strenuous, as guides will customize the hike to your comfort level.
Heli-Sightseeing
Get up close and personal with Denali. Zip through the Alaska Range, see stunning snow-capped peaks and cascading icefalls. This tour is about an hour long, and can be scheduled to include a wilderness landing.
River Access
If you're a water lover, rafting or kayaking the Upper Talkeetna River is certainly an option. They can fly in all of your gear - how easy is that?
No experience necessary. Most tours suitable for all ages and activity levels. Must be 12 years or older for Summit Denali Tour, no exceptions.