Although it's one of the larger flightseeing companies in Anchorage, Regal Air is still a family operation, and you'll find a friendly, helpful crew of pilots and staff. You'll also have lots of tour options: go glacier viewing, see Denali, take a remote fly-out fishing trip, or even go bear viewing. With numerous flight times daily—and even a free hotel shuttle—it couldn't be easier to see the untamed Alaska by air.
Three Fabulous Floatplane Tours
Depart from Anchorage's world famous sea plane base, Lake Hood. Regal air offers flightseeing tours all over the region of South-Central Alaskan. From Denali National Park, to Prince William Sound. Mt. Spurr and the Tordrillo Mountains, to the Knik and Colony Glaciers. See North Americas tallest peak and some of its largest glaciers. Experience a take off and landing in an authentic Alaskan floatplane. Alaska is truly one of the most impressive geographic regions in the world and the best way to take it all in is from a birds eye view! Three of our most popular flightseeing tours include the Denali National Park Tour, the Knik and Colony Glacier Tour, and the Blackstone Glacier Tour.
Denali National Park Flightseeing Tour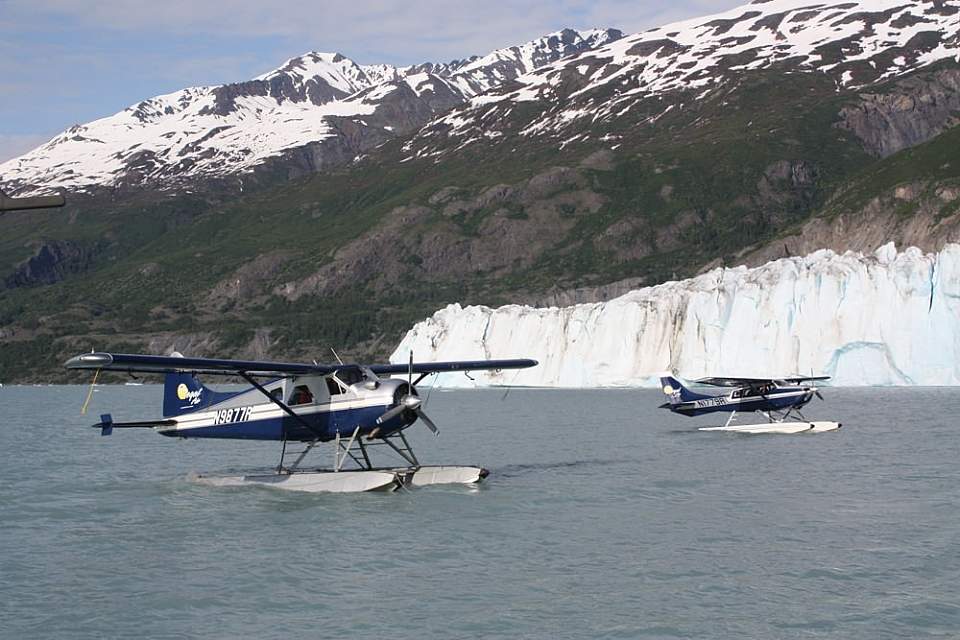 Other than climbing Denali, there's no better way to explore North America's tallest mountain than a flightseeing trip. With Regal Air's Denali Tour, you'll fly along the south face of the mountain, looking down on the massive Ruth and Kahiltna Glaciers, and looking up to the 20,310-foot summit. Your trip starts from Lake Hood, and you'll get great city views as you soar over Anchorage. You'll fly up the Susitna and Kahiltna River valleys, where you can scan for wildlife before climbing into the foothills of the Alaska Range. Known as the "Little Switzerland" of Alaska, these jagged peaks are similar to the European Alps, and give way to the glaciers, ice falls, and rock walls of Denali. You'll fly over climbers' base camps and alongside the towering summit, then land on Lake Chelatna and stretch your legs on a sandy beach. On your way back, you'll fly low so you can look for grizzly bears, moose, bald eagles, and swans.
Knik and Colony Glacier Tour
If you have only 120 minutes but still want to see the vast Alaska wilderness from the air, this is the perfect flight. You'll see Anchorage, mountains, glaciers, a gorgeous river valley, and you'll even land on a glacial lake. Once you take off from Lake Hood, you'll head towards the Chugach Mountain Range, with panoramic city views en route. In the Chugach, you'll climb over rolling green alpine meadows and into jagged, snow-covered peaks before dropping down on the Knik and Colony Glacier Range. With its striated black and white moraines and bright blue surface lakes, the glacier's a great spot for aerial photos. And as you descend to the terminus of the Colony Glacier, you'll fly over jagged ice falls and crevasses. Your pilot will land on Lake George (which the Colony Glacier spills into), and you'll float among gigantic blue icebergs, listening for calvings. Take some photos, then take off and follow the Knik River back towards Anchorage, flying low and looking for wildlife. It might be hard to believe how much you saw in just an hour and a half.
Blackstone Glacier Tour
Fly through world famous Portage Pass. Within just 40 minutes of flight time out of Anchorage, The enormous Blackstone glacier comes into view. Experience an open-water ocean landing right where the foot of the glacier dumps into the sea. Shut down the engine and capture the perfect vantage point of Blackstone Glacier and waterfall. Listen to the crackling ice in truly a surreal location. Return to Anchorage down the Turnagain Arm of Cook Inlet, and as you fly, keep your eye pealed for Dall Sheep, Mountain Goats, Beluga whales, otters, and eagles! Blackstone glacier and Prince William Sound is truly a remarkable and unique Alaskan location. You are sure to remember its beauty for a lifetime!