Let Regal Air take you straight into the heart of bear country. Leave directly from Anchorage. The flight alone will leave you awe-struck as you fly down the West Coast of Cook Inlet. Land either on a beach in Lake Clark National Park or experience a floatplane landing in Brooks Lake, Katmai National Park. Once you arrive at your location, the bear viewing begins. Seeing these bears roaming freely around their natural habitat is about the most uniquely Alaskan thing you can experience, and you are sure to remember it for a lifetime.
Although it's one of the larger flightseeing companies in Anchorage, Regal Air is still a family operation, and you'll find a friendly, helpful crew of pilots and staff. You'll also have lots of tour options: go glacier viewing, see Denali, take a remote fly-out fishing trip, or even go bear viewing. With numerous flight times daily—and even a free hotel shuttle—it couldn't be easier to see the untamed Alaska by air.
Choose from Two Distinct Experiences
Regal Air has been flying up here since 1982, and their pilots know the backcountry extremely well. Flying with them, you'll have your pick of two amazing bear-viewing destinations: Lake Clark National Park or Brooks Falls in Katmai National Park. While both spots offer amazing bear viewing, each experience is a little different.
Lake Clark National Park Bear Viewing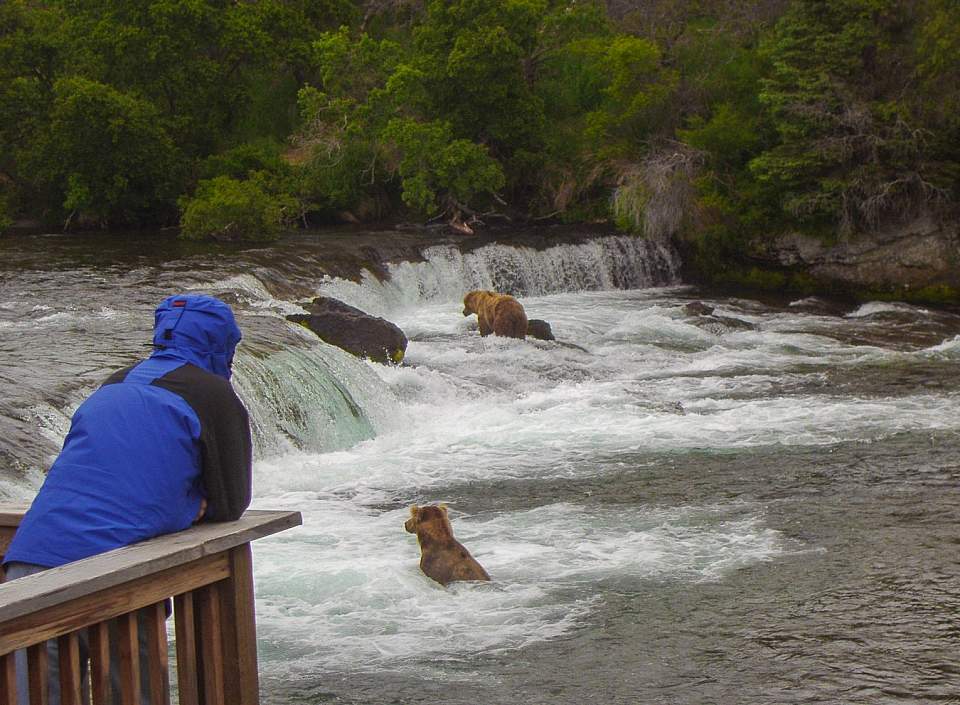 Take a scenic flight down the mountainous coast of Lake Clark National Park and travel to the land of the brown bears. After a beach landing, a short walk down the beach or through the grass filled meadows will lead you to the bears. In this gorgeous country, numerous bears roam around grassy fields. See them wade out into the mudflats to dig for clams, or into the tidal creeks to fish for salmon. Lake Clark bear viewing provides picturesque landscapes with numerous brown bears roaming freely. Eat a hearty picnic lunch along a salmon filled stream on the Pacific Coast before returning to Anchorage. It is sure to leave you feeling like you have traveled to true Alaskan wilderness.
Brooks Falls Bear Viewing
See the bears fishing world famous Brooks Falls, Katmai National Park. At times there are dozens of bears all standing on top of the falls catching salmon as they try to jump upstream. Seeing these wild bears sharing this ideal fishing hole, something they have been doing for ages, is truly a remarkable natural occurrence. Brooks Falls is a truly picture perfect location that you are sure to remember for a lifetime.
Or, Try Flightseeing or Fishing
But bear-viewing isn't your only option with Regal Air. Go with them on fightseeing trips to Denali National Park, the Knik and Blackstone glaciers, or Mt. Spurr. Or, if you'd like to fish on a remote river, Regal Air knows all the hot spots, and can take you there on guided or unguided fishing trips.