Staying at the remote Kenai Backcountry Lodge within the Kenai National Wildlife Refuge offers a real taste of the wilderness. The lodge, located on a five-acre, private in-holding, began as a river-accessed hunting cabin back in 1935. Years later, the remodeled and expanded property is still road-free. Guests raft in with Alaska Wildland Adventures, starting their vacation at the Kenai Riverside Lodge.
EcoTourism Pioneer
The company that owns and operates the lodge—Alaska Wildland Adventures—was started by Kirk Hoessle, a Missourian who came here for a summer job years ago and never really left. He started AWA as a tent safari and rafting tour operator, but snapped up the Backcountry Lodge when it came up for sale, and started expanding his company beyond the tents. He's long been an advocate for ecotourism in Alaska, and prides himself on hiring guides with the same expertise and passion about the great outdoors.
Seven Log Cabins & Two Lakeshore Cabins
Kenai Backcountry Lodge features comfortable, newly renovated guest cabins. Cozy cabin interiors feature a minimum of two beds, simple furnishings, a private en suite bathroom and shower, a private porch and propane light and heat.
Leaving No Trace—Literally
This true ecolodge runs off hydroelectric power supplemented with propane. You won't hear the sound of generators in the background, just the quiet of the forest. Raised boardwalks let you walk through the forest among the cabins without impact on the forest floor.
Challenging Hikes or Gentle Sunset Paddles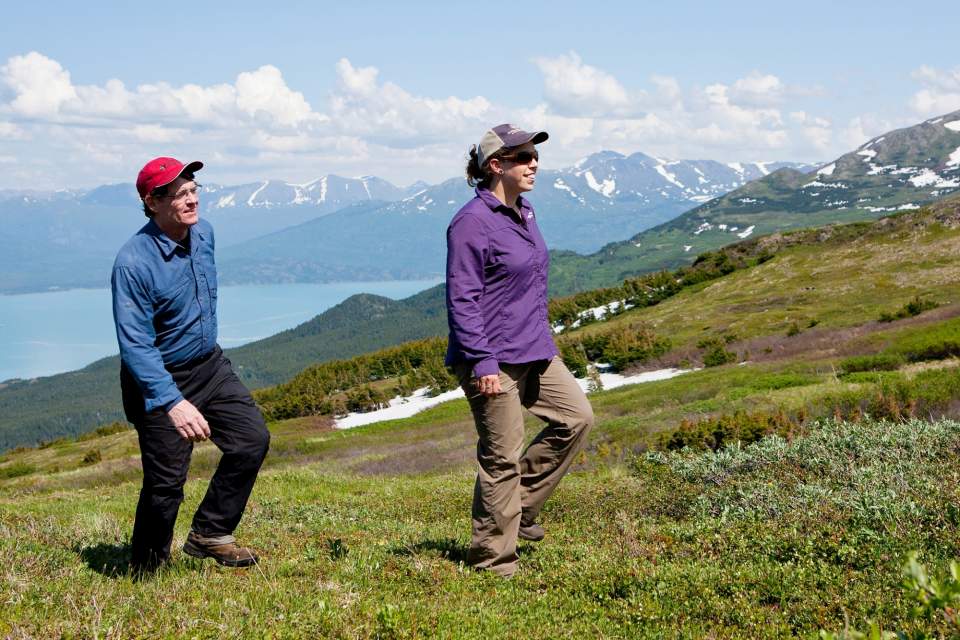 After your first night at the Kenai Backcountry Lodge, you'll have the opportunity to enjoy a guided hike through the wildlife refuge. You choose whether you want a casual hike, or a challenging one: The challenging hike takes you to the top of the Cottonwood Creek trail for amazing views—sometimes even including Denali. The casual hike lets you stop and smell the roses, with a focus on native plants. Non-hikers can enjoy a quiet afternoon on the screen porch, some ping-pong or beachcombing. In the evening, you can also take guided sunset paddle in a touring kayak when the lake is calm.
On the last day of your Backcountry stay, you'll motor across Skilak Lake, then shuttle back to Kenai Riverside Lodge and your vehicle. In addition to the Kenai Backcountry Lodge, Alaska Wildland Adventures owns and operates two other wilderness lodges on the Kenai Peninsula. Check out Kenai Riverside Lodge, located on the banks of the upper Kenai River; and Kenai Fjords Glacier Lodge, an exclusive seacoast paradise. If one lodge is not enough, take part in one of Alaska Wildland Adventures' all-inclusive Adventures, or choose a two or three lodge combination package and experience all AWA has to offer.