The name of this new wilderness ecolodge says it all—and it may be the best-situated lodge in Alaska. Located within a 1,700-acre, native-owned wildlife sanctuary in the heart of Kenai Fjords National Park, the central lodge and 16 guest cabins of Kenai Fjords Glacier Lodge have full views of Pedersen Glacier and easy access to hiking, kayaking and wildlife-viewing adventures. One bonus for staying here: the great Kenai Fjords wildlife and glacier cruise that transports you to and from the lodge.
EcoTourism Pioneer
The company that owns and operates the lodge—Alaska Wildland Adventures—was started by Kirk Hoessle, a Missourian who came here for a summer job years ago and never really left. He started AWA as a tent safari and rafting tour operator, but then expanded his company beyond the tents, but he wanted to keep lodges small, for an intimate vibe. The Kenai Fjords Glacier Lodge is the newest—and it was always a dream of Hoessle's to build in the unspoiled wilderness of the Kenai Fjords. When the native corporation sought out a partner to share the beauty of ancestral lands and waters with a small group of travelers each summer, they sought out Hoessle for his environmentally sensitive lodge/tour operation knowledge, and believed he would care for the land—which he does. He's long been an advocate for ecotourism in Alaska, and prides himself on hiring guides with the same expertise and passion about the great outdoors.
Up Close in the Fjords
To get to the lodge, you'll take a fully-narrated Kenai Fjords wildlife cruise where you'll spot marine mammals and waterfowl against a backdrop of shimmering glaciers—a memorable way to travel between Seward and the lodge. Once at the lodge, you can explore remote coves and pebbled beaches within the Alutiiq heritage lands of the Pedersen Lagoon Wildlife Sanctuary. You'll hike and kayak with expert guides and see harbor seals, river otters, mountain goats, black bears, bald eagles, and waterfowl.
Green Living, Gourmet Dining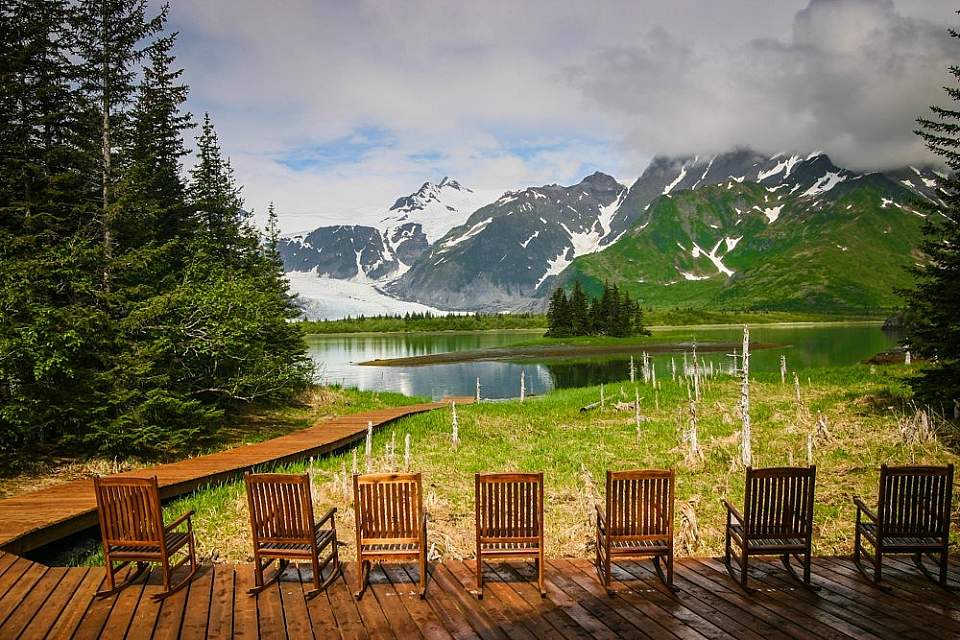 Back at the 3,000 square foot lodge, you can enjoy superb glacier, water and wildlife views—as well as dining on Alaskan specialties, fresh-baked breads plus fine wines and local beers. And if ecotourism is a priority for you, you'll sleep easily at night knowing that the lodge, cabins and all activities reflect Alaska Wildland Adventures' "leave no trace" style of ecotourism. The elegantly rustic lodge and secluded guest cabins pair modern comfort and environmental stewardship. Experience the vistas and wildlife of spectacular Kenai Fjords National Park with experts who call Alaska home.
In addition to the Kenai Fjords Glacier Lodge, Alaska Wildland Adventures owns and operates two other wilderness lodges on the Kenai Peninsula. Check out Kenai Riverside Lodge, located on the banks of the upper Kenai River; and Kenai Backcountry lodge, a remote boat-in only lodge located on the glacier-carved Skilak Lake. If one lodge is not enough, take part in one of Alaska Wildland Adventures' all-inclusive Adventures, or choose a two or three lodge combination package and experience all AWA has to offer.