Photo Credit: Orca Island Cabins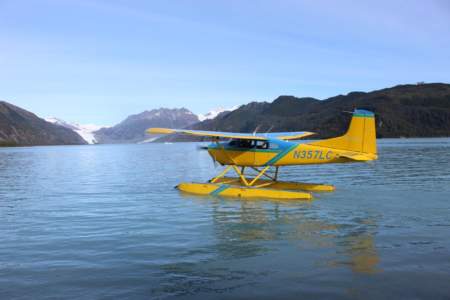 Season: May 01 to Sep 30 $525 per person, per night + air transfer 3-night minimum
This fly-in-only lodge fea­tures two seclud­ed chalets set amid a stun­ning mix­ture of sea, for­est, and a glac­i­er-formed lake. Enjoy guid­ed walks, cus­tom zodi­ac tours on the lake, bon­fires on the beach, and relax­ation at your pri­vate chalet. The rate includes trans­porta­tion to and from the lodge, kayaks, and activ­i­ties. There's a cen­tral cook­house for prepar­ing meals.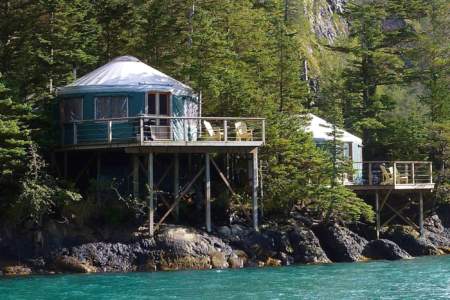 Season: May to September $850+ per cabin per night | 2+ Nights / $790+ per cabin per night
Expe­ri­ence com­plete immer­sion in the won­ders of wild coastal Alas­ka, and stay in spa­cious, bright yurts (cir­cu­lar, rein­forced tent-like struc­tures) on a pri­vate island in Humpy Cove. Inside, the yurts are warm and com­fy with fire­places, pri­vate bath­rooms and pri­vate decks over­look­ing the cove all con­nect­ed by exten­sive board­walks. They water taxis is includ­ed along with sea kayaks, pad­dle­boards, row­boats, and fish­ing gear. All of this is just a ...more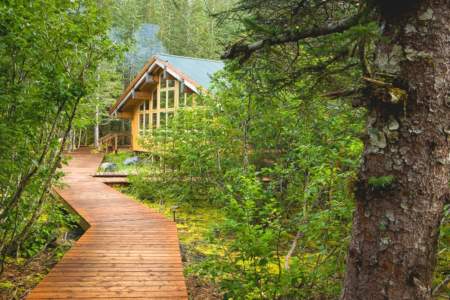 Season: Jun 01 to Sep 05 $915+ all-inclusive packages
Locat­ed with­in a 1700 acre native-owned wildlife sanc­tu­ary in the heart of Kenai Fjords Nation­al Park, the cen­tral lodge and 16 guest cab­ins of Kenai Fjords Glac­i­er Lodge have full views of Ped­er­sen Glac­i­er and easy access to wildlife-view­ing adven­tures. The ele­gant­ly rus­tic lodge and seclud­ed guest cab­ins pair mod­ern com­fort and envi­ron­men­tal stewardship.