Take a trip to a private island and experience complete immersion in the wonders of wild coastal Alaska. Orca Island Cabins sits on a picturesque, one-acre island and adjacent coastal property in picturesque Humpy Cove, 9 miles southeast of Seward.
You'll stay in spacious, bright yurts (circular, reinforced tent-like structures) that are also warm and comfy. And they let in the sounds of nature--the breath of a humpback whale or the lapping of the tide. During the day, take advantage of your surroundings using available sea kayaks, rowboat, and fishing gear and explore remote coves and tidepools, salmon-spawning streams, and coastal forests. Then kick back on your deck or gather around a fire ring to share the day's adventures.

Yurts Truly: Sustainable and Civilized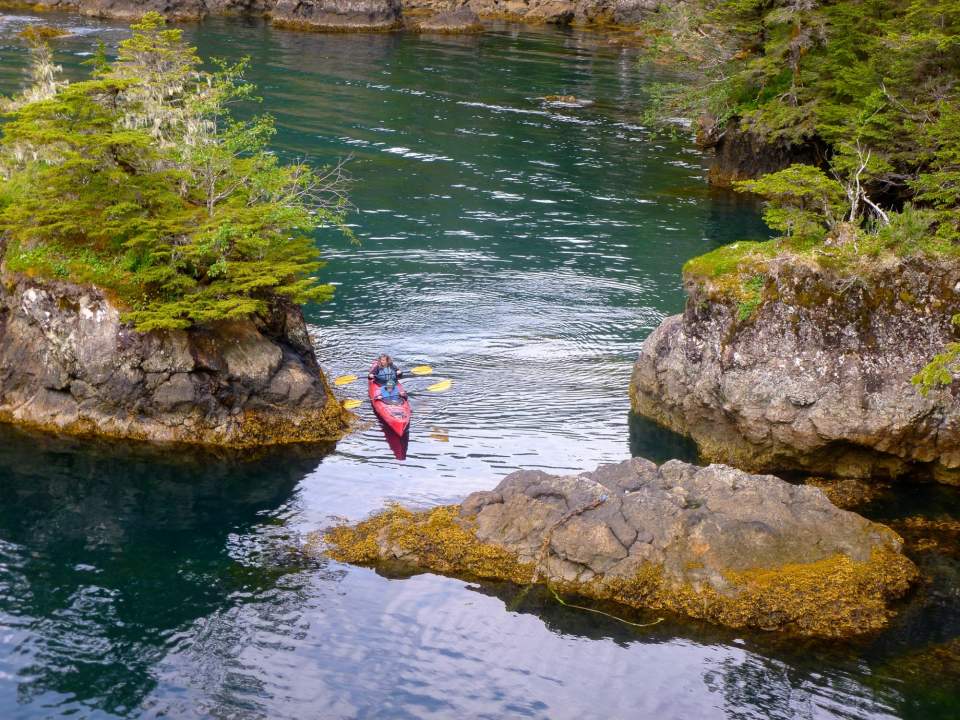 Susan and Dennis Swiderski created this gorgeous getaway. They're longtime Alaskans who have operated B&Bs and tour companies in Anchorage and Seward. Following their purchase of the property, they decided to develop the island in a sustainable manner and erected three yurts on the property. In 2012 they added two additional yurts on property next to the island and connected the island and mainland properties with a pedestrian footbridge.
Susan and Dennis meet you at the Seward Boat Harbor and ferry you out to the island in Humpy Cove. You bring your own food and ice and prepare your meals. The yurts feature gas ranges with ovens, and there are propane grills on each deck. There's water for hot showers and drinking, and each yurt has a queen bed and double futon, along with propane heat.
Outside you'll find private decks, as well as boardwalks and fire rings. Susan's an artist and a number of her paintings and driftwood creations are displayed on the island. And each yurt has a collection of books, including guides on the ecology and history of Alaska.
Island Living: Kayaking, Tidepooling and Fishing
Living: Susan and Dennis will give you an orientation to the property and sea kayaks, and share maps and charts with you as you plan your adventures. Then they take off and you have the place to yourself. There are eight yurts, and your experience can be as secluded as you choose.
It's easy to be lulled into the pace of island living. You can enjoy reading out on the deck, tidepooling at the water's edge, and looking for the resident animals: seals, river otters, and eagles. Or you can go kayaking and explore the surrounding area while fishing for salmon, hiking to waterfalls, and discovering secluded coves. You can also charter a boat for fishing trips, whale watching, or a cruise to nearby Kenai Fjords National Park. Guests may also take a two hour scenic/wildlife viewing cruise in Resurrection Bay. However you pass the days at Orca Island Cabins, the yurts and location combine for a unique, Alaskan wilderness experience.