At this lodge about 15 miles southeast of Talkeetna, you'll feel like you're at a friend's cabin in the woods. A friend, that is, who has carved out a fascinatingly authentic life in the Alaska bush, in an area where the tundra meets the taiga—and which often has clear views of Denali.
One Lodge, Three Stories
Certainly this is a great place to unplug: With no roads leading to the lodge, you only reach it by flying, typically from Talkeetna. But once you're here, the friendly, family-run lodge quickly feels homey. The property started as a hunting lodge in the early 1960s, when the founder took a deal from the state of Alaska and opened the lodge, running it for 20 years before abandoning it.
When it was bought in the 1990s by new owners, Mike and Pam, they updated the place and ran it as eco-lodge with three cabins several years later. They hired a young man named Zac as a groundskeeper, dishwasher, and guide—until Mike and Pam decided it was time to move on, and made Zac an offer ("A dream come true," Zac recalls). Today, Zac runs the lodge with his brother Joe and their wives: Joe and Bonnie are the live-in hosts at the lodge.
Making Yourself At Home
You don't have to stay overnight to enjoy the lodge. The owners collaborate with Alaska Bush Floatplane Service and Talkeetna Air Taxi to do day trips—hiking around the property with scenic flights to and from Talkeetna—but once you see the place, you will likely want to stay.
The lodge is comprised of three main guest cabins— "Foraker," "Hunter," and "Denali"—with enough room for three couples, or even three families, if you ask for extra beds. Otherwise, cabins come with king beds that can be converted to two twins. The crisply tidy little houses feel warm and inviting, with quilts on the beds and wood paneling from the floor to the ceiling.
As a nod to authentic wilderness living, cabins do not come with private bathrooms. Rather, the property has two outhouses (which are immaculate, guests rave) as a well as a shared shower house with a handy sign to tell if it's occupied.
Otherwise, the service has a distinct B&B angle: All meals are home cooked, and you sit down to eat with guests, family-style, or perhaps have a barbecue dinner out on the deck. Afterward, during summer, guests often paddle around the lake or toss horseshoes under the midnight sun. (The lodge can accommodate dietary requests like vegetarian, vegan or gluten-free cuisine.)
Come For The Day
You don't even have to stay overnight to enjoy the lodge's wilderness experience. The owners collaborate with Alaska Bush Floatplane Service and Talkeetna Air Taxi to do day trips. This adventure begins with a scenic flight to the lodge, where you'll meet the family and get a behind-the-scenes look at life in the Alaskan wilderness. Then it's time for a hike! Keep an eye out for moose, caribou, and bear as your guide fills you in on the unique flora and fauna of the region. After a day out in nature, you may even have time for a trip around the lake in a kayak or canoe before your departing flight back to Talkeetna.
Opt to do a 4-hour trip or a full-day, 7-hour excursion.
From Berry-Picking to Backpacking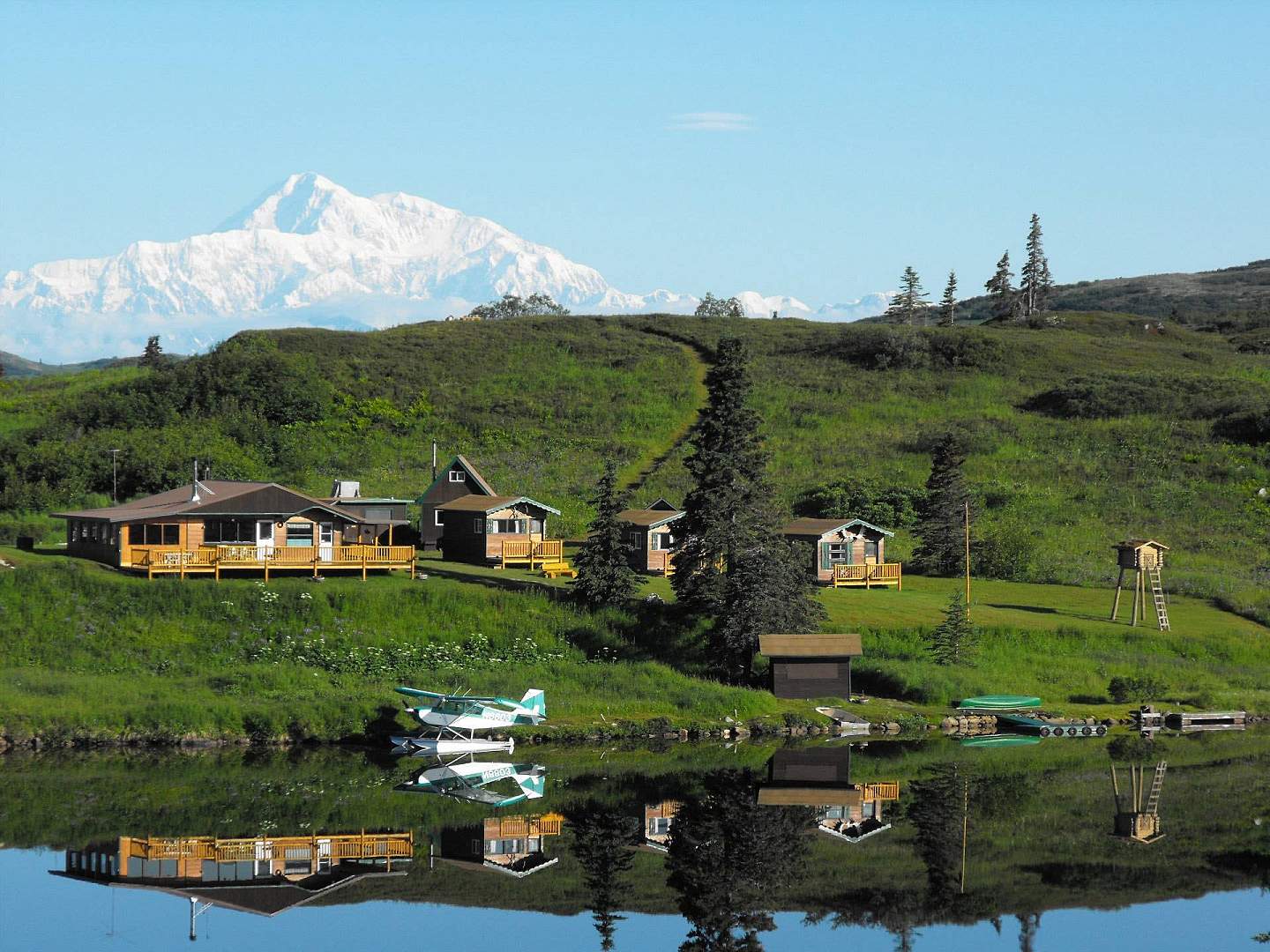 If you stay, though, you'll reap the benefits of days of exploration. Your hosts can customize your itinerary—whether you want to fish for trout or kayak across the lake, hike up Blueberry Hill or to one of the nearby streams (while looking for moose, bears and the namesake caribou), or go summertime berry-picking (for blueberries, crow berries, watermelon berries, salmon berries, and low-brush cranberries).
For a true backcountry experience, you and your guide can get set up with camping gear and supplies and get flown into the Talkeetna Mountains, above the treeline, where you can set up base camp, and do guided day hikes, or just backpack and hike your way back to the lodge. (Just keep in mind that this level of trip needs about 90 days' notice to set up.)
It says something, though, that as the typical guest's time goes on, the desire for structured activity tends to drop off dramatically. By day three, Zac and Joe say, it's not uncommon for guests not to want any planned activities—instead, they just want to sit and relax on the porch of their cabin and enjoy the peace and blissful views.
Nature goes on with or without us, and I just feel grateful to be a part of it as much as I can.
Meet me