Photo Credit: Caribou Lodge Alaska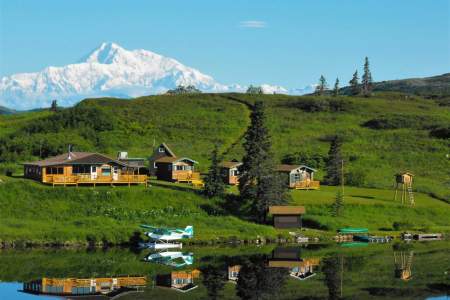 Season: June - Sept $400+ Overnight | $370+ Fly-in Day Hike
This fly-in lodge on a pri­vate lake in the Tal­keet­na Moun­tains is a great place to unplug. It is also an ide­al des­ti­na­tion to escape the crowds as the lodge only accom­mo­dates small groups of 10 or less. Take guid­ed hikes to look for wildlife and enjoy nature, kayak, go fish­ing, pick wild berries, or just relax and enjoy the peace and bliss­ful views.
$2000+ per person 1+ days
Escape to the Tal­keet­na Moun­tains for a lux­u­ri­ous get­away at Stephan Lake Lodge, a remote 6‑bedroom full-ser­vice lodge locat­ed on a pri­vate lake. With access to 40,000 acres of pri­vate land, guests can expe­ri­ence breath­tak­ing Alaskan scenery while kayak­ing, fish­ing, hik­ing, or sim­ply relax­ing by the fireplace.