Back in 1951, Camp Denali's founders climbed to a commanding view of Mount McKinley, with the Alaska Range mirrored in a small, nugget-shaped pond. Just outside the boundary of Denali National Park, and near the end of the park's only road, they homesteaded the 67-acre site and constructed a few wall tents on wooden platforms, which defined Camp Denali's first accommodations the following year.
Today, that spectacular location lies in the heart of the expanded boundaries of Denali National Park and is the only lodge deep inside the park with direct views of Denali and the Alaska Range. Fodors listed Camp Denali as one of their Top 100 Hotels in the category of Best All-Inclusive with an emphasis on sustainability and a great destination for family travel adventures.
Camp Denali is tucked away from the world, providing a haven within a vast wilderness. Not only do you connect with the land in this peaceful and remote setting; you learn about it too, with guided naturalist hikes, evening programs, and a delicious menu featuring locally grown foods.
From Tents to Timber
At Camp Denali, you'll immerse yourself in a remote backcountry, but with a cozy bed to settle into each night. The balance of "light touch on the land" and providing a comfortable and welcoming stay is one that the Cole family, which became Camp Denali's owners in 1975, has perfected. The tent frame cabins of the 50s were gradually replaced with 19 log and timber-frame structures that sleep between two and six guests. Each cabin claims a unique view of Denali, and is fitted with simple, sustainable amenities for a comfortable get-away. Water is piped to a spigot near each cabin, and each has wall-mounted propane lights, a propane hot plate for heating water, a small woodstove for heat, and a private, well-maintained outhouse. Patchwork quilts, hand-crafted by staff and complemented by carefully selected work of Alaskan artists, demonstrate an abiding attention to detail that is notable throughout the facilities. There's no tv; the quiet rhythm of nature provides ample entertainment.
A three- to seven-minute walk brings you to the main camp buidlings: the timber frame dining hall, shower facility with private showering rooms for men and women, a hand-hewn log lodge for relaxing and reading, and a natural and cultural history exhibit space.
Homesteading, 21st Century Style
The Coles' son-in-law and daughter, Simon and Jenna Hamm, have now assumed the reins. Their efforts to enlist more renewable energy technologies and to utilize more locally grown and organic foods have opened the next chapter in Camp Denali's long held stewardship commitment. You'll eat local Alaskan Grown produce and meat, as well as fresh produce from the on-site greenhouse and garden beds.
In her 2008 book and recent PBS documentary, Great Lodges of the National Parks, Vol II, author Christine Barnes selected Camp Denali as one of 10 spectacular and historically significant national park destinations. Unlike other classic lodges, she described Camp Denali's unique heritage as a "self-contained, perfectly maintained, and creatively operated wilderness retreat" that "snubs the idea of resort living.
Learning about the Land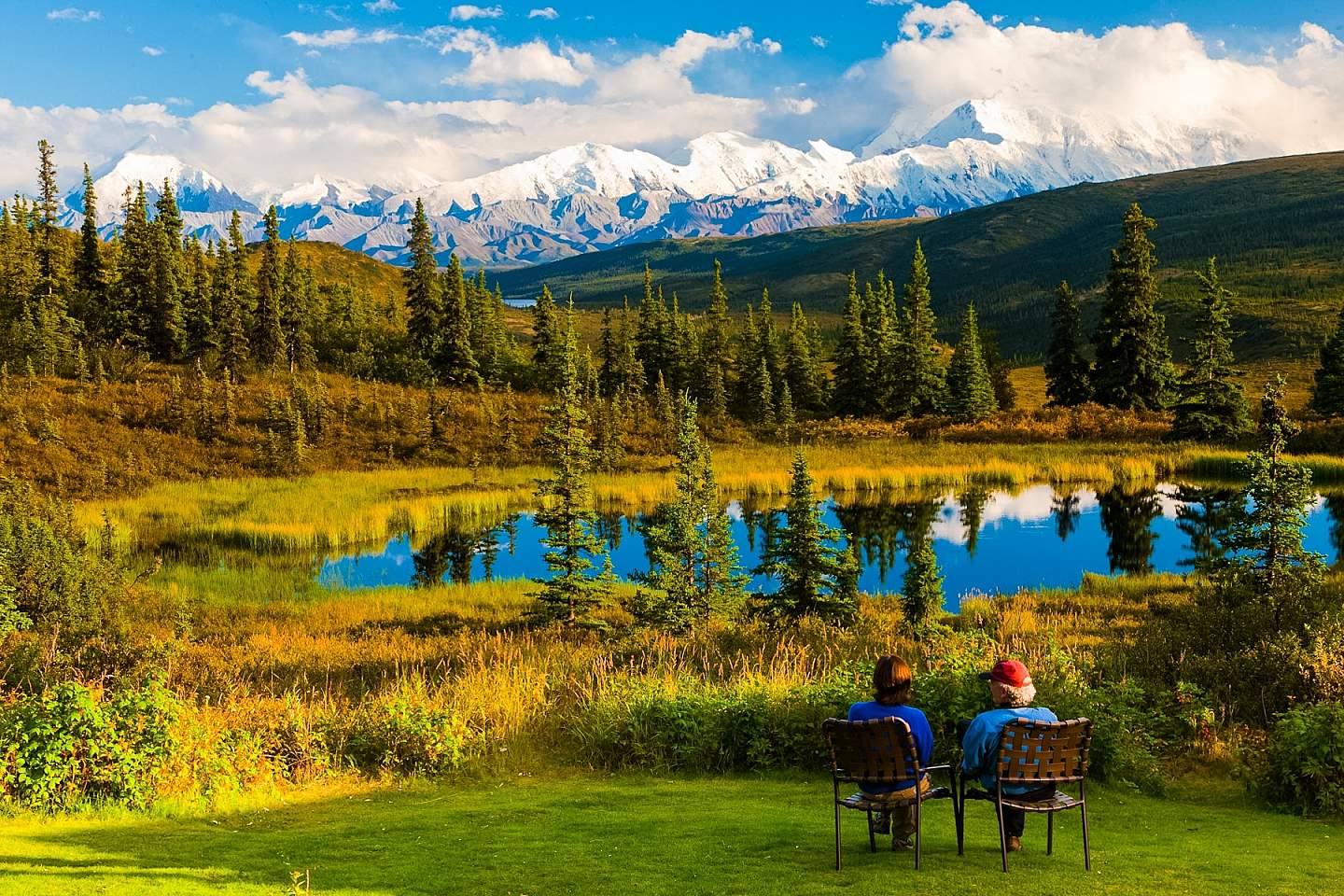 Stewardship of the land also includes teaching others about it. Naturalist-guided hikes and evening programs have become the heart and soul of the Camp Denali experience. These offerings help you appreciate what you're seeing more: when you know the birds you spot come from six continents to Denali for the short but amazing summer, or that only 35% of cubs born here survive the park's challenging conditions, or that artist's depictions of the landscape led to the rise of the conservation movement in America. You'll get these kinds of insights from the Special Emphasis Series. They are led by guest speakers who are experts in various fields of the natural sciences, the Far North's cultural and geopolitical history, and the arts. Topics range from photography and birding to conservation, mountaineering and the northern lights. The series is scheduled in advance, so be sure to look at the offerings as you decide on when to visit. If your stay doesn't coincide with a Special Emphasis Series speaker, there is a nightly program given by one of the naturalist guides on site.
The Camp Denali Decision
Is Camp Denali idyllic for you? The answer is yes if you:
want to experience Denali National Park away from crowds
are interested in coming away with more knowledge and a deeper connection to the land
don't mind putting luxury aside in favor of a simple but comfortable stay
enjoy camaraderie with staff and other guests built through shared dining, nature walks and evening programs