The Ultima Thule Lodge offers you two extremes—though extremes of the best kind possible. This unique and private lodge is one of the most luxurious places to stay in Alaska—they've hosted both the rich and famous—but it's also tucked inside the vast wilds of the nation's largest, and most remote, national park. Second generation hosts, Paul and Donna Claus (he an internationally revered bush pilot, she a retired ski racer and first class chef) offer a personalized, bush-safari experience that is equal parts plush splendor and authentic adventure.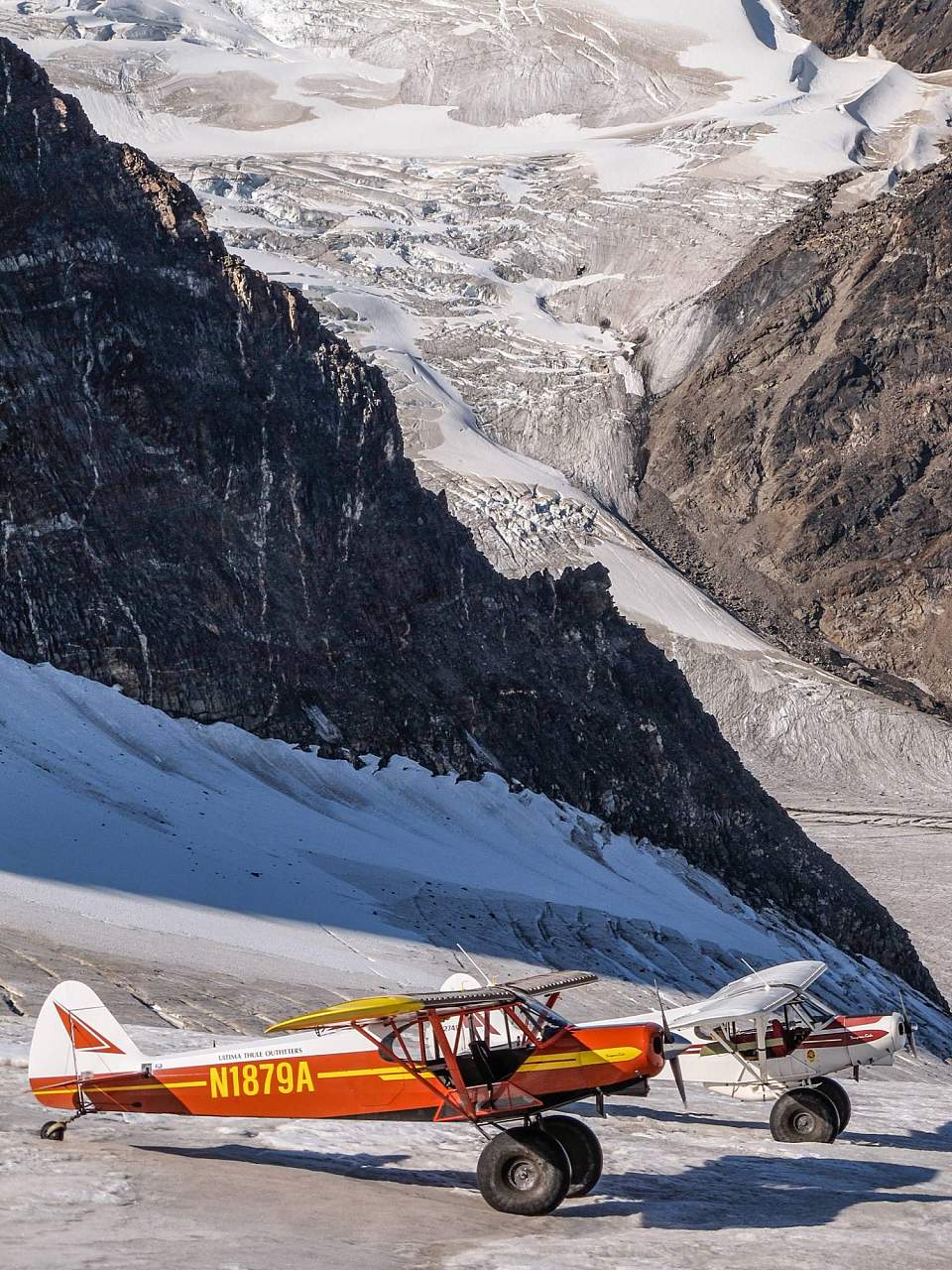 Up Close to Wrangell-St. Elias
At 13.2 million acres, Wrangell St. Elias is bigger than many small countries, or Rhode Island and Vermont combined. Ultima Thule is Greek for land that is remote beyond reckoning and when you're here, it's not hard to hike a mountain that has never felt the press of a human foot, or to explore a glacier that no one else has ever seen. Wanting to preserve the "untouched" feeling for future generations, the Clauses ensure Ultima Thule operates in an environmentally conscious manner.

No surprise, the best way to grasp and appreciate the sheer scope of this park is by air, which is why Ultima Thule keeps a fleet of five airplanes, each equipped with "land anywhere" Bush Wheel tires. Paul Claus—dubbed the "king of the bush pilots" by Outside Magazine—has logged more than 35,000 hours of flight time, most of which he's done in this area. He and all of the Ultima Thule family of pilots take pride in their impeccable safety record.
Glaciers, Bears & Salmon (Oh My)
When you stay at Ultima Thule, your days are personalized, based on your own interests and tailored just for you. With the Claus' vast knowledge of the area there is something to be said for letting your pilot chart the course. Much like secret fishing holes, the Ultima Thule pilots have their favorite locations in the park to take guests—and with no restrictions on where they can land, the entire area is available to explore.
On a typical day, you might spend the morning flightseeing over the massive Bagley Icefield—the largest non-polar glacier in the world—or spiraling up the largest vertical gain in the world to the summit of 18,000-foot Mt. St. Elias. You could land on a gravel river bar to watch grizzly bears fishing for salmon, eat a picnic lunch on a soft carpet of tundra, or take a walk to scoop up handfuls of sweet wild blueberries.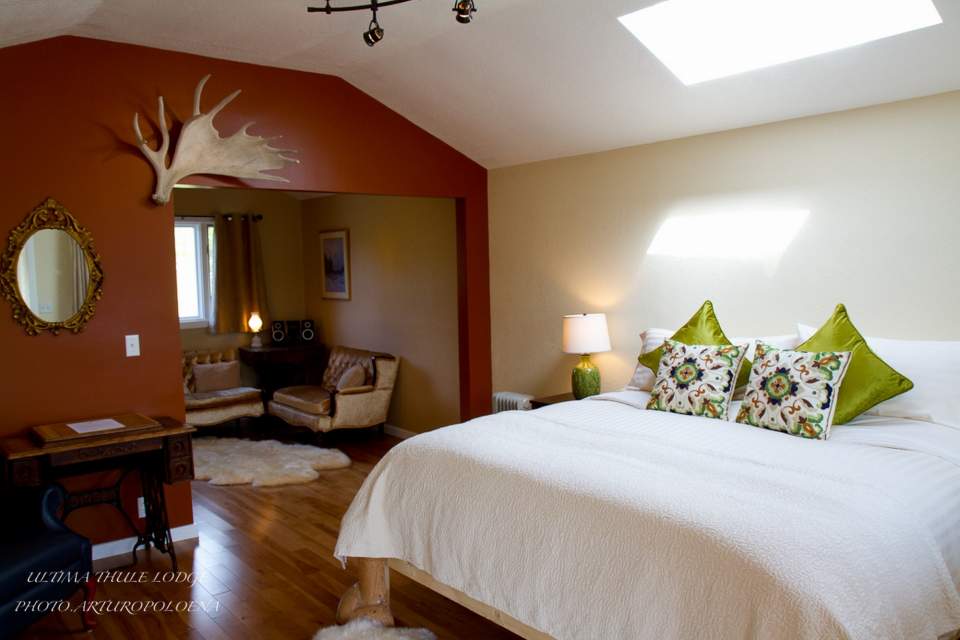 A Family Affair
Certainly, the Clauses know this territory well. Grandpa John Claus first started operating on this land along the Chitna River in the 1960s, and in 1982, his son Paul and Paul's new bride Donna made the lodge their permanent home. Paul and Donna raised their three kids here while also cultivating the whole family's deep knowledge of the terrain. (Daughter Ellie is now the general manager and son Jay is an integral member of the lodge pilots along with Ellie's husband Ben. The youngest, Logan, is currently working on her own pilots license.) The rest of the staff, too, are longtime Alaskans, all enthusiastic to share their love of this corner of wilderness.
That said, there is no "roughing it" at Ultima Thule. Every detail is well thought out, from handcrafted furniture, the sheepskin rugs and the extensive collection of Alaskan art and artifacts. Your stay is all-inclusive so your private cabin, meals, flights and all the guided activities are part of the package. They'll even provide much of the specialized gear—from fishing gear to crampons and ice axes— needed for your adventures. Before you come, they'll also send you a suggested list of items to pack so you'll be well outfitted during your stay.
Each of the five cabins has a large sitting room, two bedrooms and a full bath, as well as creature comforts such as feather-top mattresses, antique cast-iron stoves, eco-sensitive amenities and unobstructed views of the jagged, snow-covered peaks. The lodge gets no cell service, making it easier to slow down and enjoy the awe-inspiring landscapes from a driftwood log or a lounge chair outside your cabin. (If you need to occasionally touch base with the outside world, however, there is Wi-Fi.)
Home-Grown, Gourmet Cuisine
When you return from your adventures each day, you'll be treated to a hearty Alaskan meal prepared by Donna, paired with an international wine or Alaskan ales. Donna prides herself on using locally harvested fish and game and combining them with organic greens and fresh herbs from the lodge's extensive garden (home gardeners will want to check out the Claus' rich soil). She also happily accommodates specific food requests and kosher preparations. Over dinner—always with the hosts and guides— you'll hear plenty of tales, such as trips that Paul and Donna have taken in their SuperCub, the "Legend of Paul Drazenovich," or when Paul himself got stuck in a tent for 16 days during an intense storm. After dinner, you can retire to your cabin and slide between your high-thread-count sheets, or head to the lodge's luxurious Alaskan sauna to relax before the next day's adventures.