Kantishna is a historic goldmining district located 92 miles into the backcountry of Denali National Park. It is among the most remote areas of the park where you can stay in a cozy cabin while spending your days playing, exploring and relaxing in this beautiful and secluded wilderness. Kantishna Roadhouse is one of the few backcountry lodges in this area, and the only lodge with a full-service saloon (bar). The Roadhouse offers an all-inclusive experience and visitors stay in clean, comfortable log cabins, all with private bathrooms and easy access to the amenities of the main lodge and grounds.
An All-Inclusive Experience
Your stay at Kantishna Roadhouse is all-inclusive and includes accommodations, meals, snacks, guided activities, naturalist activities, the use of mountain bikes, fly fishing and gold panning gear. Breakfast, lunch, dinner, and snacks are all provided daily, and during major meals you sit in the cozy dining rooms with other happy travelers from around the globe. Access to the Roadhouse is fly-in only.

Step into Denali's Golden History
Owned and operated by Doyon Native Corporation, Kantishna Roadhouse features cabins with 32 individual guest rooms and offers a cozy log cabin feel blended with a historic glimpse into a goldmining past. Kantishna was established in the early 1900s, and it once accommodated a rush of hopeful gold miners seeking their fortunes. Right by the main lodge you can still peek at the original recorder's cabin, where prospectors registered their claims more than a century ago. Standing a short distance away, you can also take a look at the original Roadhouse building, which at times served as a private residence, community center, post office, and inn. Its walls have heard many a tale shared over a cup of hot coffee and a hearty meal.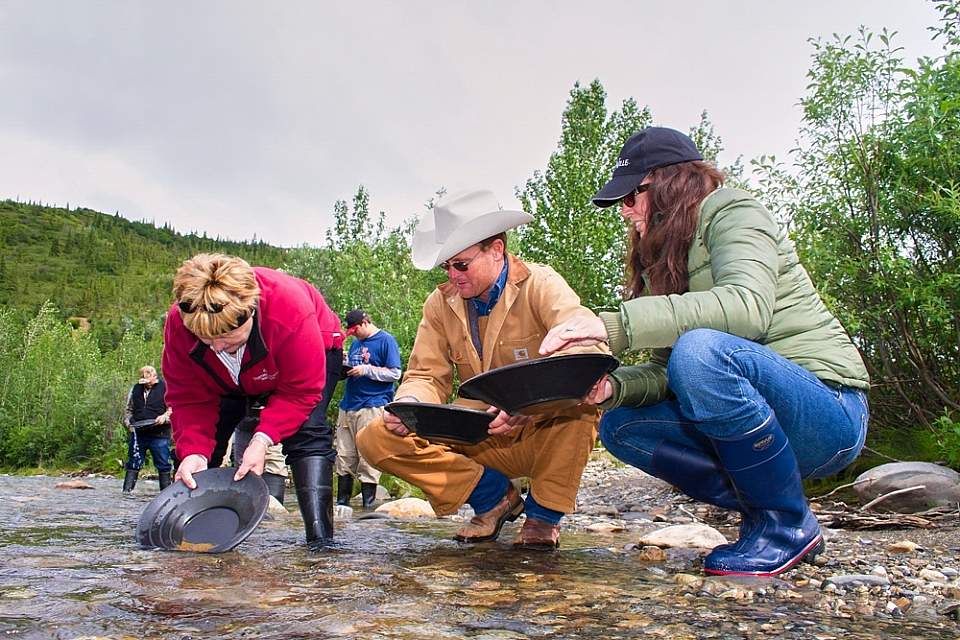 Unplugged Bliss
The modern Kantishna Roadhouse, where you eat and lounge, still serves the same friendly purpose of housing adventurers with the same spirit of camaraderie. The cabins include full bathrooms and electricity, but no TV or Internet— that is, no distractions from the landscape outside your window. At Kantishna you'll be surrounded by travelers, Alaskan residents, and native Alaskans. Take some time to share stories of your Denali adventures and tales from your travels across other parts of Alaska. You are also welcome to spend some time in the large library in the lodge where you can read up on the fauna and flora of Denali and the surrounding areas.
Hike, Bike, Fish … or Just Relax
During your time at Kantishna, take part in included activities such as guided hikes, fly-fishing in Moose Creek, mountain biking along the old mining roads, and panning for gold. After dinner, you can get comfortable in the lodge's library room to listen to an Alaskan storyteller, geologist, bird specialist or naturalist. Or you can board the shuttle for a trip to the Wonder Lake area to view Denali.