Immersing yourself in some of the best of Alaska involves just a 15-minute floatplane flight from Homer or a one-hour flight from Anchorage where your pilot will pick you up at the Lakefront Hotel dock at Lake Hood. You will fly direct to one of the greatest adventure areas in all of Alaska! This flight only crosses one road and is as spectacular as a flight over the Alps. Your own idyllic log chalet —is surrounded by more than a million acres of Kachemak Bay State Wilderness Park and Kenai Fjords National Monument. There is no other human habitation in this huge valley. Your arrival will be greeted by distant murmur of waterfalls pouring over cliffs, the rustle of cottonwood leaves, and the plaintive yodel of the namesake loons. What a soothing balm to the spirit! At the end of the day, the Loonsong chalet chef offers fine meals, chilled wines and a level of comfort that will delight you. Oh boy, fresh caught rainbow trout for dinner and in-season, vegetables from our garden and greenhouse!
The Sounds of Silence
Some guests book this as an add-on to a visit to The Kachemak Bay Wilderness Lodge; the "parent" that gave birth to this international award-winning site, honored in the Harper Hideaway Report. There is a large two-bedroom chalet and a lovely cedar lined Finnish sauna whose roof is covered with flowers and mosses. The chalet is your own personal piece of heaven in this wild valley. There is a nearby restored trappers cabin, which will be used by your hosts, Michael McBride and his chef, a former Wilderness Lodge team member.
Chalet-Style Comfort
Michael and his team built the chalet with old-world craftsmanship using giant spruce logs, it is roomy and charmingly cozy. It accommodates a single family or up to six friends. The interior—with kitchen, bath, a master bedroom, two guest bedrooms, and sleeping lofts that sit at the top of hand-hewn stairs—is lined with charming antiques, fine art, pioneer artifacts and a cozy wood-burning stove.
The famous master bedroom is known for its "bubble window"—a view that will conjure images from Jules Verne's' 20,000 Leagues Under the Sea. Michael says his guests can see rainbow trout and red salmon swim by while sitting in bed. The view is so spectacular that it was chosen for the prestigious full-page feature in Conde Nast Traveler Magazine, "Room With A View". On the wall is a photo of a mountain goat looking into the bedroom window!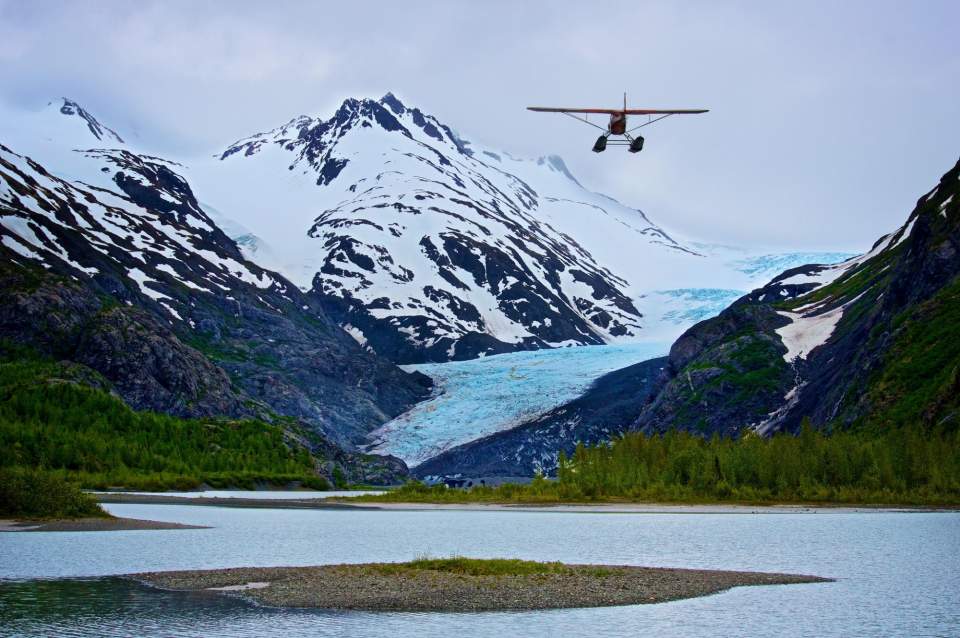 Fly, Hike, Fish, Paddle or Daydream
Every day offers a first-class adventure. There are miles of lovely hiking trails, diverse enough to fill a week and match any appetite. There is a museum quality, restored 1939 Old Town canoe, kayaks and a custom rowing hull. Trout fishing supplies are provided. Your plunge may be answered by the wahoooo of the resident loons, surprised to find other swimmers in the lake. Colorful wildflowers including orchids carpet the area. Moose browse among the riverside willows; river otters cavort in streams and bald eagles soar overhead. Guests have also seen mountain goats, black bears, wolves, wolverine, coyotes, even ermine. You may ask the pilot to return and take you for a day of brown bear viewing, a day of hiking from a sub-alpine lake or for a flight over vast glaciers and ice fields. The most exciting of world class fly outs are led by a professional naturalist guide who will take you on foot into the brown/grizzly bear areas where close up photography/observation is standard fare. These are very safe, there has never been an injury in this scenario. How about a day outing by floatplane to an alpine lake where we can hike in meadows of flowers and perhaps see brown black bear, moose, mountain goat and Dall sheep and possibly wolves and occasionally wolverine.
At Home with wilderness
Alaskans since 1966, Michael and Diane have had this property since 1973, when they bought 15 acres from the widows of the early trappers. Michael is a Master Guide, great story teller, and the author of The Last Wilderness – Alaska's Rugged Coast, he is a naturalist, yoga instructor, and is the first Alaskan elected as a Smithsonian National Board Member, and as a Trustee for The Nature Conservancy. Yours will be only one of a very few bookings they will take this season. The first two weeks of June offer almost 24 hours of daylight and the best weather.
The proceeds from your stay will be donated by Michael to support his Wilderness Leadership Programs Empowering Young People in association with HOWL, a local non-profit.
There is great joy in sharing wild places with others, a joy that gives meaning and reward to life's efforts.
Meet me