Combine the best of Alaska summer experiences (flightseeing, fishing, dog sledding, bear viewing, and more) during the month around solstice, when the weather is warm and there is 24-hours of daylight.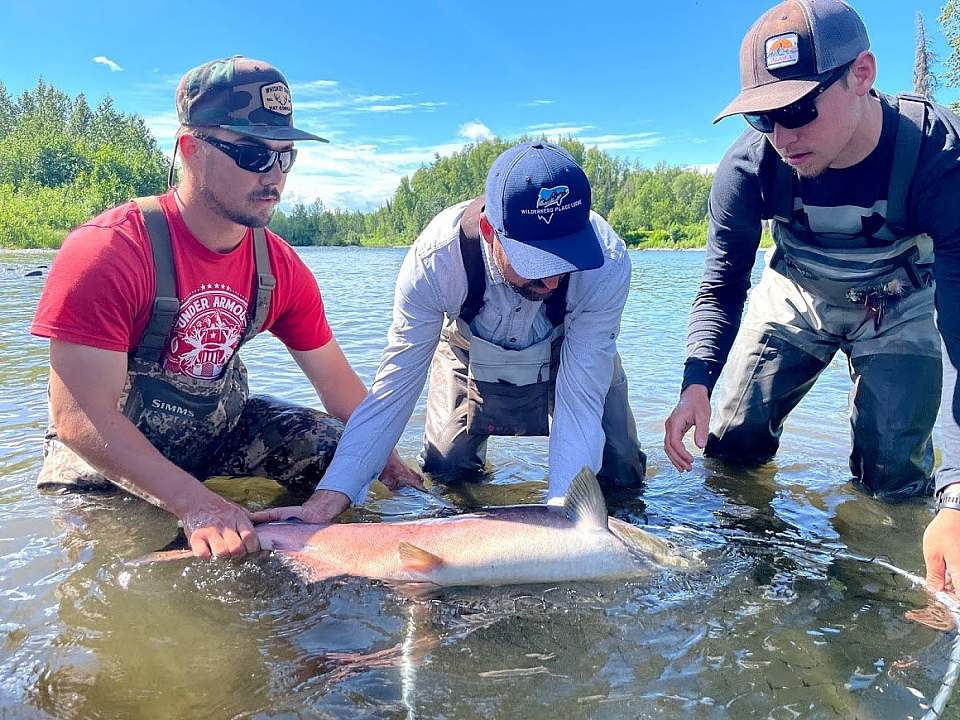 Tour Itinerary
Day 1 - Arrive Anchorage
The day prior to your adventure, arrive in Anchorage and stay the night at Wilderness Place Lodge's partner hotel, complimentary!
Day 2 - Depart Anchorage for Wilderness Place Lodge
Depart Anchorage by float plane with arrival at Wilderness Place Lodge for noon lunch prepared by the lodge's chef team. Spend the afternoon fishing on the river with your personal guide. Enjoy a 4-course dinner in the lodge provided by the professional chef team inclusive of local beer and wine. Overnight in one of the modern deluxe riverside cabins.
Day 3 - Spend the Day Fishing
A full day of guided fishing, fly fishing instruction, etc. Take a side trip by boat to a chain of lakes to fish northern pike and/or stay on the river to target trout, grayling, salmon etc. Enjoy a shore lunch prepared by your guide. Dinner and overnight at the lodge.
Day 4 - Wilderness Place Lodge to Alaska Glacier Lodge
Optional morning fishing. Depart the lodge at 11:45 am with a return to Anchorage. You will shuttle to the Alaska Glacier Lodge and arrive in time for your 4:30 pm helicopter glacier and dogsled adventure! The dogsled experience includes 30 minutes of glacier and mountain tours by helicopter plus glacier landing and 1 hour of guided dog-sledding. Following your tour, check in to your private cabin for the night and enjoy mountain-view dining at the Raven's Perch Restaurant included!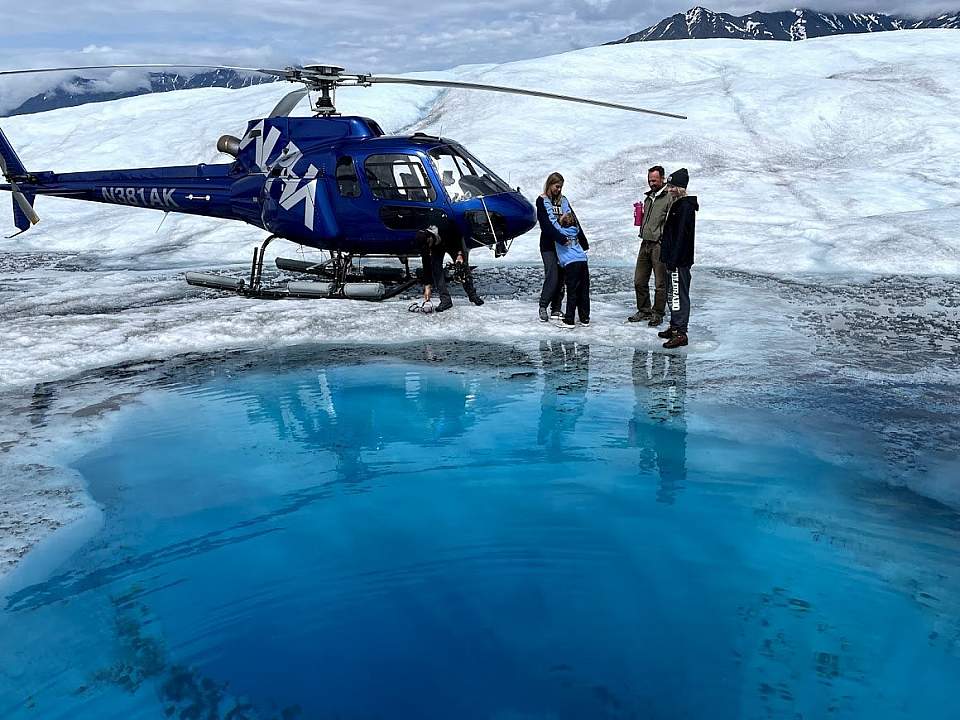 Day 5 - Glacier Tour, Depart for Anchorage
Complimentary Breakfast at the Raven's Perch Restaurant. Depart at 10:15 AM by helicopter for a thrilling 1-hour glacier landing experience! Alaska Glacier Lodge check-out is 11 am with a transfer back to Anchorage via shuttle at 12 pm. Return to Anchorage Hotel mid-afternoon and check in for the night, which will already be arranged and included in the trip package.
Day 6 - Bear Viewing from Anchorage
Bear-Viewing & Marine/Coastal Flight-seeing experience! Rust's Flying Service will pick you up at your hotel at approximately 7:00 am prior to your 7:30 am departure by float plane to the scenic Chinitna Bay within Lake Clark National Park where you will spend the day sight-seeing and bear-viewing with awesome photo opportunities. This includes a guided tour with safe bear-viewing in their natural habitat and a round-trip scenic flight from Anchorage. Return to Anchorage at 1:30 pm. This concludes our tour.