Take a boutique, small-group kayaking trip with experienced guides at Liquid Adventures and get close to glaciers in kayaks or paddleboards while looking for whales and other marine mammals. You can even combine your adventure with a jetboat, helicopter, or wildlife cruise. There's nothing quite like it in all of Alaska!
The Experience
Never kayaked before? No problem. Let the guides at Liquid Adventures show you the thrill of getting out on the water and paddling around icebergs and whales. Starting in their office in Seward, you'll be outfitted with their high-end gear before setting off on an exciting tour in a gorgeous setting that's perfect for kayaking and paddleboarding. In this area, glaciers are accessible and closer together than other parts of Alaska—plus, you'll have lots of opportunities to spot wildlife!
Tour Options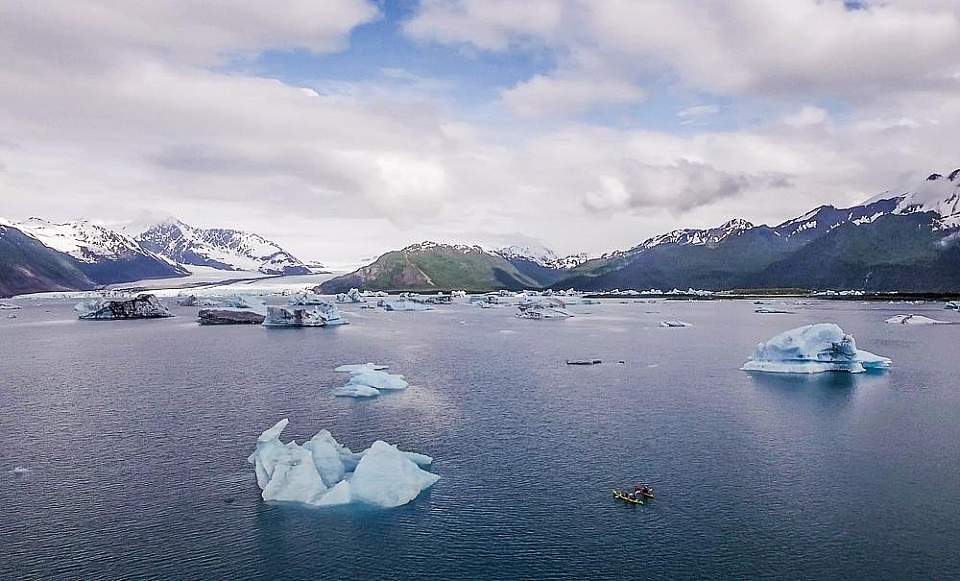 Half-Day Tonsina Creek Kayaking: This 3.5-hour trip packs a lot in. You'll drive out to Lowell Point, grab your kayak, and set off, paddling down to Tonsina Creek. If it's high tide, you may be able to kayak up the creek, where there's often a salmon run. Along the way, your guide will fill you in on Seward's history, geology, and the flora and fauna all around you. You'll also do a short hike in the rainforest and take a break to enjoy the famous brownies. Then you'll paddle back along the rocky coastline, keeping an eye out for sea lions, seals, otters, puffins, and (if you're lucky) whales.
Full-Day Resurrection Bay Kayaking: Spend an entire day—6 to 7 hours—paddling and hiking your way through the magic of the Alaskan wilderness. You'll kayak out to Caines Head, possibly stopping at a waterfall along the way. Take the opportunity to lounge on a black-sand beach and enjoy a delicious BBQ lunch (there's also a vegetarian option) before paddling your way back.
Kayak + Jetboat/Helicopter Trips
Half-Day Bear Glacier Iceberg Kayaking: Take a thrilling, 45- to 60-minute jetboat ride in Resurrection Bay to Bear Glacier—the largest glacier fed by the Harding Icefield, where huge, calving chunks of ice create a dramatic scene—and look for wildlife along the way. Then grab your sit-on-top kayak and, for the next 2 hours, paddle around some of the biggest icebergs that you can experience in Alaska.
All-Day Bear Glacier Kayaking: On this trip, just getting to and from Bear Glacier will be memorable: Going out is a thrilling 45- to 60-minute jetboat ride that zooms quickly up the river to Bear Glacier's lagoon while you keep an eye out for wildlife. The other way, you'll experience a spectacular 20- to 25-minute helicopter ride, getting a bird's-eye view on the surreal Alaskan tundra and beautiful ocean. In between these spectacular rides, you'll have another thrill: spending 4-5 hours kayaking around icebergs, paddling up to the face of Bear Glacier (which you wouldn't have time for on the half-day trip), and exploring the entire lagoon. You'll be in sit-in sea kayaks, which allows you to move faster and see more icebergs in farther reaches of the lagoon. Lunch is included on this all-day trip.
Kayak + Glacier & Wildlife Cruises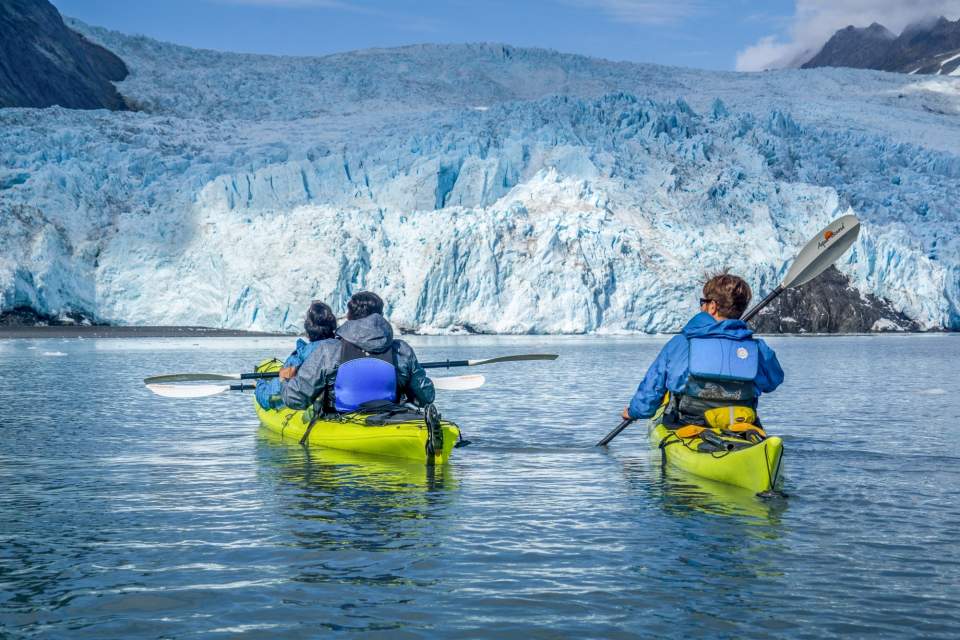 Aialik Glacier Cruise & Kayak: This full-day expedition includes an amazing cruise out to Aialik Glacier, a popular and very active glacier. Spend 2 hours each way taking in the gorgeous scenery and looking for wildlife and whales as you cruise past the rugged coastline of Kenai Fjords National Park. Then it's time to kayak! Paddle out on the shimmering blue water and up to the face of the glacier. You'll enjoy lunch in your kayak there, right in front of the massive river of ice, watching and hearing it break off into the ocean.
Aialik / Northwestern Explorer: Experience the magic of a boutique fjord paddling trip—the only one of its kind in Alaska. This full-day (8- to 10-hour) excursion takes you to an area with 3 very active tidewater glaciers that's more remote and rugged than Aialik glacier. You'll set off on a comfortable new catamaran with a maximum group size of 12, led by an experienced captain who was born and raised in Seward. This is a captain's choice trip; based on conditions, the boat goes where the best paddling and most abundant wildlife is on any particular day. You'll then have the rare experience of paddling for 3 hours around this area with its exciting and gorgeous collection of glaciers and granite cliffs.
Overnight & Expedition Kayaking
Kayak with a seasoned veteran guide on an unforgettable 2- to 10-day expedition-style trip. Paddle through the best areas of Kenai Fjords and Prince William Sound and discover some of the secret spots your guide knows. Enjoy delicious home-cooked backcountry meals, prepared in the field by your guide on these fully catered excursions.
Paddleboarding
If you love to paddleboard—or if you've never done it before—learn why Alaska's an amazing place for this popular sport. All equipment is provided, including dry suits which keep you dry in even the coldest of waters. Choose from several great trips.
Half-day: Head inland to go paddleboarding at Bear Lake or, if it's calm, head out to Resurrection Bay. This is a great option for anyone with no paddle boarding experience.
Bear Glacier: As with the Bear Glacier kayaking trip above, you'll take a jetboat here, then pick up a board and enjoy paddling around gorgeous glaciers. Minimal experience is required.
Aialik Bay: Like the Aialik Bay kayaking trip, this begins with a fantastic glacier and wildlife cruise. Once at the bay you'll grab a board and paddle among tide water glaciers and incredible wilderness. Experience is required.
About Liquid Adventures
Started in 2005, Liquid Adventures was designed to provide high-end, small-group excursions into the Kenai Fjords National Park with highly experienced guides and great equipment. To this day, the company's driving philosophy is to provide clients with an unparalleled experience in wild and remote regions of Alaska. Safety and quality are emphasized over quantity, and each client feels an intimate connection with these hard to reach corners of Alaska. Conveniently located inside the Seward Outdoor Store, Liquid Adventures is the go to destination for wildlife cruises and paddling excursions in Seward.