Photo Credit: Major Marine Tours
Take a glacier cruise of the Kenai Fjords, out of Seward, and you won't see as many glaciers as you would in Prince William Sound. But as a trade-off, you get a lot more opportunities to see wildlife, and the makings of a great trip-within-a trip to Alaska.
The big choice you need to make with a Seward cruise is whether you want to stick with a tour in Resurrection Bay, or take one that goes all the way into Kenai Fjords National Park. Resurrection Bay cruises are shorter (no more than 5 hours) and will get you plenty of wildlife-spotting opportunities as well as calm waters—it's great for families. The downside? You're not really getting to see any glaciers with any proximity. If your cruise goes into Kenai Fjords National Park, you'll get a longer trip (more like 9 hours), see glaciers within a half mile of the deck, and, get more dramatic scenery. The downside: You might get some choppy waters, which for some people, makes a full-day cruise too long.
But either way, here are the reasons people love Kenai Fjords glacier cruises:
A great day trip from Anchorage. While Whittier is also a short drive from Anchorage, the 2.5-hour drive to Seward offers more spectacular mountain scenery, as does the 4-hour railroad ride. If you're driving, you can also access some of the best-maintained hiking trails in Alaska. Just outside Seward, you can even take an easy hike to touch Exit Glacier.
More wildlife. This is the best spot to see whales near Anchorage, and you'll also see a greater variety of wildlife than on cruises out of Whittier. You have pretty much a guarantee of seeing sea lions, otters, bald eagles and colorful puffins—depending on the season, even mountain goats and bears, too.
Seward is a great town, even without a glacier cruise. While you can easily do a cruise out of Seward as a day trip, you'll probably want to spend at least one night here. Seward has a charming, harbor-village atmosphere and a multitude of other activities: hiking, Seward kayaking, Seward dogsledding and Seward fishing. You can easily combine a day cruise with an overnight on a nearby island or in Seward itself—not something you'd really be able to do in Whittier.
More variety in cruises—and stopover options. Some are geared toward small groups of birders, while others highlight onboard comforts, such as heated cabins and prime rib buffets. Some are ideal for families with kids, and some are more active, stopping at an island long enough for you to get out and hike or paddle around a bit—or even spend the night. Check out some of our favorite tour operators below.
Looking for an overnight or multi-day experience in Kenai Fjords National Park? See our list of recommended sailing and yacht excursions ranging from overnight to 6 night trips.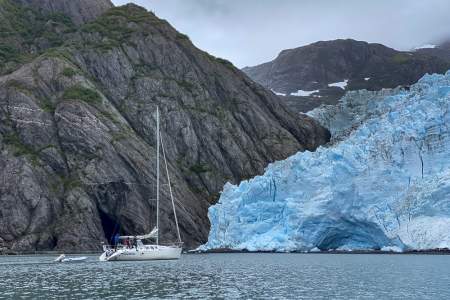 Captained Day Sail, $769 up to 6 people | $2949+ Multi-day 3.5 Hour Day Sail to Multi-Day
Char­ter a sail­boat out of Seward and hit the waters of gor­geous Res­ur­rec­tion Bay! Choose an after­noon tour if you're just in Seward for the day, or opt for a mul­ti-day cruise. Your char­ter comes with a sea­soned cap­tain, or expe­ri­enced sailors can rent the boat and take the helm them­selves. Sur­round­ed by moun­tains, the bay offers ide­al sail­ing con­di­tions, and you'll have plen­ty of chances to see wildlife and glaciers.