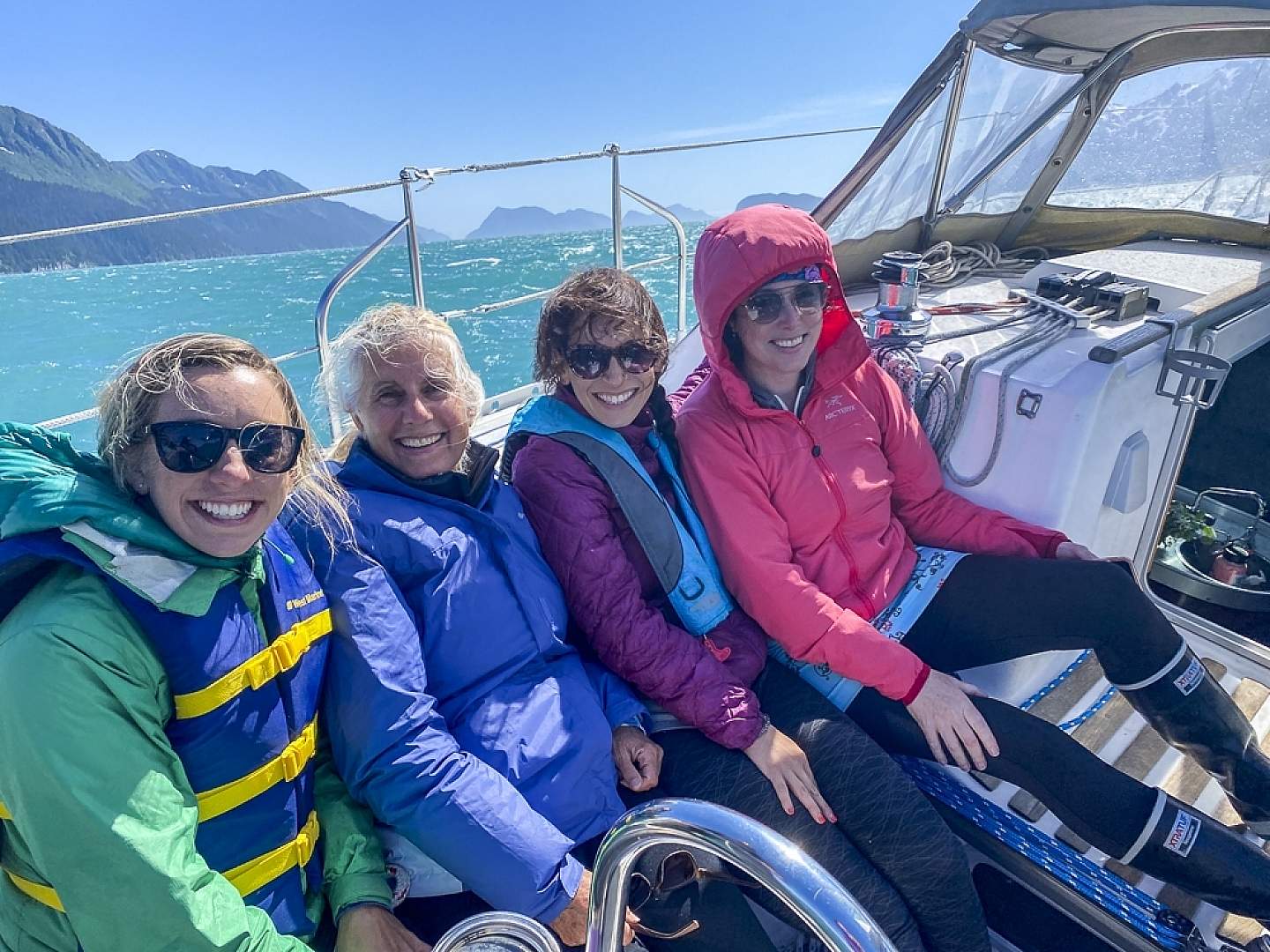 Charter a sailboat out of Seward and hit the waters of gorgeous Resurrection Bay! Choose an afternoon tour if you're just in Seward for the day, or opt for a multi-day cruise. Your charter comes with a seasoned captain, or experienced sailors can rent the boat and take the helm themselves. Either way, the experience will be unforgettable. Surrounded by mountains, the bay offers ideal sailing conditions, and you'll have plenty of chances to see wildlife and glaciers.
Owners Kate and Nate are both passionate sailors and love sharing the opportunity for travelers to enjoy Alaska's scenery from a unique perspective. You and your group of up to 6 people can charter one of their two magnificent boats, the 28-foot S/V Encore or the 35-foot S/V Madrona.
Tour Options
Captained Day Sail
Up to 6 people can enjoy this 3.5-hour tour that begins midday—it's perfect for any private group arriving by rail or motorcoach. You'll get a sampling of sea air as you take in the stunning scenery all around you. You can even try your hand at hoisting the sails or taking the helm yourself. Or just settle in for a great ride, powered by the wind!
Heli-Sail Day Trip
See this stunning area by water and by air! Take a scenic helicopter ride out to a cove, where you'll fly over Bear or Godwin glacier—you can even customize your ride to include a glacier landing. Then board the sailboat and ride the wind back. Or sail out and fly back…it's your choice! Either way, it's the perfect way to experience Alaska from both sea and air.
Captained Multi-Day Charters
Why limit yourself to just a day on the water? Longer extended sailing trips give you the flexibility to explore even more and get into the rhythm of living on the water. Spend 2 to 7 nights on a private adventure. You'll anchor in secluded coves, and each day you'll do some sailing and some exploring on land, with your captain leading the way. Hike up to glaciers, go beachcombing, go standup paddleboarding—whatever suits your mood. All meals are included, and your captain doubles as your chef. Your day might start with big breakfast burritos; later you might be enjoying sweet potato enchiladas, pulled pork sliders, or warm cookies straight from the oven. Then turn in to your cozy berth, rocking to the rhythm of the waves.
Bareboat Charters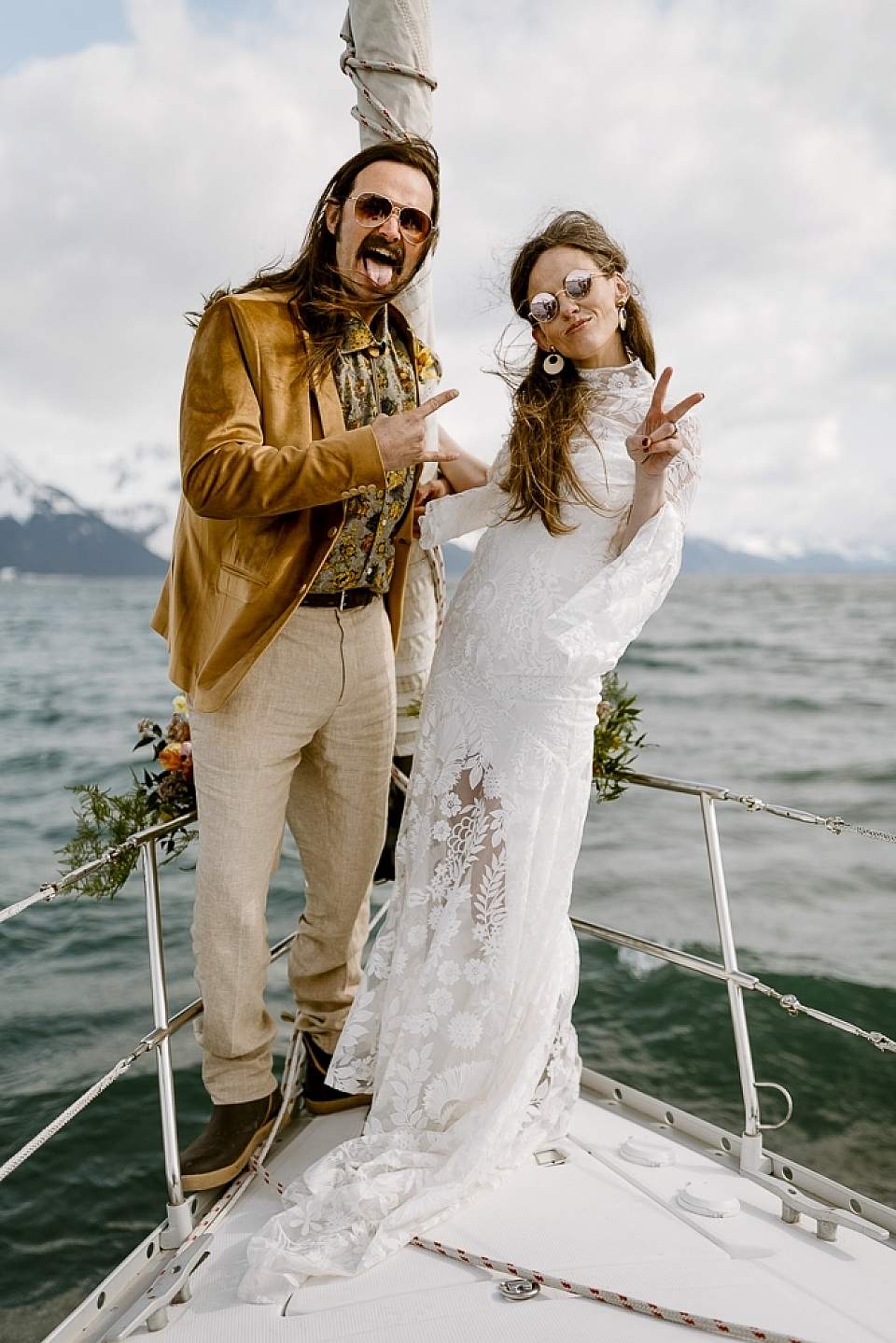 Are you an experienced sailor? Set sail without a captain! You'll take the helm of the sailboat and pilot yourself around this gorgeous area. Go for a day tour or spend multiple days exploring. You'll get itinerary suggestions based on how many days you'll be out. Choose either the 28-foot S/V Encore or the larger 35-foot S/V Madrona. Both sleep 4 comfortably but could hold 6, as 2 single couches on each boat turn into extra beds.
Elopements & Weddings
Getting married? Do it in spectacular fashion in Resurrection Bay! They can accommodate custom events, maximum of 6, on the 35-foot S/V Madrona. Kate is ordained and can officiate your ceremony on the high seas. Take up to 6 people on the S/V Madrona; charter the S/V Encore and you can bring up to 6 more. The captains can even drop you off at a nearby lodge for the party afterward!
Trips from Local Lodges
Thanks to the partnerships Resurrection Bay Sailing Charters has with local lodges, you can work with them to arrange a trip that includes a stay at a lodge like Shearwater Cove or Orca Island Cabins. Get picked up or dropped off for a day trip, or spend a night on the boat and a night in a lodge. Coordinate with Nate and Kate to customize your adventure.