If you want to take a day cruise with both great glacier scenery and non-stop wildlife, you'll want to start in Seward. This family-owned tour operator has distinguished themselves with their great Seward-based cruises into Resurrection Bay and Kenai Fjords National Park: they have a cruise option for everyone and go above and beyond to give their guests an amazing day on the water.
One Boat, Many Views
Major Marine Tours has been operating in Alaska (and winning awards for their solid reputation) since 1990, and today they offer multiple tour options out of Seward —from a 3.5 hour budget cruise to a full-day exploration. Your boat will have multiple places to take in the views: inside the heated cabin, outside on the decks, and from the open-air bow.
The folks at Major Marine Tours also pride themselves on making you so comfortable that you can lose yourself in the scenery. It's the only day cruise operator that offers guaranteed reserved seating inside the vessel's heated cabin, so you can feel free to explore the vessel for every perspective on the views. At the same time, your captain will maneuver the vessel so that you can see, hear and sometimes even smell all of the wonders around you.
Get Seasick?
A few logistical notes: Since full-day tours out of Seward spend a fair amount of time in open water, take your usual precautions if you are prone to seasickness. The half-day cruise sticks mostly with calm, protected waters, except for a small bit of open water. Meanwhile, if you're coming to Seward from Anchorage, Major Marine Tours can also help you set up train or motorcoach travel, to make the trip here even easier.
Here are the main tour options:
Full Day Kenai Fjords National Park Tours (6 hours)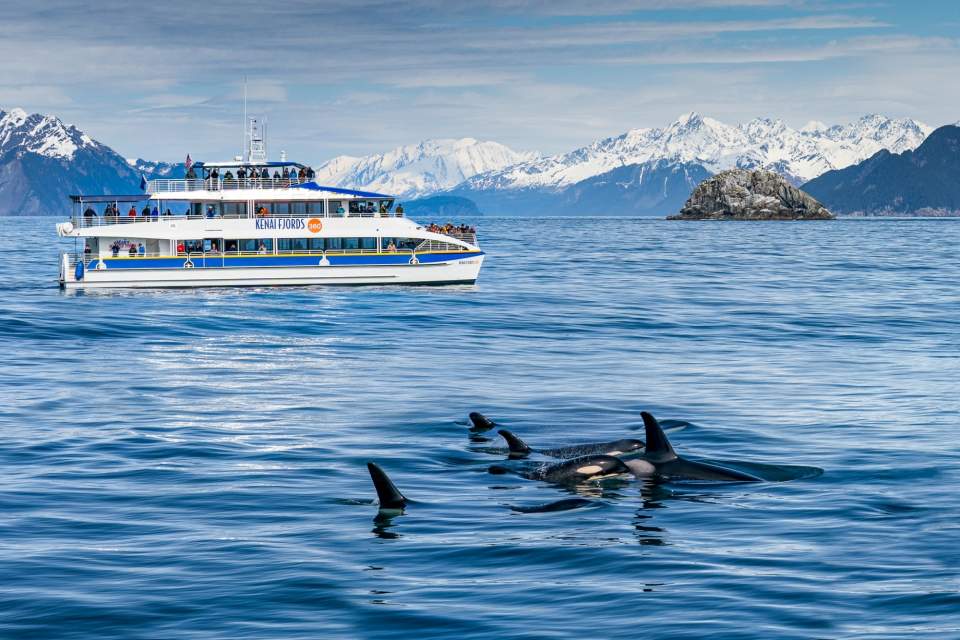 Our most popular tour covers 100 miles and visits one tidewater glacier inside Kenai Fjords National Park. You'll see abundant wildlife throughout the park, and you can also hear what sounds like the crack of a gunshot—then watch as a big chunk of ice falls hundreds of feet to the ocean below. The cruise includes a complimentary deli lunch and is hosted by an experienced captain.
Northwestern Fjord Cruise (8.5 hours)
Extend your Kenai Fjord adventure with this small-vessel cruise that takes you farther than any other tour. This tour takes you to the unvisited areas of Kenai Fjords National Park where you can see three tidewater glaciers, thousands of nesting seabirds, and amazing views of the Park's islands and coves. Don't forget to take advantage of the one-on-one time you'll have with the Captain and crew on this extended tour!
Half-Day Resurrection Bay Cruise (3.5 hours)
For views of alpine glaciers and the Chugach and Kenai mountain ranges, take the shorter afternoon Wildlife Cruise, fully narrated by the captain and crew members. You'll explore the world of wildlife up close in the calm waters of Resurrection Bay, drifting close to massive bird rookeries and sea lion colonies. Make sure to look for Humpback whales, Orca (killer whales), harbor seals, bald eagles, puffins, and various types of marine birds.
Gray Whale Watching Tour (4 hours)
During spring, you'll head into Resurrection Bay to follow Gray Whales for a stretch of their annual migration north—they started in Baja California and are en route to their summer feeding waters in the Bering Sea. These whales tend to travel by "line of sight," meaning they stay close to the coastline. That means you'll also get a good look at alpine glaciers, Steller sea lions, Dall's porpoise, bald eagles, puffins and other marine birds.

This tour is short enough that there's no meal served, but it includes complimentary coffee or tea; you can also pack your own lunch or pick up something at the snack bar.
Orca Quest (4 hrs)
This is the only orca-focused cruise available in Seward! Each year from mid-May through mid-June, orcas are commonly seen outside of Seward. Instead of following a set-route, Major Marine is your local guide, leading you to places orcas have recently been sighted. And, an onboard hydrophone allows you to listen for their calls.