Stay at this Alaskan-owned, seasonal hotel—brand-new in 2021—to experience upscale accommodations and a welcoming staff as you explore all of the unforgettable fun in Seward and Kenai Fjords National Park.
A Gateway to Kenai Fjords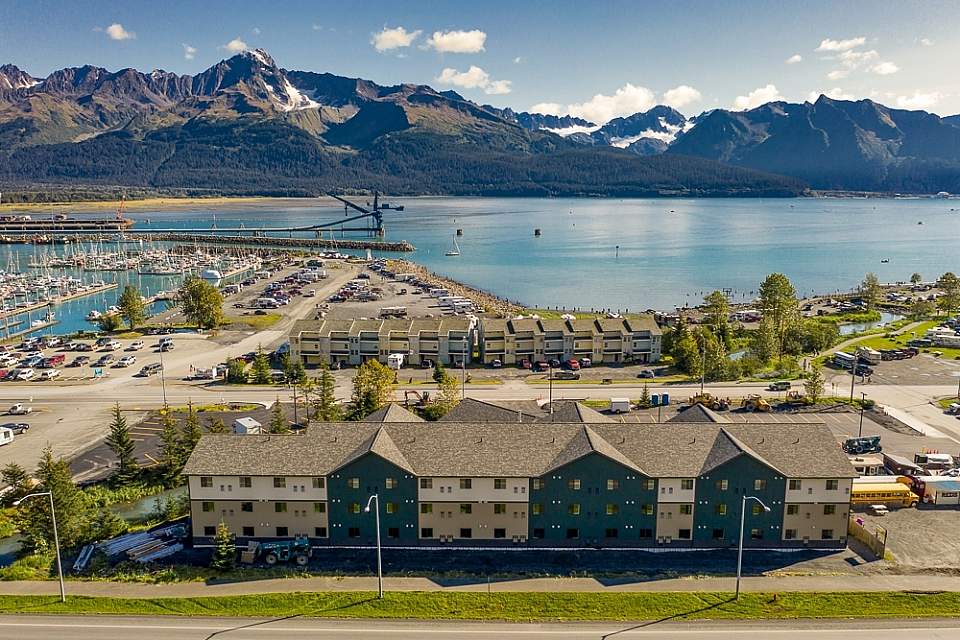 This newcomer to gorgeous Seward is an airy, 74-room property that's perfectly situated to take advantage of all the amazing local activities. Open mid-May to mid-September, the Gateway is set just a six-minute walk from the harbor, so it's easy to catch unforgettable day cruises and fishing charters (the owners also operate Major Marine Tours, making for a seamless experience). You'll also be just a mile from downtown's shops and restaurants, as well as the famous Alaska SeaLife center. Whatever it is you'd like to do, just ask the staff—they're experts on things to do in and around town.
You won't even need a car for your stay here, thanks to a free shuttle to and from the railroad depot and cruise ship dock. And if you're craving a scenic stroll, right across the street is a walking path along the waterfront, featuring dramatic views of gorgeous Resurrection Bay; keep an eye out for sea otters, harbor seals, bald eagles, and whales.
You'll also find panoramic mountain views from the hotel's outdoor deck, and you can scan for salmon from the elevated platform over the nearby stream. And don't miss the mural on the hotel's exterior—it's one of the thoughtful touches that help the Gateway fit perfectly into Seward. After all, the town is the self-proclaimed mural capital of Alaska, and public art is essential to this vibrant community.
Each morning of your stay, take advantage of the included breakfast buffet, which offers hot and cold items like omelets, pancakes, yogurt, and coffee. Then work it off by using the included passes to a local gym.
The Rooms
You'll find 74 stylish and well-appointed rooms in this new hotel, all decked out with upscale finishes and inspirational Alaskan images. Some rooms even feature great views of the bay and harbor from windows that are triple-paned, to ensure a quiet stay.
Choose from rooms with two queen beds or one king bed, or opt for one of the two-bedroom family suites. In each room, you'll find free high-speed Wi-Fi and satellite TV, coffee maker, mini fridge, and hair dryer. There's also a work desk, phone, and individually controlled air-conditioning, as well as an iron and ironing board.
Year-Round Event Space
If you're looking to hold an event, like a wedding or conference, their event space is one of the largest in town. It's available to rent year-round, and can accommodate up to 80 people. And, Seward Gateway staff can help you coordinate!