Photo Credit: Charles Woodfin
Spencer Glacier rises 3,500 feet in a stunning, natural ramp from a lake of royal-blue icebergs in the Chugach National Forest just 60 miles south of Anchorage. This ice-age setting is rugged and primeval—mile-high peaks, sheer headwalls towering over gravel outwash plains, astonishing waterfalls and braided rivers.
And yet, the site has been developed into a family-friendly recreation destination featuring camping, hiking, glacier exploration, nature walks, paddling and sightseeing.
Maybe best of all: You have to take a train to get there!
This exclusive and fun rail trip carries you from Turnagain Arm to the Spencer Glacier Whistle Stop—located about 10 miles up the Placer River Valley from Portage on the Seward Highway. It's an old-fashioned travel mode, hearkening back to frontier eras. No roads, no trails, no traffic—just you and the romance of the rails. Once you disembark, you are truly off the grid at an adventure outpost in the Alaskan wilderness. The station offers restrooms, information kiosks and some shelter.
What you do next may be limited only by your imagination.
Guided & Unguided Hiking | Camping & Public Use Cabins | Rafting & Kayaking | Snowmobiling
Hiking at Spencer
Unguided
Trails lead 1.3 miles across brushy flats only recently exposed by retreating ice to Spencer Lake, and another 2.1 miles around the north side of the lake to the glacier terminus area. While on the lakeshore, check out the grounded icebergs that often form a sort of blue-ice "garden" where the lake drains into the channel feeding the Placer River.
For a thigh-burning trip to incredible vistas, peel off from the glacier trail (about mile 2.4) up the Spencer Bench Trail toward the Spencer Bench public use cabin. This strenuous, switch-backing path climbs about 1,800 feet in just 3 miles, offering many overlooks of the glacier and the lake. Once you reach the alpine zone—above the brush—you might head out across country to explore meadows and ridges.
Independent travelers with expert glacier travel skills might venture up the glacier toward an upper-elevation ice field. Spencer shares the same accumulation zones that feed the famous tidewater glaciers of Blackstone Bay in Prince William Sound.
An interesting side hike near the station crosses the Placer on a new 280-foot camelback truss bridge on what will become the future backpacking route over the Placer River headwaters to the Grandview Whistle Stop and Trail River Glacier area. (For now, the trail ends about one mile out at a tributary to Spencer Lake.)
The Placer River Trail Bridge is a marvel all by itself. Completed in 2013, the $1.67 million project is thought to be the longest "clear span, glulam timber truss" bridge on the continent, according to Architect Magazine.
Guided
Let's say you would like expert assistance and local knowledge. Ascending Path and Chugach Adventures are two of three permitted operators at Spencer Whistle Stop in the Chugach National Forest. Here are a few of their trips:
Comet Heli Hiking & Rafting with Chugach Adventures. Combine a helicopter ride, alpine hike, glacial lake tour, river rafting and train ride all in 9-10 hours! It's one big and bold Alaska tour de force.
Ultimate Glacier Overnight Camping Adventure with Ascending Path. For those who don't want the adventure to stop at day's end! Following the day's activities, you will spend the night on the glacier in a well-appointed camp complete with an Alaskan salmon dinner and mountaineering tents featuring cots, pillows and sleeping bags. In the morning, you will take a helicopter to Alyeska Hotel in Girdwood—a peak flight-seeing experience.
Camping & Public Use Cabin Rental
Spencer Whistle Stop offers two developed campsites with room for multiple tents and up to 25 people. With gravel pads, restroom access, bear-proof lockers, picnic tables and fire rings. $35 or $65 per night ($100 for both.) For reservations, call Alaska Railroad at 800.544.0552. Backcountry camping is also possible, but check with the forest service and railroad for details.
Rent the Spencer Bench Cabin. At 1,900 feet in elevation, this new, trapper-style cabin features what may be one of the most spectacular overlooks in Alaska—with an airliner view of glacier and river valley yawning right off the deck. It sleeps 6 to 8, with wooden bunks, table and outhouse. Guests must bring kerosene for the heater and provide their own water. The backpack to the cabin is 5.4 miles long and includes that 1,800-foot climb up the trail. $85 per night. For reservations, call Alaska Railroad at 800.544.0552.
A note: Despite the required 10.8-mile round trip and half-mile-plus ascent, the Spencer Bench Cabin has become very popular, with prime summer dates filling up fast. Book early!
Paddle Near Icebergs and Explore the Glacier
Unguided
This opportunity may be as good as it gets—a high-adventure day trip for the whole family that seems worthy of a National Geographic Magazine cover story.
Got a packraft and braided-river route-finding skills? First put in at the lake and meander among grounded icebergs. Then you exit the lake and head down the Placer River back to civilization. It's a 12-mile, three-to-four hour float to the Seward Highway. Most of the time, the Placer features Class I flows with a few Class II elements. (Minor rapids and sweepers.) It's one of the few river trips in Southern Alaska welcoming to well-equipped non-experts.
Note: Be sure to work out logistics of where you will be picked up once you reach the highway. The second Placer River Bridge heading south (Mile 77) is often the best choice. Lower stretch of river is tidal and a big rising tide will slow you down.
Guided
Two professional guiding services—Chugach Adventures and Ascending Path—offer Spencer Whistle Stop visitors a variety of paddling and rafting.
Glacier blue kayak and Grandview tour with Chugach Adventures. Paddle around the icebergs and venture close to the Spencer glacier terminus with side hikes onto the moraine. Coupled with a train trip through the historic Grandview and Tunnels section of the Alaska Railroad.
Sea-kayaking among icebergs and glacier hike with Ascending Path. Expert guides will escort you from the station to the lake for a paddle among icebergs, followed by a safe and exhilarating exploration of the glacier. You'll see blue ice, melt-water caves and mysterious crevasses.
Spencer Iceberg and Placer River Float with Chugach Adventures. A raft trip among the icebergs followed by a seven-mile float down the scenic-but-mellow Placer River to a train stop in mid-valley.
Combine your trip
This trip is a blast—complete with stunning views of sheer mountains and hanging ice. Combine it with other destinations along the Glacier Discovery route—Whittier, Seward or another whistle stop station in the Kenai Mountains at Grandview—and you and the family could experience some of the most extraordinary scenery in North America from the comfort of a special train coach.
Snowmobiling to Spencer Glacier
Glacier City Snowmobile Tours and Alaska Wild Guides both offer trips to Spencer Glacier in winter! Ride 12 miles out to the bright blue ice of Spencer Glacier, crossing the frozen lake to get there.
Getting There
View on Map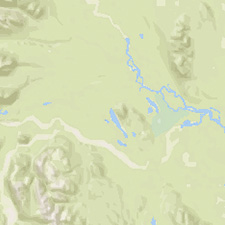 Coordinates
Latitude: 60.63333
Longitude: -148.903
To visit Spencer Glacier between May and September, you'll need to book a ride on the Glacier Discovery Train of the Alaska Railroad, with service from Anchorage, Girdwood, Whittier, and Portage. It's a relatively quick 10-mile trip from Portage station, about 45 miles southeast of Anchorage near the head of Turnagain Arm. For those who are prepared and want a unique adventure, it's also possible to visit the face of Spencer Glacier during winter. Once there's sufficient snow cover and packed trails in the Placer River Valley, it's 22-mile round trip by snowmobile, skiing, hiking or winter biking.
Driving Directions