Hop aboard an eco-friendly snowmobile in Girdwood and speed out across the Alaskan tundra to witness the stunning beauty of Alaska in winter—no experience required! Come and see why guests return year after year for this magical excursion.
All tours begin with an orientation, where you'll learn snowmobile riding techniques and cover safety procedures. Experienced guides—who are also knowledgeable locals—will also make sure you have enough warm gear, and provide extra layers if necessary.Plus, the machines have heated handlebars to help keep your hands warm. Then the excitement builds as you head off to the trailhead! Choose from the below tours.
Tour Choices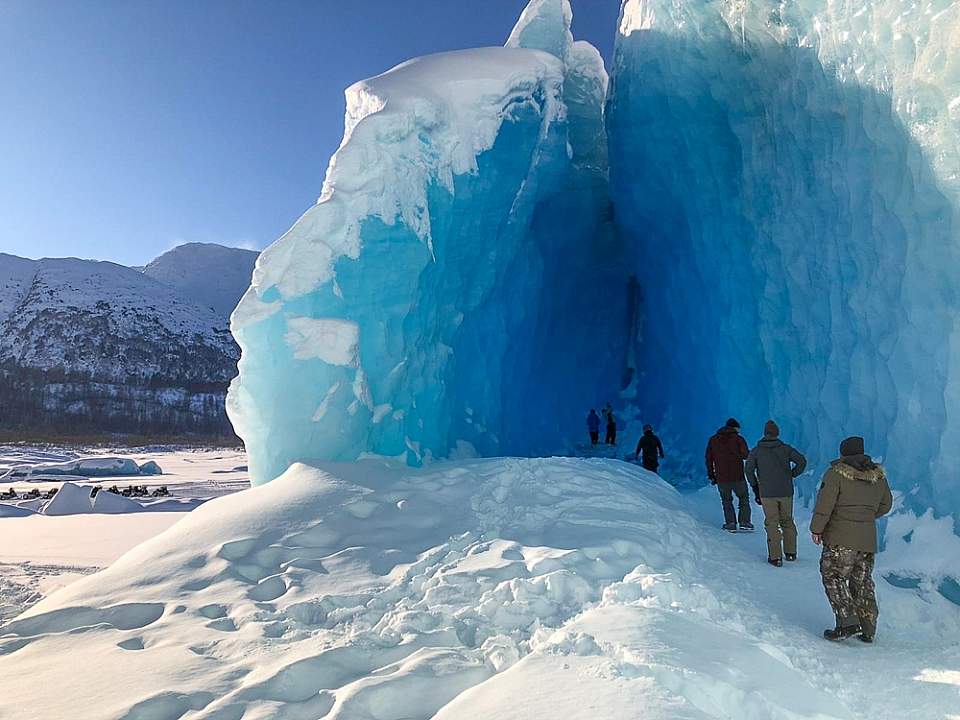 Blue Ice Glacier Tour
This 5.5-hour tour takes you about 12 miles into the forest, with opportunities to take photos of craggy mountains and vast wilderness along the way. Your destination is the dazzling bright blue ice of Spencer Glacier. To get there, you'll cross Spencer Lake, often navigating a unique maze made of icebergs that have calved and frozen into the lake. Then you'll reach the massive face of the glacier and spend 30–60 minutes taking in its magnificence while enjoying snacks and hot beverages. You may also have the thrilling opportunity to explore ice caves (which guides check out first to ensure your safety!).
Scenic Mountain Tour
The tour's name lets you know what you'll be witnessing on this exciting, 3.5-hour excursion. The company's founder pioneered tours in this area, and has exclusive access to use the land—so you won't be seeing any other groups out here! You'll ride your snowmobile on groomed trails beneath massive, 7,000-foot glaciated peaks, going through the historical mining area of Crow Pass and crossing the famous Iditarod Trail. You'll be headed to a big pavilion at 1,200 feet—and an area that typically gets a lot of early-season snow—to relax around a giant fire pit and enjoy reindeer hot dogs, hot beverages, and a view so incredible it's been used in Hollywood films!
Northern Alaska Tour
You can also venture north of Anchorage to experience an immersive tour in another magical setting—around Nelchina, Eureka, Petersville, or the Willow side of Hatcher Pass. You'll take your snowmobile on an exciting half-day trail ride through mid-alpine black spruce forests, following your guide out across the tundra to a scenic destination where you'll enjoy snacks and hot beverages.