Experience the wilderness of the Chugach National Forest from several different perspectives. Combine a helicopter ride, alpine hike, glacial lake tour, and train ride all in 9-10 hours! It's one big and bold Alaska tour de force with Chugach Adventures.
Helicopter Ride
A sleek and powerful Alpine Air R44 helicopter lifts you and your travel companions where no car, boat or train can. Enjoy a 20-minute flight that offers breath-taking views of Turnagain Arm, the Placer River Valley and the glaciated Chugach mountains. Your guide will highlight points of interest, including any wildlife spotted along the way. (It's not unusual to see moose browsing in the valley below). Look for differences in types of glaciers as you see Skookum Glacier, Luebner Glacier and many other unnamed hanging glaciers. You'll also see Spencer Glacier – not only where it has receded to today, but where it used to be.

You'll be dropped off at an altitude around 2,300 feet near Comet Glacier, which sits between two Chugach peaks and pours out into a small terminus lake. The landscape surrounding the receding glacier is raw and rocky, almost like a moonscape that contrasts with steep mountains dotted with waterfalls and cliffs.
Once the R44 leaves, your small group is surrounded only by this surreal wilderness and the kind of quiet that should be savored. Enjoy this amazing feeling of being almost on top of the world, with an adventurous day ahead of you.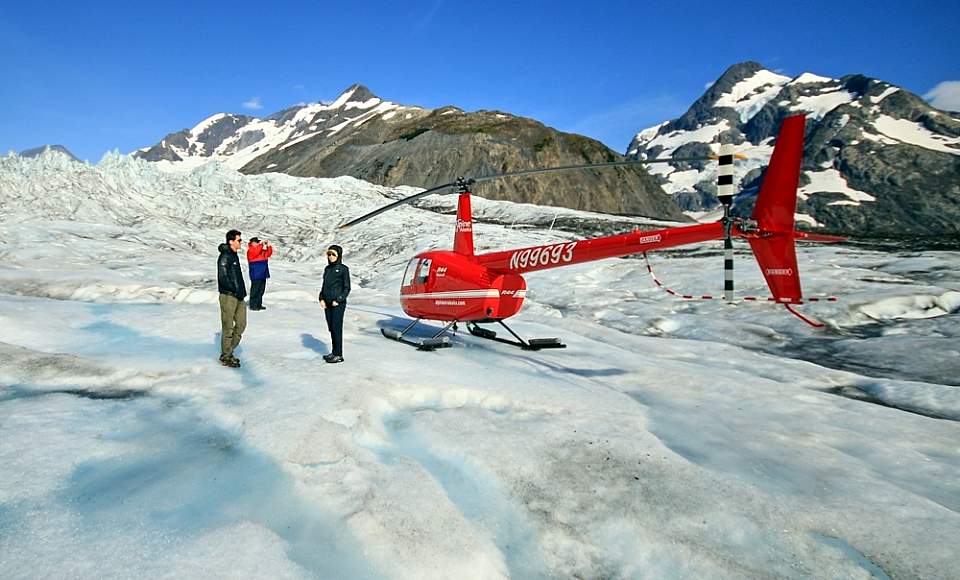 Alpine Hike
The six-mile hike is mostly downhill, and showcases the changing flora at each altitude. During the first three miles, you'll see tarn lakes, small creeks and mountain streams along with beautiful alpine meadows. Your guide will point out the drainage divide at Comet Glacier that sends water west to the Placer River and east to Spencer Lake (including a cascading waterfall).
Once you descend to about 1,900 feet, you'll reach the newly constructed Spencer Lake Trail and Spencer Bench cabin. Chugach Adventures owner Ari Stiassny helped build this US Forest Service trail, and the stunning views he saw from this vantage point simply needed to be included on a tour!
The going is easier from here and you'll quickly make your way down to Spencer Lake. As you continue to descend, you'll notice vast changes in landscape, with more and more wildflowers, as well as berries depending on the time of summer.
Spencer Lake tour
Exploring this terminus glacier lake is the centerpiece for many Chugach Adventure tours, but few get to see it from the approach you've taken. Enjoy the change of pace as you hop on a raft to get up close to the icebergs that have broken off the glacier to float in the lake. Depending on time and your interests, you may opt to kayak the lake instead.

Glacier Discovery Train Ride
Your float ends at a pull-out that is seemingly still in the middle of Alaska's wilderness. However, the Alaska Railroad Glacier Discovery train will arrive for a pick-up of passengers, rafts and gear, along with a short ride offering more scenic views. You'll typically disembark in Girdwood, but can also arrange continue back to Anchorage, giving you even more time to reflect on your epic day.
Chugach Adventures

Girdwood-based Chugach Adventures is a family-owned business dedicated to getting people into the scenic but accessible areas of Alaska's Chugach mountain range. Founded in 1996 by Mike Overcast and Olympic gold medalist Tommy Moe with a whitewater rafting focus, the company spearheaded the Spencer Lake area, partnering with the AK Railroad in 2002.
Veteran paddlers and guides Ari & Melanee Stiassny purchased the business in 2012. They love playing in their backyard, rowing with their three children, and showing off Alaska's wild places to guests from around the world.
Ari and Melanee are serious about offering a premier guiding service, having developed a committed team of guides and an expanded tour catalog that offers an amazing array of adventures.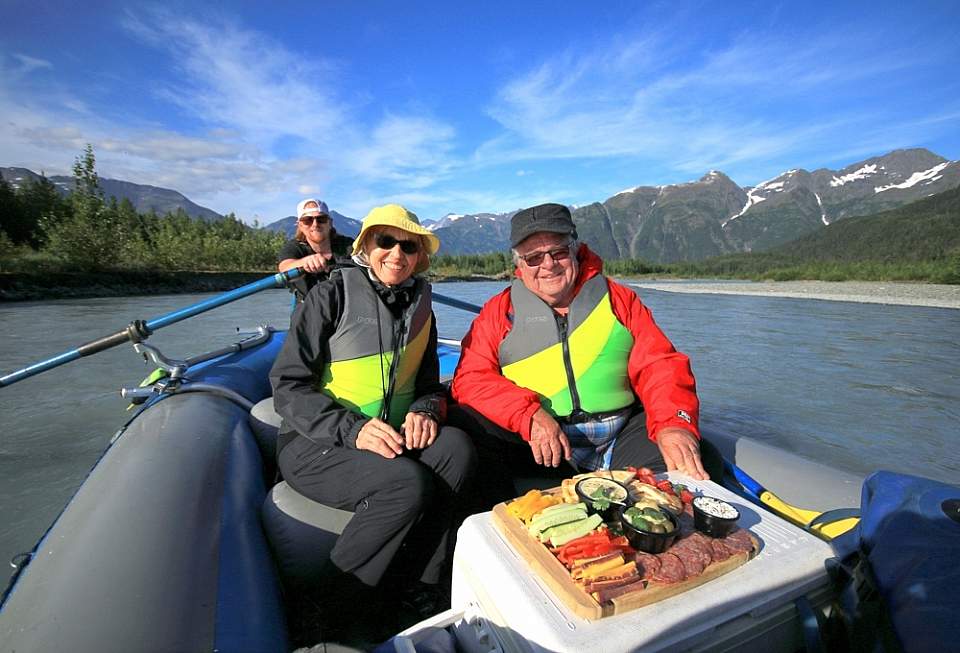 Local Guides

Chugach Adventures is proud to support local Alaskans, and even won Adventure Green Alaska (AGA) certification for its local hire policy. All guides were born and raised in Alaska or have spent many years here. They are passionate about the outdoors, approachable, and full of their own colorful anecdotes of life in Alaska. Their connection to the land provides guests with a deeper layer of knowledge and experience that goes above and beyond their technical expertise.
Exclusivity
As the original operator in the Spencer Lake area, Chugach Adventures has spent years developing a superb reputation, building relationships with other businesses and agencies. It is one of just three guiding services granted permission to operate at Spencer Glacier in the Chugach National Forest.

Flexibility
Sometimes it's too windy to kayak comfortably. Sometimes a member of the group might have more difficulty paddling than expected. Chugach Adventures' tight-knit team of guides knows how to flex tours in order to provide the best experience for each group, whether it's responding to a weather-related issue or adjusting for the experience level and interest of guests. The company also maintains a variety of watercraft – canoes, kayaks, and rafts – which also makes adjustments possible.
Convenience of Package Deals
Since Ari and Melanee love this part of Alaska so much, they figure you'll want to spend extra time here too. They've packaged up several multi-day options featuring the best of what the locals recommend to their own visiting friends and families. You can leave Alaska with your stories of camping overnight at a glacier, dog sledding, capturing scenic views from a helicopter, or even taking the entire family on an epic 4-day Alaskan adventure.
Be patient and grounded when exploring and you will be amazed to find nature's secrets.
Meet me