Enjoy a magical morning or evening kayaking the calm waters of Spencer Lake, in the awe-inspiring presence of a jagged terminus glacier. Your time on the water is sandwiched between two train rides that offer up some of Alaska's most scenic rail miles. It's a full day of unforgettable experiences in our country's second largest national forest – the Chugach.
Kayak a.m. or p.m.
Kayakers of all abilities will enjoy this 3-mile round-trip exploration of Spencer Lake, which offers calm waters with no tidal influence or motorboat wake. Get out to explore a glacial moraine as you approach Spencer Glacier by foot. (The condition of the glacier changes constantly and will dictate how close you can get, or whether you can stand on it.) You have the option of an early-morning train ride followed by morning kayak, or a longer train ride before you get to the evening kayak portion of your day. Both options include lunch.
Beginning kayakers are welcome in tandem kayaks. Experienced kayakers can ask about options for single kayaks. Small group sizes ensure that Chugach Adventure guides can tailor the pace to each group's liking. Want to stop often for pictures among surreal icebergs floating on either side of your kayak? No problem!
Trains x 2
Spencer Lake is not accessible by car, so you'll stick to the rails, including a ride on the Coastal Classic and the Glacier Discovery trains. Which one you ride first depends on your choice of morning or evening kayaking. No matter your schedule, the tour will include a scenic ride from Spencer Glacier Whistle Stop to Grandview Whistle Stop. The Glacier Discovery Train will slowly wind through the Upper Placer River Gorge, which many Alaska Railroad tour guides consider the most scenic portion of the entire 482 miles of rail in Alaska. At the Glacier Whistle Stop, you'll have some time to stretch your legs with a short nature walk. Then it's all aboard and the train heads back again, with magnificent views of Bartlett, Trail and Spencer Glaciers.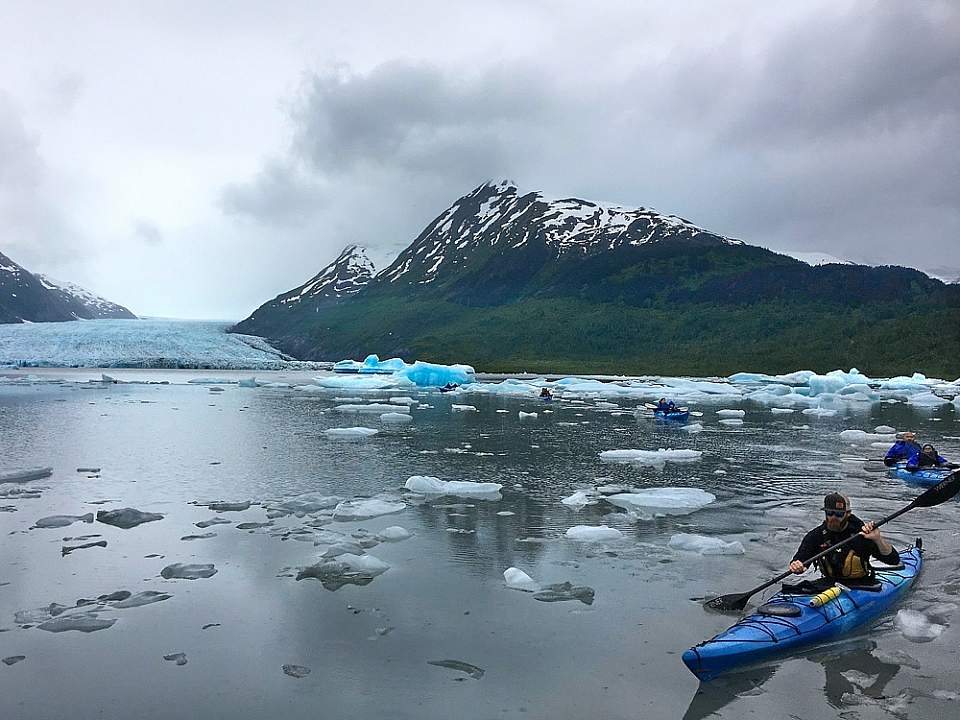 Chugach Adventures

Girdwood-based Chugach Adventures is a family-owned business dedicated to getting people into the scenic but accessible areas of Alaska's Chugach mountain range. Founded in 1996 by Mike Overcast and Olympic gold medalist Tommy Moe with a whitewater rafting focus, the company spearheaded the Spencer Lake area, partnering with the AK Railroad in 2002.
Veteran paddlers and guides Ari & Melanee Stiassny purchased the business in 2012. They love playing in their backyard, rowing with their three children, and showing off Alaska's wild places to guests from around the world.
Ari and Melanee are serious about offering a premier guiding service, having developed a committed team of guides and an expanded tour catalog that offers an amazing array of adventures.
Local guides
Chugach Adventures is proud to support local Alaskans, and even won Adventure Green Alaska (AGA) certification for its local hire policy. All guides were born and raised in Alaska or have spent many years here. They are passionate about the outdoors, approachable, and full of their own colorful anecdotes of life in Alaska. Their connection to the land provides guests with a deeper layer of knowledge and experience that goes above and beyond their technical expertise.
Exclusivity
As the original operator in the Spencer Lake area, Chugach Adventures has spent years developing a superb reputation, building relationships with other businesses and agencies. It is one of just three guiding services granted permission to operate at Spencer Glacier in the Chugach National Forest.
Flexibility
Sometimes it's too windy to kayak comfortably. Sometimes a member of the group might have more difficulty paddling than expected. Chugach Adventures' tight-knit team of guides knows how to flex tours in order to provide the best experience for each group, whether it's responding to a weather-related issue or adjusting for the experience level and interest of guests. The company also maintains a variety of watercraft – canoes, kayaks, and rafts – which also makes adjustments possible.
Convenience of Package Deals
Since Ari and Melanee love this part of Alaska so much, they figure you'll want to spend extra time here too. They've packaged up several multi-day options featuring the best of what the locals recommend to their own visiting friends and families. You can leave Alaska with your stories of camping overnight at a glacier, dog sledding, capturing scenic views from a helicopter, or even taking the entire family on an epic 4-day Alaskan adventure.
Be patient and grounded when exploring and you will be amazed to find nature's secrets.
Meet me