Photo Credit: Chugach Adventures Glacier Blue Kayak & Grandview Train Tour
Ply the waters in front of Spencer Glacier, near Girdwood, Alaska. Spencer Glacier is only accessible via The Alaska Railroad. Your adventure begins with a short train ride from Girdwood to Spencer Glacier. You'll then board a kayak to explore the iceberg studded waters in front of the glacier.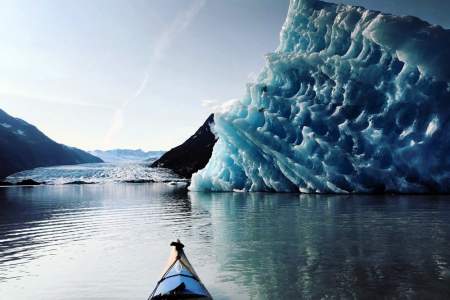 Season: June 3 - Sept 17 $399+
Enjoy a mag­i­cal morn­ing or evening kayak­ing the calm waters of Spencer Lake, in the awe-inspir­ing pres­ence of a jagged ter­mi­nus glac­i­er. Your time on the water is sand­wiched between two train rides that offer up some of Alaska's most scenic rail miles. It's a full day of unfor­get­table expe­ri­ences in our country's sec­ond largest nation­al for­est – the Chugach.