Alaska's wintry landscape may seem forbidding to the uninitiated, but it's a playground for those in the know. Exploring the backcountry by snowmobile (or snowmachine, as we say in Alaska) is exhilarating fun set against a backdrop of quiet and mysterious beauty. Speed over blankets of snow, make your way down frozen rivers, find hidden ice caves, and visit remote glaciers.
Alaska Wild Guides is a small, locally owned company whose owners grew up recreating in Alaska. Their all-inclusive trips make it easy for you to learn about this adrenaline-charged winter sport, or to find more challenging terrain if you're already a fan. Perfect for couples, parents with older children and small groups.
Day Tours
Explore Spencer Glacier/Turnagain Pass outside Girdwood, or head north to Willow to ride on part of the famed Iditarod Trail. You'll meet your guides, get geared up and have a brief riding instruction. Tours are typically no larger than 5 guests, although groups up to 12 can be accommodated. It's a full day, with transportation, a hearty lunch and hot beverage included to keep you fueled while out on the trail.
Glacier Day Tour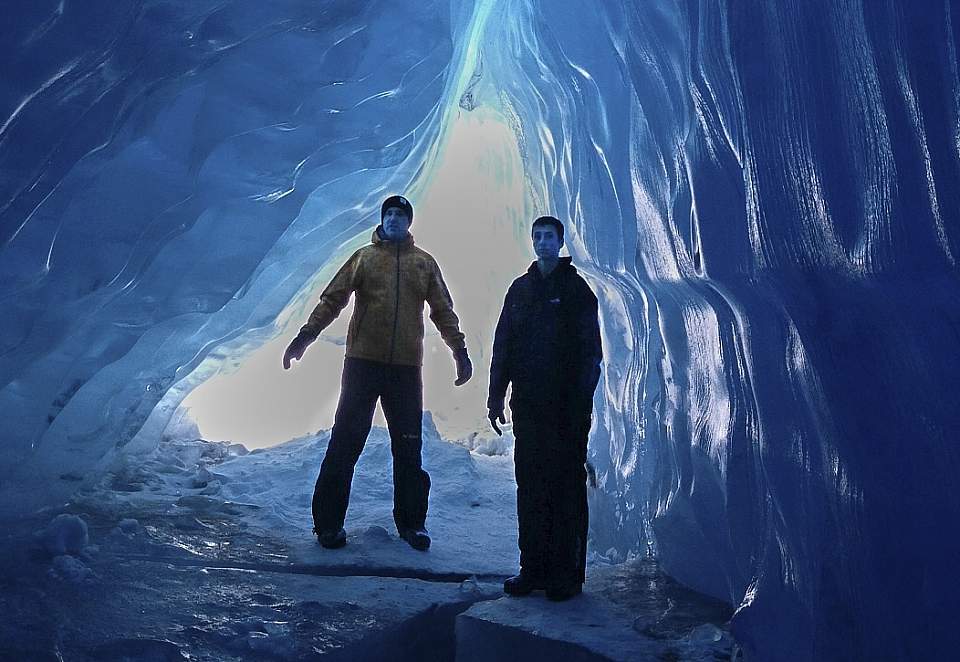 Meet your guides in Girdwood and then head out to the trailhead to explore Spencer Glacier (dependent on whether it's been opened up by the National Park Service for snowmachining yet in the season). Or head to rugged Turnagain Pass, which boasts some of Alaska's most consistent snow. On this trip you'll see glaciers, mountains, creeks, an historic wagon road, cabin and possible wildlife to include moose, ptarmigan, lynx, or even wolves.
Iditarod All-Day Tour
Meet your guides in Anchorage and then travel to Deshka Landing, about 1.5 hours north, to access prime snowmobiling terrain. Ride through wooded sections of trail and open meadows with views of Denali, the tallest mountain in North America. As this tour name describes, you'll be exploring portions of the world famous Iditarod dog sled trail, which began as traditional Native trade and travel routes and continued as important winter supply routes to the remote mining camps of the early 1900s.
Multi-day Tours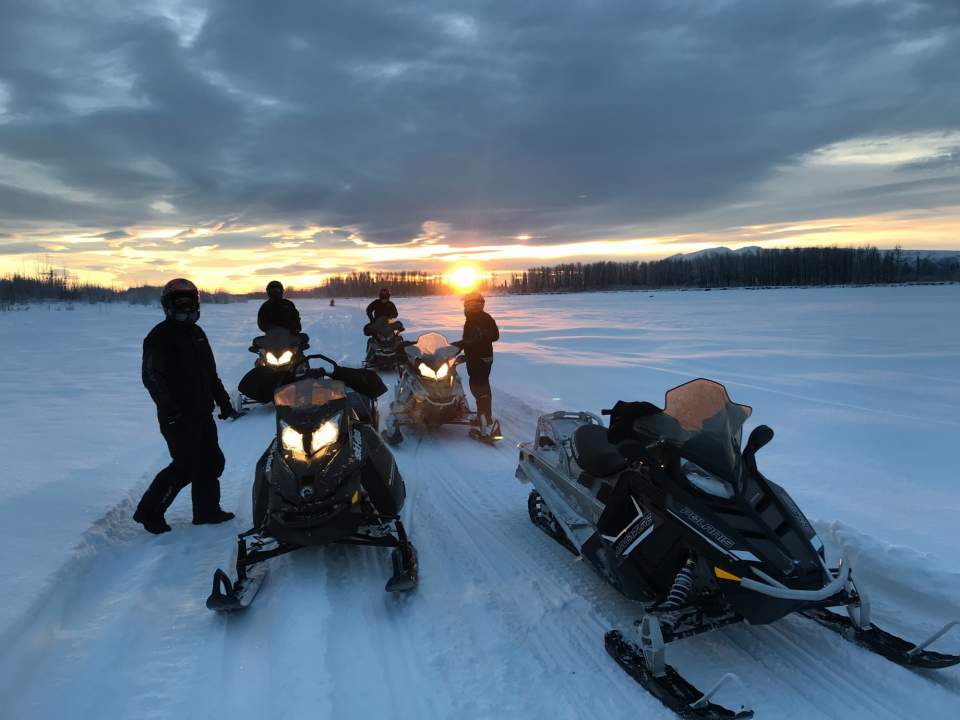 Whether you're beginning or advanced, Alaska Wild Guides can create a custom multi-day tour for you, ranging from 4 to 10 days, with food and lodging included. Go deeper into the backcountry and stay in remote wilderness lodges. These longer tours take you into pristine areas of Alaska that you can't get to by car, and promise an adventure that will give you a new appreciation of Alaska's winter offerings.
Iditarod Multi-Day Tour
The Alaska Range, including Denali, is your constant backdrop on this tour based in the varied terrain south of Denali National Park. You'll ride on portions of the historic Iditarod sled dog trail and nearby areas, which can include ice caves, river canyons, frozen lakes and mountain passes.
The trip starts with an 80-mile snowmobile ride from Willow to Talvista Lodge, your base camp for the next few days. While here, you'll choose from a variety of day rides:
Hayes & Trimble Glaciers; exploring ice caves
Beluga Mountain, with impressive views and lots of powder
Shell Lake on the Iditarod Trail with lunch at Shell Lake Lodge and a night ride up the Talachulitna River Canyon
Explore Further:
Add 3 days ride into Rainy Pass, staying at Rainy Pass Lodge.
Add 3 days to head further north up the Kahiltna River to Petersville and endless powder in the foothills of Denali.
Alaska Explorer Multi-Day Tour
Head northeast, about 3 hours from Anchorage, to Lake Louise, situated between four mountain ranges: Wrangell, Talkeetna, Chugach and Alaska Ranges. Ride from lake to lake and explore high alpine country with endless snow machine trails on an adventure that averages 50 to 100 miles per day. You'll have lunches on the trail, with all other meals at lodges.
Day 1 – Travel to Lake Louise Lodge, get settled in and do a late afternoon/evening introduction ride in the Horn Mountains.

Day 2 – Ride north through the Alphabet Hills up to Denali Highway country, arriving around dinnertime to the Maclaren River Lodge.

Day 3 – Ride up to the Maclaren Glacier and look for ice caves. Then ride east through a narrow valley to explore ice caves at Eureka Glacier before cresting a gap in a natural amphitheater and returning to Maclaren River Lodge for another night.

Day 4 – Ride down the Maclaren, Susitna, and Tyone Rivers back to Lake Louise Lodge and return to Anchorage for a farewell dinner (not covered in the tour cost).
About Alaska Wild Guides
Alaska Wild Guides owner Derek Ruckel was born and raised in Alaska, growing up hunting, fishing and recreating in the outdoors. He's been guiding snowmobile adventures since 2000, and launched his own company in 2010. Additionally, he has served 10 years with the Girdwood Fire Department doing fire, rescue and emergency medical services. Amanda Clayton (also born and raised in Alaska), has 20 years experience in banking/lending and runs the office for Alaska Wild Guides, sometimes coming out to tail guide for Derek. This professional team finds satisfaction helping visitors connect to nature. "We bring them out and push their comfort zone a little bit, so they have a tremendous experience with a safety net."