Alaska's wintry landscape may seem forbidding to the uninitiated, but it's a playground for those in the know. Exploring the backcountry by snowmobile (or snowmachine, as we say in Alaska) is exhilarating fun set against a backdrop of quiet and mysterious beauty. Speed over blankets of snow, make your way down frozen rivers, find hidden ice caves, and visit remote glaciers.
Alaska Wild Guides is a small, locally owned company whose owners grew up recreating in Alaska. Their all-inclusive trips make it easy for you to learn about this adrenaline-charged winter sport, or to find more challenging terrain if you're already a fan. Perfect for couples, parents with older children and small groups.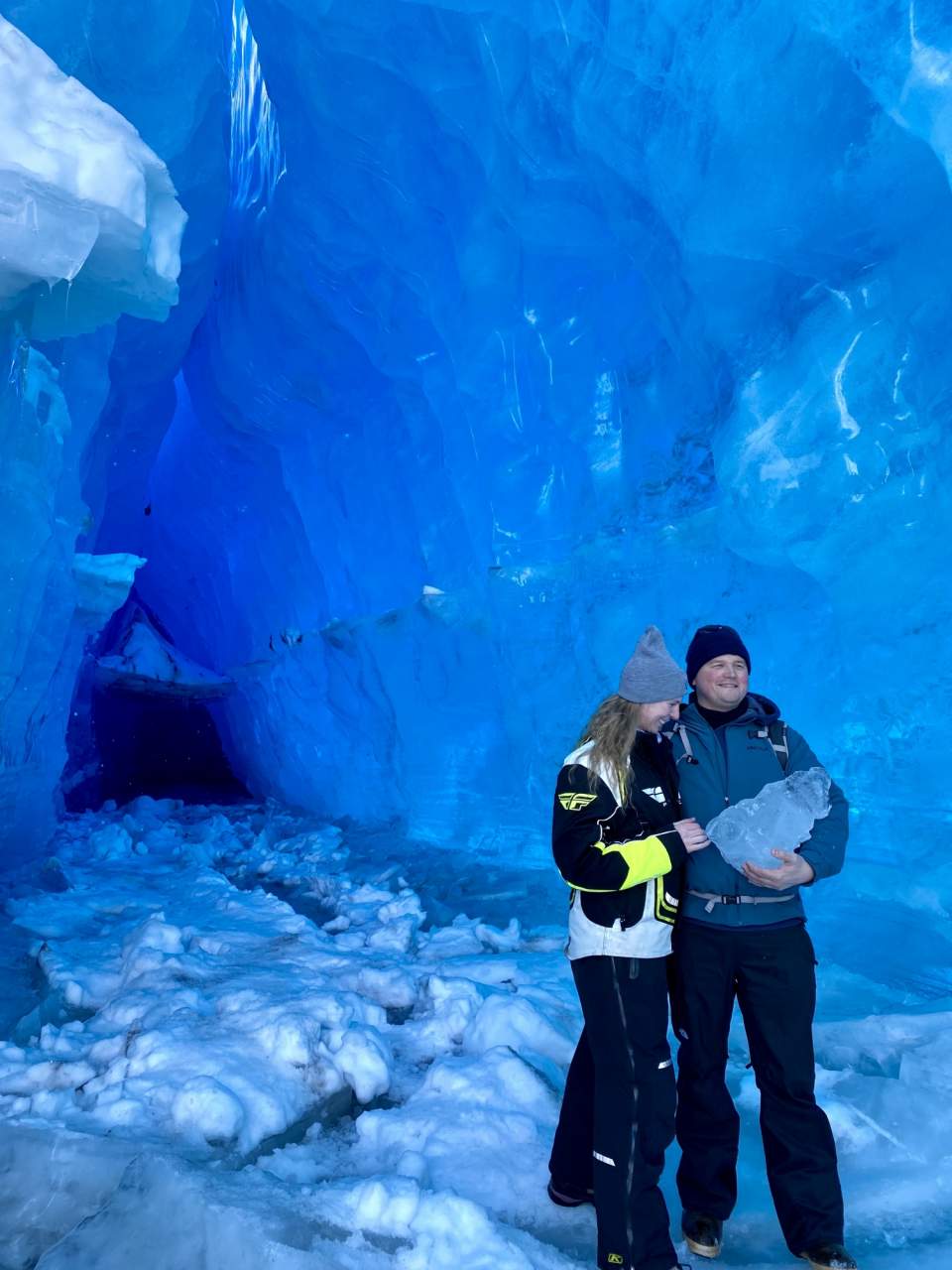 Day Tours
Explore Spencer Glacier/Turnagain Pass outside Girdwood. You'll meet your guides, get geared up and have a brief riding instruction. Tours are typically no larger than 5 guests, although groups up to 12 can be accommodated. It's a full day, with transportation, a hearty lunch and hot beverage included to keep you fueled while out on the trail.
Glacier Day Tour
Meet your guides in Girdwood and then head out to the trailhead to explore Spencer Glacier (dependent on whether it's been opened up by the National Park Service for snowmachining yet in the season). Or head to rugged Turnagain Pass, which boasts some of Alaska's most consistent snow. On this trip you'll see glaciers, mountains, creeks, an historic wagon road, cabin and possible wildlife to include moose, ptarmigan, lynx, or even wolves.
Multi-day Tours
Whether you're beginning or advanced, Alaska Wild Guides can create a custom multi-day tour for you, ranging from 4 to 10 days, with food and lodging included. Go deeper into the backcountry and stay in remote wilderness lodges. These longer tours take you into pristine areas of Alaska that you can't get to by car, and promise an adventure that will give you a new appreciation of Alaska's winter offerings.
Alaska Explorer Multi-Day Tour
Head northeast, about 3 hours from Anchorage, to Lake Louise, situated between four mountain ranges: Wrangell, Talkeetna, Chugach and Alaska Ranges. Ride from lake to lake and explore high alpine country with endless snow machine trails on an adventure that averages 50 to 100 miles per day. You'll have lunches on the trail, with all other meals at lodges.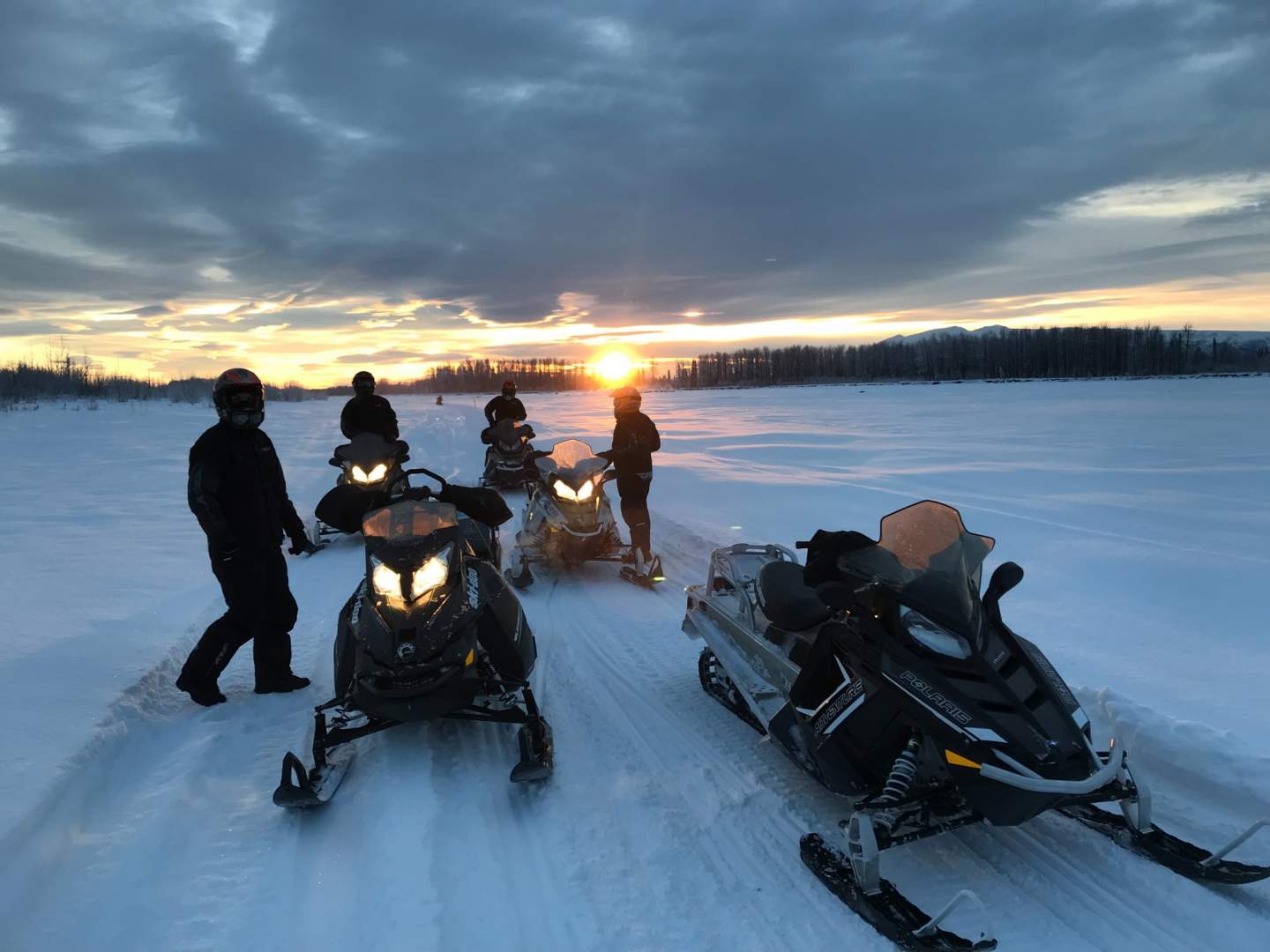 Begin your Alaskan experience with a 10am pick-up in Anchorage on a Sunday and transport you to our Girdwood office to outfit you with all of your trail riding gear. After you have been properly outfitted, take the Alyeska aerial tramway to the top of Mount Alyeska where you will enjoy lunch and beverages while getting to know your guide and enjoy some incredible views. Next, settle into a comfortable van for the 4.5-hour drive to the trailhead. On the way, you'll stop for dinner at the iconic Sheep Creek Lodge. You should arrive at your final destination, the Backwoods Lodge, around 8pm so you can get a great night's rest before your ride begins.
Day 1 – You'll ride 90 miles of scenic groomed trail all the way to the Maclaren River Lodge- a great ride to get comfortable on your snowmobile before pushing into more challenging terrain.

Day 2 – Wind your way deep into the mighty Alaska Range and explore not one but two glaciers! You'll stop and explore any ice caves you can find and then continue towards Alpine Creek Lodge.

Day 3 – Explore a remote valley and loop around rugged mountains and through mountain passes before returning to Alpine Creek Lodge for the evening. You'll sleep in on your last day after riding hard and enjoying the lodge amenities the last three days. Then you'll ride out to the trailhead and make your way back to Anchorage for a farewell dinner.

Every day is a good opportunity to play in the endless powder, gaze at the Northern Lights and enjoy life to its fullest potential!!
About Alaska Wild Guides
Alaska Wild Guides owner Derek Ruckel was born and raised in Alaska, growing up hunting, fishing and recreating in the outdoors. He's been guiding snowmobile adventures since 2000, and launched his own company in 2010. Additionally, he has served 10 years with the Girdwood Fire Department doing fire, rescue and emergency medical services. Amanda Clayton (also born and raised in Alaska), has 20 years experience in banking/lending and runs the office for Alaska Wild Guides, sometimes coming out to tail guide for Derek. This professional team finds satisfaction helping visitors connect to nature. "We bring them out and push their comfort zone a little bit, so they have a tremendous experience with a safety net."