Photo Credit: Christopher Cupp
Prince William Sound is arguably the best place in Alaska to see spectacular coastal scenery and tidewater glaciers calving into the ocean. It has the densest concentration of tidewater glaciers in the world, some flowing a dozen miles from ice-capped peaks to terminate in cliffs of ice towering hundreds of feet above the water. You'll also see spectacular waterfalls and wildlife, including bald eagles, seabirds, otters, Dall's porpoises, and occasionally whales (but typically not on the same frequency as in Kenai Fjords National Park, your other main choice for an Alaska glacier cruise).

It's easy to get to. From Anchorage, it's about an hour by car, or 2 hours by rail to reach Whittier where your cruise will depart.
It's affordable: 2 excellent companies offer a Prince William Sound tour for under $200
The waters are calm: tours are seldom cancelled due to weather
Rainy days aren't a problem: the waterfalls swell and are more spectacular
You're never far from shore: That means you'll look straight up at peaks rising 2000-9000 feet right from the water's edge
The history of glaciation is evident everywhere you look: from newly-de-glaciated barren hillsides, to ancient moraines just below the water's surface
"Shorter" cruises
Venture into spectacular Blackstone Bay, where Blackstone and Beloit Glaciers tower 200 feet above your vessel, or cruise on a catamaran into famous Harriman Fjord to get an up-close view of the spectacular Surprise Glacier. You'll watch the glaciers calve, see waterfalls, float among icebergs that sizzle and crack, see a bird rookery, and more! These shorter cruises are ideal for families or those with limited time:

Phillips Cruises & Tours: The Glacier Quest Cruise takes you through the calm, scenic waters of the Sound and into the ice-filled, steep fjord of Blackstone Bay. Watch for calving or rolling icebergs, and learn about glaciers and wildlife from an on-board Forest Service Ranger.
Lazy Otter Charters: This 4-to-5-hour journey up Blackstone Bay takes you by sheer cliff walls and tumbling waterfalls in route to two tidewater glaciers, Beloit and Blackstone.
"Longer" cruises
Venture deeper into the Sound, explore Harriman Fjords (named for the famous 1899 Expedition that mapped the area) which is even more spectacular than Blackstone Bay, park at Surprise Glacier which has the best calving in the whole Sound and is the highlight of the trip, and offer more and better wildlife viewing opportunities (sea otters, harbor seals, maybe whales):
Lazy Otter Charters: On the Best of Prince William Sound Tour, Capt. Mike asks your personal priorities and design the 8-to-9-hour day accordingly: cruising among the numerous glaciers in Harriman Fjord and seeing ancient icebergs and the faces of towering tidewater glaciers.
Phillips 26 Glacier Cruise: boasts the fastest, most luxurious catamaran in Alaska, sees the most glaciers, and offers a no-seasickness-or-your-money-back guarantee. The vessel cruises at 32-34 knots and makes it all the way into College Fjord with a dozen glaciers named after Ivy League schools. If you want to see the most glaciers close-up, this is your ticket.
Prince William Sound Glacier Cruises from Whittier
Prince William Sound Glacier Cruises from Whittier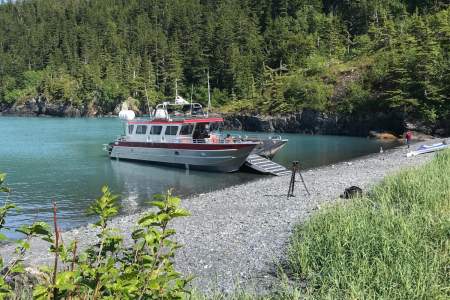 Season: Year Round $200+ 3.5 to 9 hrs
Lazy Otter offers clas­sic tours, but this is a water taxi, so they'll also take you any­where you want to go with­in Price William Sound — or just cus­tomize a tour to what­ev­er you want to see. Maybe that's glac­i­ers, or whales, — or maybe it's qui­et time on a seclud­ed beach. Lazy Otter can also help facil­i­tate tak­ing you and your fam­i­ly on a camp­ing trip. You're not held to any strict sched­ule, either: if, on a day tour, you can spend more time in one ...more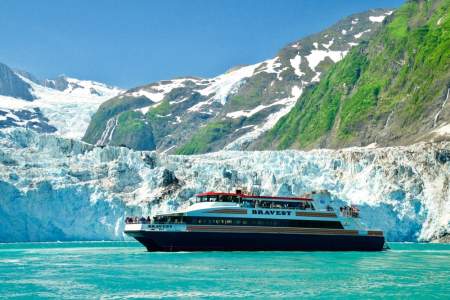 Season: May 6 - October 1 $189 5.5 Hrs
Phillips 26 Glac­i­er Cruise, out of Whit­ti­er, will take you to 26 dif­fer­ent glac­i­ers in just 5.5 hours. Enjoy cozy com­forts on the high-speed cata­ma­ran and wan­der its out­door decks as you come with­in 300 feet of mas­sive tide­wa­ter glac­i­ers. In addi­tion to glac­i­ers, the cap­tain will be on the look­out for wildlife like otters, whales, har­bor seals, and marine birds. The trip takes place in the after­noon, and a hot lunch is includ­ed in your tour. ...more