Cruise the calm, protected waters of Prince William Sound and come face to face with tidewater glaciers plus an amazing array of wildlife on Phillips Cruises & Tours. This longtime operator offers up-close views of glaciers, wildlife, mountains and the rugged beauty of Prince William Sound in one afternoon—which plenty of people say was the highlight of their vacation.
Pioneer in Glacier Cruising
Founder Brad Phillips pioneered glacier cruising in Prince William Sound back in the '50's and his dream of sharing the beauty of Prince William Sound in a comfortable, informative manner has become a top attraction for both visitors and locals in Alaska. They pride themselves on their incredibly friendly crew, and the way that passengers can learn the history of the region from the Captain as he navigates through the fjords, looking for the best wildlife viewing opportunities while on the way to see the many glaciers found in Prince William Sound.
Their tours are a good fit for a variety of travelers: nature lovers, birders, young and old, couples or families. They also do corporate team-building charters, as well as weddings or family reunions.
Guaranteed, No Seasickness
In 2024, the company will operate four high-speed catamarans on the calm waters of Prince William Sound. All cruises are backed by their exclusive "No-Seasickness guarantee" — or the price paid for the cruise will be refunded. The Klondike Express is the fastest, largest, and most luxurious high-speed catamaran in Alaska. The Glacier Quest joined the fleet in 2012. The Bravest arrived in 2019 after serving as a fast ferry in New York and playing an instrumental role during 911 to transport people from Manhattan Island to safer ports. In 2024, the M/V Chugach Express will be completed and join the fleet.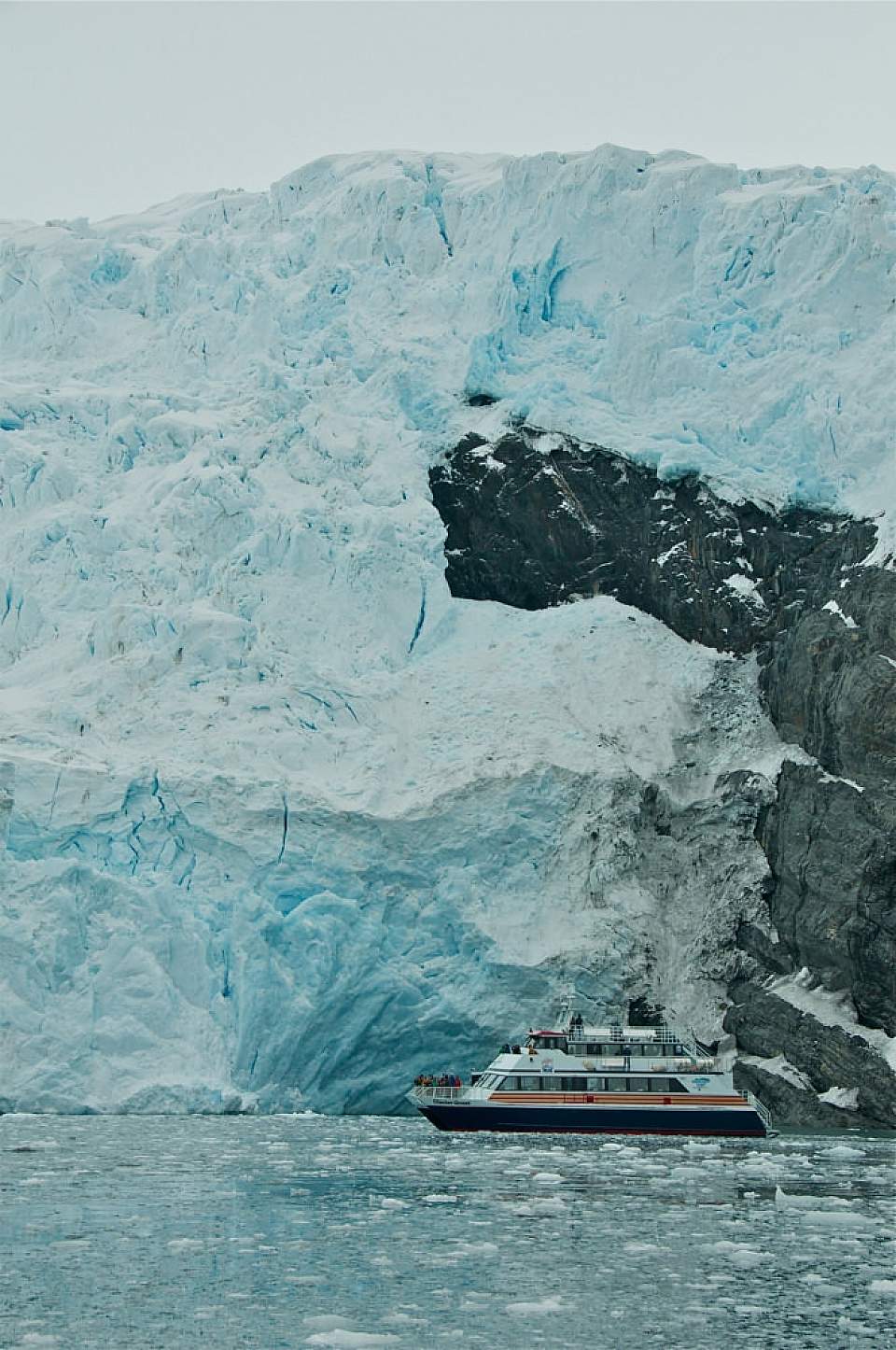 26 Glaciers
Their signature tour is the 26 Glacier Cruise, which has been running since 1987. You'll ride aboard a high-speed catamaran, which zips you from Whittier deep into Prince William Sound. During the 5.75-hour tour—which includes a hot lunch—travels over 150 miles, cruising to the face of Harvard Glacier in College Fjord, explore tranquil Esther Passage and breathtaking Blackstone Bay where you'll see more tidewater glaciers. Routes vary due to weather conditions.
No other cruise takes you so close to these icy giants. The boat comes within a 1/4 mile, close enough to hear the glaciers move as well as see the brilliant blues in the ice. Because the glaciers are so huge—some go 18 miles back and a mile across—however, it will seem like you're even closer.
Close Enough to Touch
While at the glaciers your captain idles the engine down as low as possible. He'll also rotate the boat so everyone can see, offering a different angle each minute. When stopped, the crew actually scoops glacier ice over the side and brings it up for you to touch. It's a rare day when you don't see some kind of calving activity, anything from little snowballs to a big sheet of ice.
Real Wildlife Shows
In early May and June, watch for "maternity wards" of otters and seals on the icebergs; the abrasive ice serves to ward off orcas. Watch for "rafts" of otters as well-maybe 300 all together; like synchronized swimmers, they'll flip from floating on their backs and dive into the water all at once. The most common whales in Prince William Sound are humpbacks and orcas, with sightings of minke whales as well. You may also spot wildlife on land, such as bears and mountain goats. Of the 200 species of bird life inhabiting this area, bald eagles are very prominent. Before returning to Whittier, you'll visit a bird rookery home to thousands of kittiwakes.
Fascinating Local History
Each half-day cruise includes narration on the history of the Alaska Natives who ventured into the sound in centuries past. Listen as the crew explains how the fjords have been transformed over the past 15,000 years. Learn about the various types of glaciers along the route and the history of the Harriman Expedition of 100 years ago that named many of the glaciers.
The Glacier Quest
The Glacier Quest Cruise, a shorter route (ideal for younger kids) focuses on magnificent glaciers in Blackstone Bay. On this tour, you'll see seven glaciers, including Blackstone and Beloit Glaciers in a catamaran with indoor seating. You'll see seals, sea otters, possibly whales, bears and mountain goats. The tour also includes a hot lunch and narration provided by the Captain. And, like the 26 Glaciers Cruise, there is a no-seasickness guarantee, so you can focus on all the wonders around you.