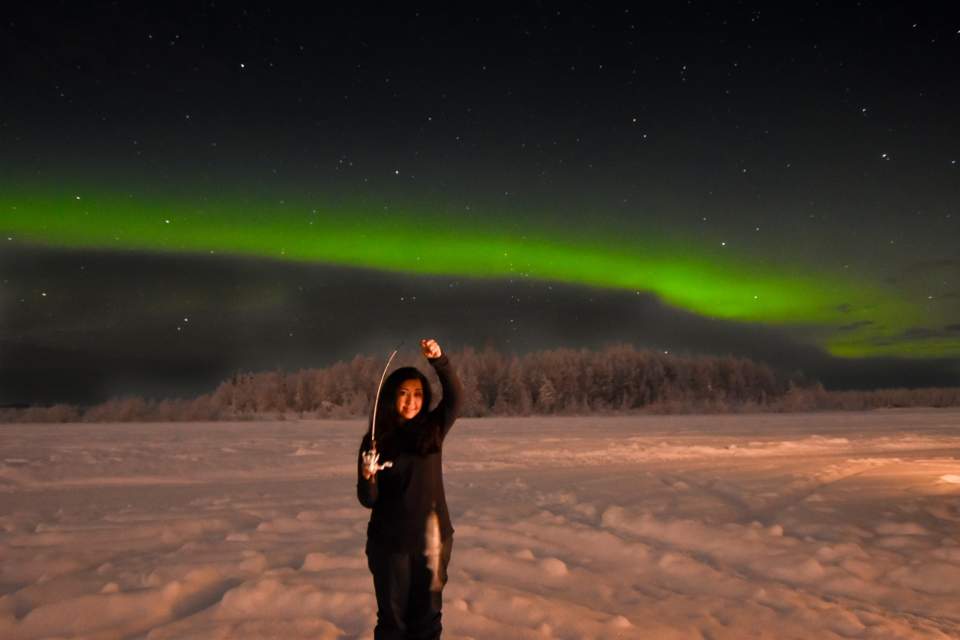 Combine the excitement of nighttime ice fishing with the thrill of looking for the eerily beautiful Northern Lights. It's two very uniquely Alaskan experiences in one trip.
Fish in Comfort Under the Lights
Seeing the Northern Lights is an unforgettable wintertime experience. Of course, you never know quite when (or even if) Mother Nature is going to unleash the display into the night sky. So while you wait, you'll be trying your hand at another activity that's unique to the Alaskan winter: ice fishing!
This 5-hour tour begins around 10 p.m., when you head to a nearby lake and out onto the ice which is 20 inches thick or more (it thickens ½ an inch a day when it's really cold). Your shelter is the "hard" cabin, which is pretty plush: heat, carpeted floors, a woodstove and electricity. The cabin has its own perch on the lake, which means an unobstructed view of the colorful show in the sky. There you'll enjoy reindeer sausage and hot coffee or cocoa as you learn ice-fishing techniques, and then cast your line for king salmon, pike, silver salmon, grayling, Arctic char, and rainbow trout.
Add a Dog Sled Ride
You can also combine this unique experience with another activity that's very Alaskan: a dog sled ride! You and up to three other people will hop on a custom-made sled as an experienced local musher and a team of 12 excited dogs pull you over the snow-covered tundra out to the lake for your night of fishing. It's an exclusive and authentic Alaskan winter wilderness experience.
Who Rod is
Rod Pangborn is retired Air Force and a champion moose caller. He started his career in the travel world as a vacation rental host, advising his guests on fun things to do. Over time he started offering his own trips, like ice fishing and snowmobiling. He started leading snowmobile tours in 2016 and has since expanded his offerings to include fishing trips in summer and winter, as well as wintertime dog sledding trips.