Seasonal Rhythm of Alaska
You'll find that Alaska is different. It feels different. The seasons—and how people respond to them—don't really progress in the same way they do in the rest of the country.
Depending on the time of year and locale, Alaska is lighter. It's darker. It's colder. It's wetter. It's snowier. And even if it isn't hotter (you can't have everything!) it's definitely greener.
Alaska can be as lush as a jungle. Or as severe as a desert. It just depends upon the time of year.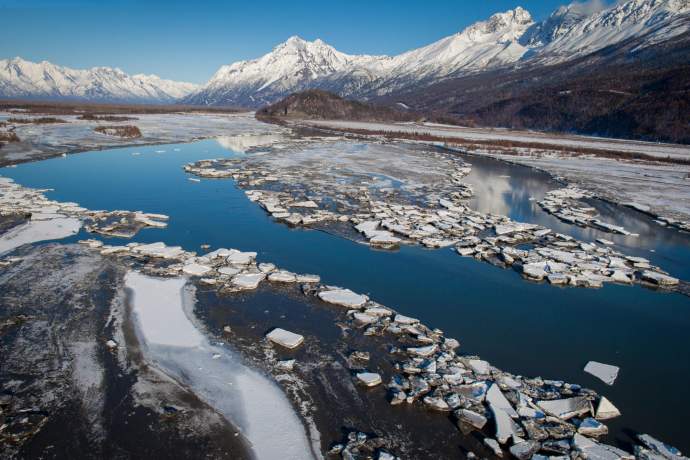 01
Break-up: April-May
Alaska's year really begins here—when daylight starts to last past bedtime and temperatures don't freeze at night. The snow melts and the ground thaws, ushering in an era of puddles and mud, of soggy trails and the rubberized footwear Alaskans call "break up boots." All the flotsam and gunk and litter buried over the previous six months surfaces. A sense of humor prevails.
Blue-sky days dominate.
A great time for hikes at sea level or south-facing slopes like the Turnagain Arm Trail or Eklutna Lakeside Trail.
Breakup starts low and ascends into the mountains. So, depending upon elevation, you might find fabulous crust snow for winter sports beneath blazing sunshine.
The birds begin to arrive. Listen for robins and thrushes calling from treetops. Sandhill cranes, geese and ducks flock to the coastal flats.
The hooligan smelt are running along Turnagain Arm.
Gray whales migrate past Resurrection Bay south of Seward.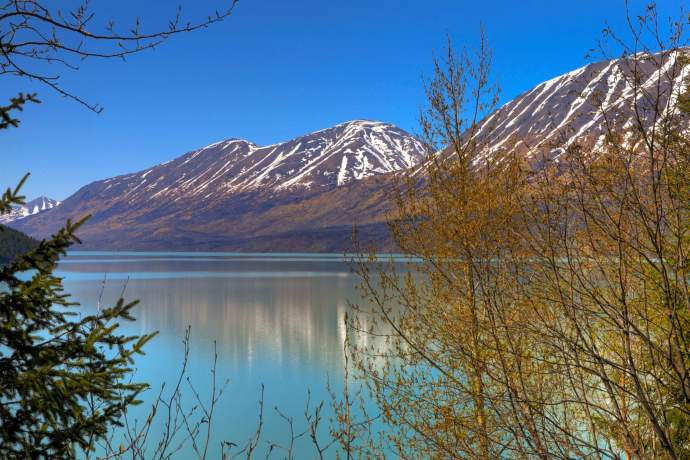 02
Green-up: Early-to-mid May
It's a leaf-out explosion that transforms Alaska's barren-looking forests almost overnight. Birch buds pop and dazzle. A billion tiny plants erupt from the dirt. Fiddlehead ferns unfurl. Underbrush goes green.
This is a high energy, high morale moment for people hungry for color. Many Alaskans get jazzed up.
They mark moment in conversation: "The birch are out!"
Old-time Alaskan gardening lore: "No more frost after birch leaves grow as large as a squirrel's ear."
The birds converge, filling the woods with song.
Bears are awake and afoot. Moose are feeding on new greens.
03
Early summer: May through Fourth of July
Alaskans embrace the natural world with a lover's ardor, with towns eerily empty on weekends. Sunny and dry weather often (though not always) dominates, with lingering snow up high. Tourism, sightseeing and recreation rev up, with people out touring, camping, hiking, paddling, cycling, fishing and exploring. From the Kenai River north, it no longer gets dark, with sunset colors painting the northern sky every midnight.
Alaskans stay up later and later. Mowing lawns in 9 pm sunshine. Gardening at midnight. People feel "Sun Guilt" if they sit down indoors in the evening--then feel drawn back outside.
King salmon begin running in May, followed by sockeye salmon. Lake fishing is often supreme. Check out Fish Run Timing charts.
The mosquitoes are back. Moose calve in greenbelts and glades.
Whale watching is excellent out of Seward, Whittier, Juneau, and other locales.
Alaskans start celebrating at festivals for birds, whales (Sitka and Kodiak), music and general fun.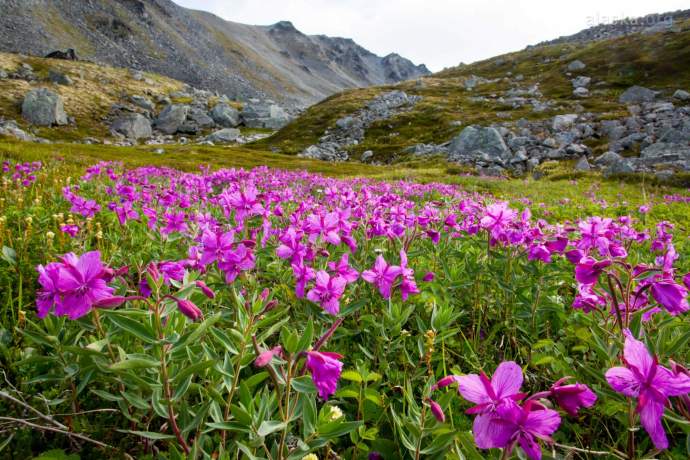 04
High summer: Fourth of July through Labor Day
Call it the green season, where the mountains and flats grow jungled with vegetation and the rivers fill with spawning salmon. Tourism and outdoor recreation climaxes, with many Alaskans growing exhausted and sleep-deprived from non-stop activity. The weather grows rainier, and the day's start to shorten. Nights grow chilly, grass covered in dew. The stars finally return.
Festivals abound all over, including regional and state fairs.
Fourth of July is a huge holiday in Alaska. Check out the festival in Seward with the famous annual run up Mt. Marathon.
Salmon and deep sea fishing climaxes. Sometimes three or four species are catchable in the same waters.
Berries ripen—Alaska's wild superfood—and mature vegetables jam booths of farmer's markets.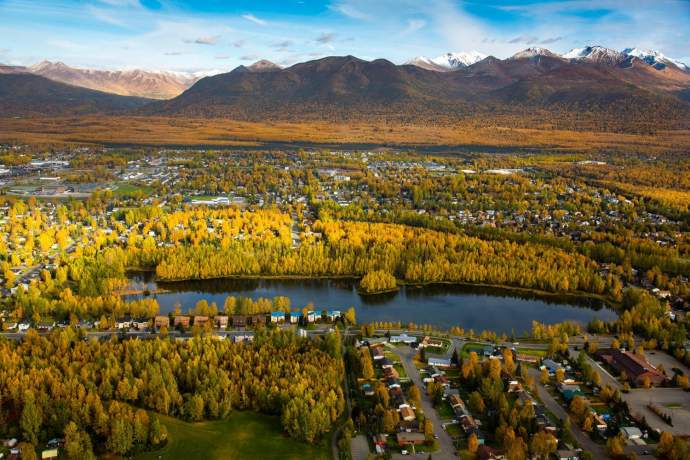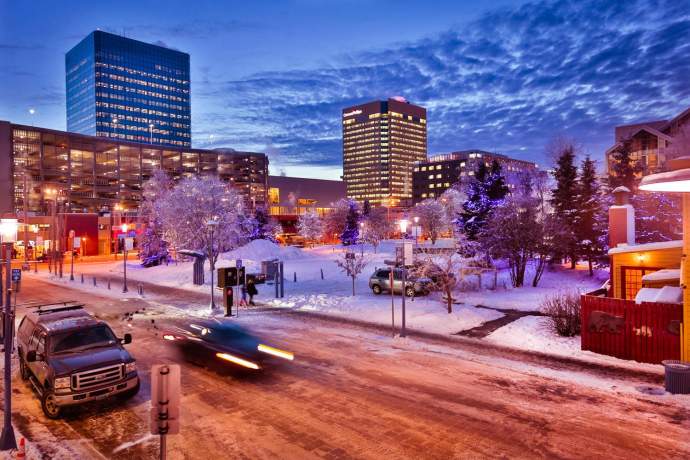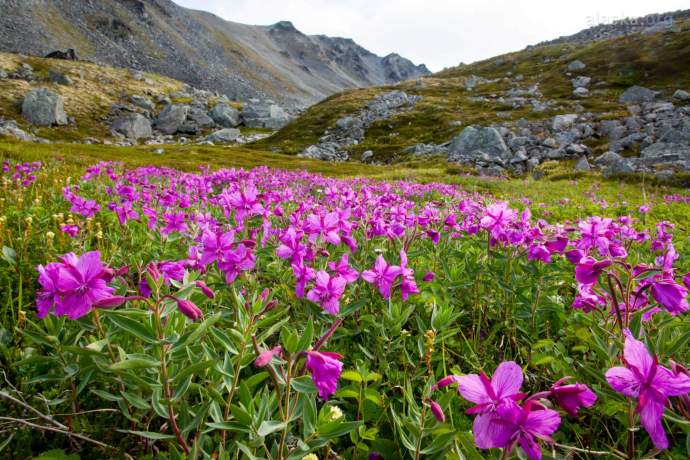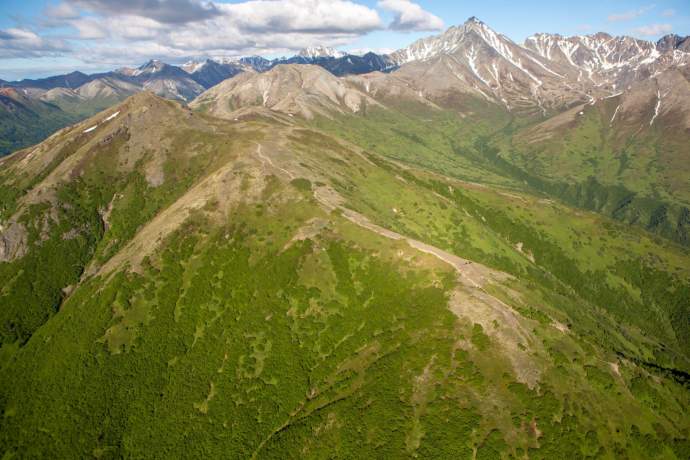 05
Fall: It's quick, sometimes lasting a week or two
The birch trees set the stage, starting their turn just before the equinox. Forest and tundra foliage often goes golden and auburn almost overnight. A hard frost finally strips the trees. By early October, the leaves are down and a wintry nip fills the air.
Silver salmon fishing can still be good.
Many old-time Alaskans go hunting.
Most tourists are gone, but many campgrounds and outdoor venues remain open. It's a great time to go camping. Suburb campfire weather.
Moose mating season—called the rut—often concentrates bulls and cows where they can be easily seen. In Anchorage, for example, you may see a dozen or more moose in a single meadow in the Power Line Pass corridor of Chugach State Park or on the Palmer Hay Flats off the Glenn Highway.
First snow seen on mountaintops. Alaskans call it "termination dust."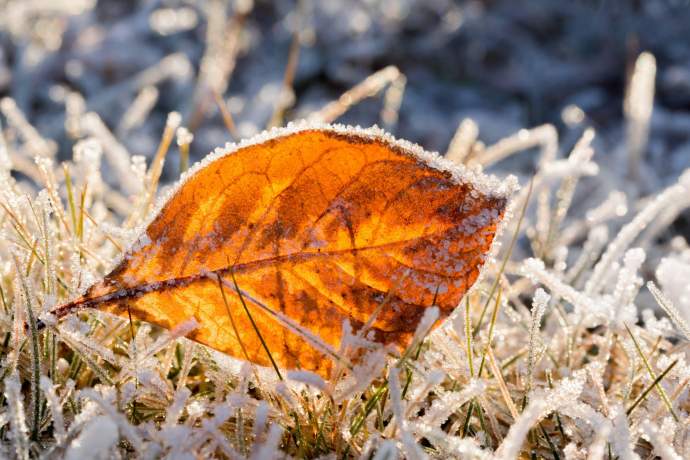 06
Early winter: October until early November
Barren may be the word. Frozen ground and open woods. Temperatures sometimes drop into single digits at night. It's the darkest time of year because snow has not yet arrived. Lakes and rivers start to freeze up, restricting some travel before ice thickens. Many Alaskans turn to social and family pursuits. Days grow shorter and shorter. (Some call this time of year "video season.")
Hard freeze—when it comes—knocks back the jungle and stiffens wet ground, making some backcountry travel much easier. With proper clothing, it's a great time for hiking, mountain biking and exploring.
Once waterways freeze solid, Alaskans pull out Nordic skates and go cycling on bikes equipped with studded tires.
Residents scramble to get ready for snowfall—changing to winter tires on vehicles (most people own two sets of rubber.)
Weather can be dramatic, with hurricane force winds and heavy precipitation.
A stark snowline descends the mountain slopes, getting lower with each new storm. It's as though you can see winter stalking you. (Alaskans have always known "Winter is Coming.")
Halloween is beloved across Alaska. Kids trick-or-treat with costumes over snowsuits and insulated boots.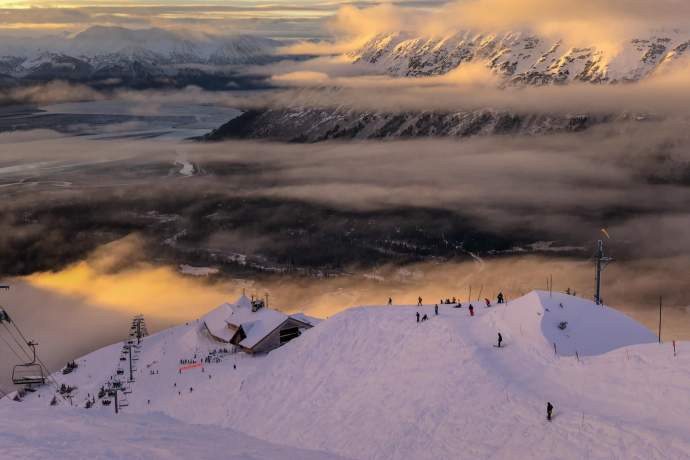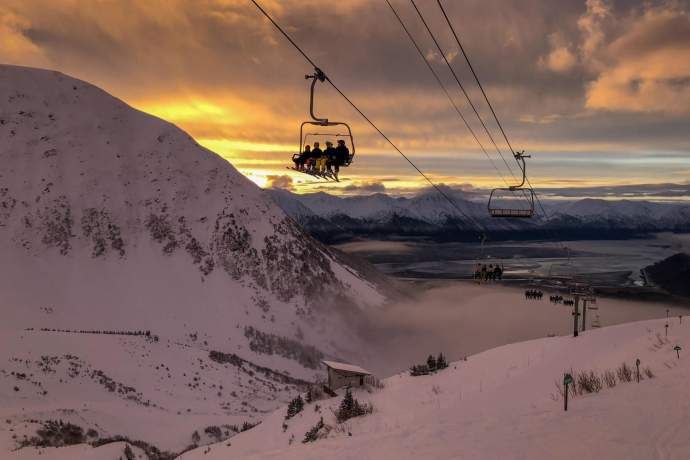 07
Solstice Season: First big snowfall to New Years Day
That first big snow dump changes everything. Like a phase shift, the world transforms to white—and can stay that way for four to five months. The days grow short, with a low angle sun feeling weak. As winter solstice approaches, true daylight lasts only six to eight hours in Anchorage, from mid-morning to late afternoon. (See our daylight page.) People hunker down.
Alaskans love the holidays and shopping. The Thanksgiving to Christmas period can feel like one continuous party.
City of Lights. Many people in Anchorage decorate their homes and trees with light displays.
Winter sports ramp up. Depending upon snow depth, people start skiing and skating, usually on trails close to home.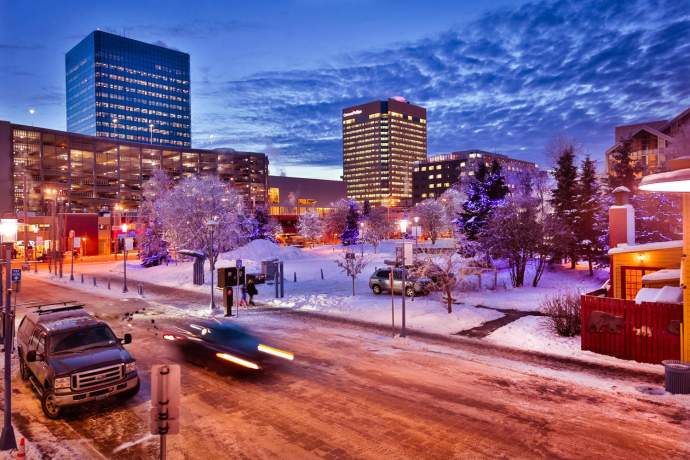 08
High Winter: January-February-March
As snow grows deeper, winter travel possibilities expand exponentially. Trails get set—often by motorsports enthusiasts—setting the stage for extensive cross-country journeys. Anchorage's urban ski areas and multi-use trails are groomed, allowing people ski, bike, jog all over town. When Arctic high pressure clamps down, we see bright clear days and frigid cold snaps. The light comes back with a vengeance, days growing longer. The season climaxes with iconic Alaskan winter events—sled dog and snowmobile races, ski marathons, and winter festivals.
The Anchorage Fur Rendezvous is a ten-day celebration of winter with dozens of activities, ice sculpting competitions, carnival and fireworks, live music and a world championship sprint sled dog race that begins and ends on a downtown avenue. Late February to first weekend in March.
The Iditarod Trail Sled Dog Race covers a thousand miles from Anchorage to Nome, with the ceremonial start on the first Saturday in March in downtown Anchorage. This event transfixes the whole state.
The Tour of Anchorage ski marathon. Hundreds of people ski across Anchorage in four races that range from 25 K to 50K, both classic and skate styles. The 50K marathon is often the second biggest citizen race in the United States (second only to the American Berkenbeiner in Wisconsin.) Usually the first Sunday in March (the day after the Iditarod ceremonial start.)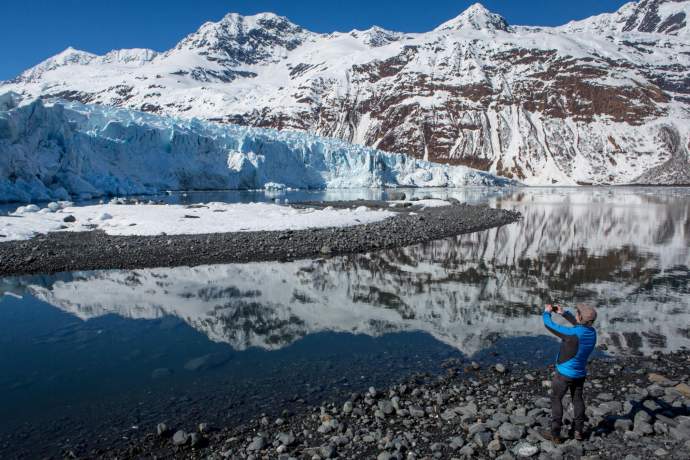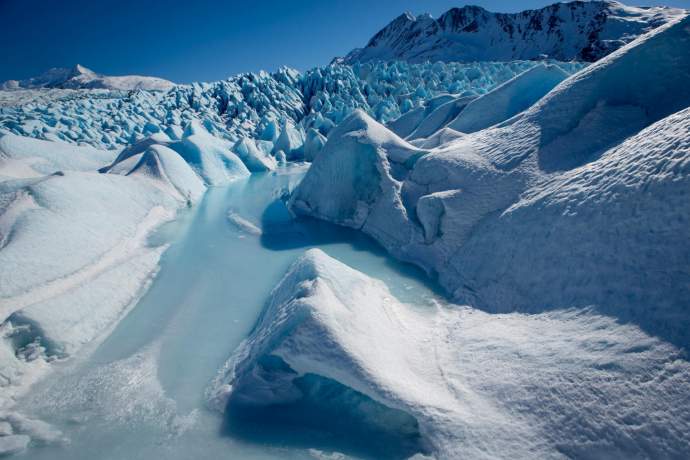 09
Springtime winter: March until breakup in April
You might call it "the sunglass season." The snowpack hits its climax as the daylight re-conquers evening. Blazing sunshine often rules the weather, with daytime thaws and nighttime freezes creating crust snow that's magnificent for winter sports and backcountry travel. Hundreds of people will be out on weekends exploring trails up river valleys and into the mountains—skiing, snowshoeing, snow biking, hiking and snowmobiling. For winter sports enthusiasts, this season can be as good as it gets.
Then—puddles begin to appear in town, and snow starts to shrink.
With 15 hours of daylight, mild or even warm temperatures and the best snow cover of the year, people often undertake epic day trips this time of year. These out-and-back journeys can range from 10 to 25 miles. Here are three especially popular trips in the Anchorage area.
Arctic to Indian traverse through the Chugach State Park for skiers.
Placer River Valley for skiers, bikers and snowmobilers.
Eklutna Lake area for skiers, bikers, hikers and snowmobilers.