Photo Credit: Rainforest Canoe Adventure and Nature Trail
Canoeing is one of the most intimate ways to explore the waterways in Alaska. They eliminate the sound of a jet boat, and they do not fit as many passengers as a raft. This means there is more time for you to feel the flow of the water and take in all of the sights and smells around you. Guided tours are available, but you must do your share of the paddling. Therefore this is a great option for the more active vacationer.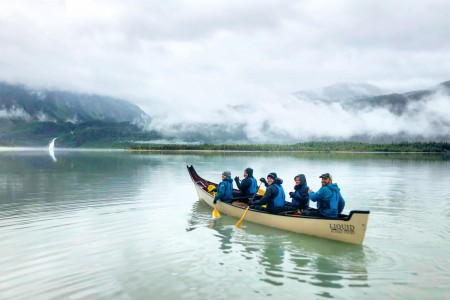 Season: May 04 to Sep 23 $159 per person 1.75 - 5.5 hrs
Get up close and per­son­al with the famous Menden­hall Glac­i­er on this unfor­get­table canoe trip. No expe­ri­ence is nec­es­sary to pad­dle across a glac­i­er-fed lake to with­in 200 yards of the gor­geous blue ice. The crowds fade away and for the next two hours you'll be sur­round­ed by water, moun­tains, and the seren­i­ty of Alaska's nat­ur­al surroundings.
$102 per person 3.5 hrs
Pad­dle all around a shim­mer­ing lake, look­ing for wildlife on the shore and rev­el­ing in the spec­tac­u­lar moun­tain views that sur­round you. Then stop off at a shore­line camp to enjoy a snack over an open fire. When you're fin­ished, you'll go on a short walk through a dra­mat­ic old-growth forest.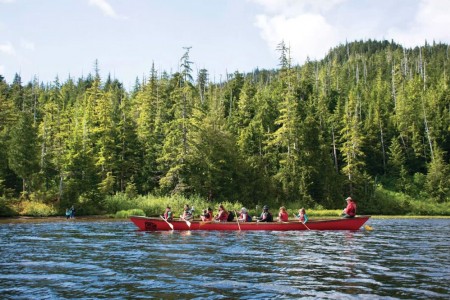 $164 per person 4 hrs
Dri­ve your own jeep along pri­vate log­ging roads that wind up into the moun­tains, on your way to an alpine lake. Pad­dle across the shim­mer­ing lake to a shore­line camp for a deli­cious snack over an open fire. Enjoy some sto­ry­telling, then go on a short nature walk through a beau­ti­ful old-growth forest.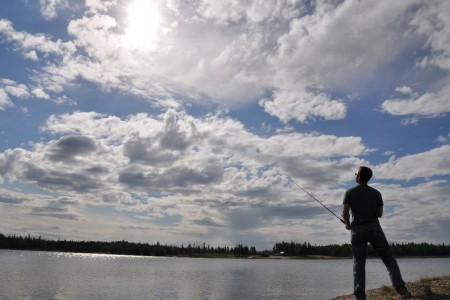 Chena Lake has two dis­tinct per­son­al­i­ties: The Lake Park and The Riv­er Park. The two parks were cre­at­ed at the same time an earth­fill dam was con­struct­ed by the Army Corps of Engi­neers in response to dev­as­tat­ing Chena Riv­er floods in 1967. The dam is 7.1 miles long and con­trols near­ly 1,500 miles of water­shed that would oth­er­wise freely flow into Fairbanks.