Feel the truly unique thrill of walking on an ancient glacier. This unforgettable experience begins with a canoe trip to the glacier, where you'll don crampons and explore the gorgeous blue ice…no experience required!
Paddle on Mendenhall Lake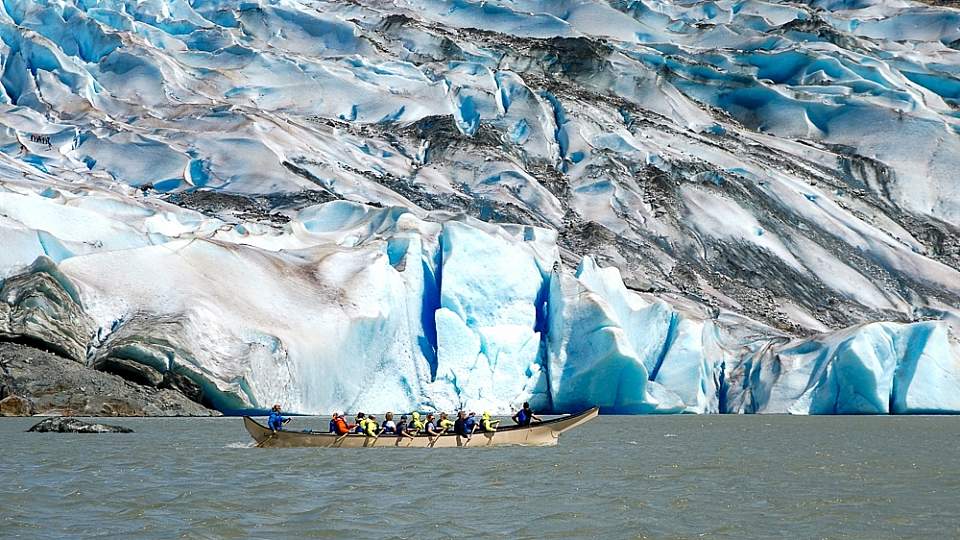 Your tour begins at the cruise ship terminal in Juneau; after being picked up, you'll enjoy a narrated 30-minute drive to Mendenhall Lake. There, you'll be outfitted with rain jacket, pants, boots, and gloves; get a safety briefing; and then climb into a canoe, which holds up to 14 guests maximum. No experience in a canoe? No problem! Anyone ages 12 and up can do it.
With an expert guide steering the canoe, you'll set off on the lake, which was formed by the melting of the glacier; soon, the crowds fade away and for the next two hours you'll be surrounded by water, mountains, and the serenity of Alaska's natural surroundings.
With each stroke of the paddle, the mammoth blue wall of this half-mile-long glacier grows larger. As you look for Alaskan wildlife—arctic terns, mountain goats, bald eagles, and more—you'll paddle past the "ice falls," where the glacier spills over the mountainside in spectacular fashion. You'll also witness the dramatic "Nugget Falls" waterfall, which drops almost 400 feet over two separate segments.
A Walk on the Glacier
Then you'll land and prepare for an even more amazing experience—walking on the glacier! You'll trade your paddles for hiking poles and set off on a trail toward the glacier terminus. After a safety briefing, you'll don crampons and start exploring with your professional guides. As the glacier is always changing, you never know exactly what'll you see—perhaps dramatic crevasses, moulins, and blue pools. But whatever you see, you'll feel the wonder of this icy phenomenon, and the mystique of walking on something so massive and ancient.
You'll also learn what was happening in the world when this ice was formed and have plenty of time to connect with—and take photos of—the inspiring beauty around you. After about an hour on the ice, you'll hike back to the canoes feeling a real sense of accomplishment—that you've done something on many peoples' bucket lists. Then you'll paddle back, knowing that you've experienced one of Alaska's most popular glaciers from a viewpoint that few ever get to see.
About Liquid Alaska Tours
Liquid Alaska Tours was founded in 2009, leading guests on a hike to a glacially fed stream just beyond downtown Juneau. Their primary focus now is getting visitors out on the mighty Mendenhall glacier.