Luxury-resort living and Alaska-style adventure co-exist beautifully at this beloved hotel just 40 miles from Anchorage. Located in the glacier town of Girdwood, this hotel sits tucked amid the Chugach Mountains on Alaska's south-central coast, and has a backdrop of glaciers, bald eagles, and towering spruce trees. Stay here and you'll be in for a treat—as well as the chance to experience some bucket-list adventures.
Lush Outside, Sumptuous Inside
The contemporary Alpine-style hotel sits in a gorgeous mountainside setting: the grounds, including a small pond and plenty of flowers, in the summer time, makes a great place for a short walk to take in the views of mountains, ocean and glaciers.
Inside, you'll find Deluxe rooms decorated with simple elegance. Burgundy and hunter green colors combine with black-and-white nature photography and cherry wood accents. The hotel's lobby and common areas include a 24-hour business center and are pretty grand by Alaska standards. There's even a stuffed polar bear on display.
The hotel's Junior Suites are spacious at 550-plus square feet. These ample rooms are found in the hotel's tower, under the Royal Suite, and take advantage of the rounded windows for panoramic views. The Serta Presidential Pillow Top mattresses promise six layers of luxury, including a down mattress top and feather pillows.
Adventure Right Outside Your Door
Indeed, the resort offers a plush launching pad for some classic Alaska adventures, all easily accessed on your own or with a little help from the concierge. The front desk can help you set up a wide variety of excursions not far from the hotel, like dogsledding, heli-hiking, day cruises, fishing, and rafting. You could choose, for instance, a guided hike to a glacier, then rope up and learn some basic mountaineering skills.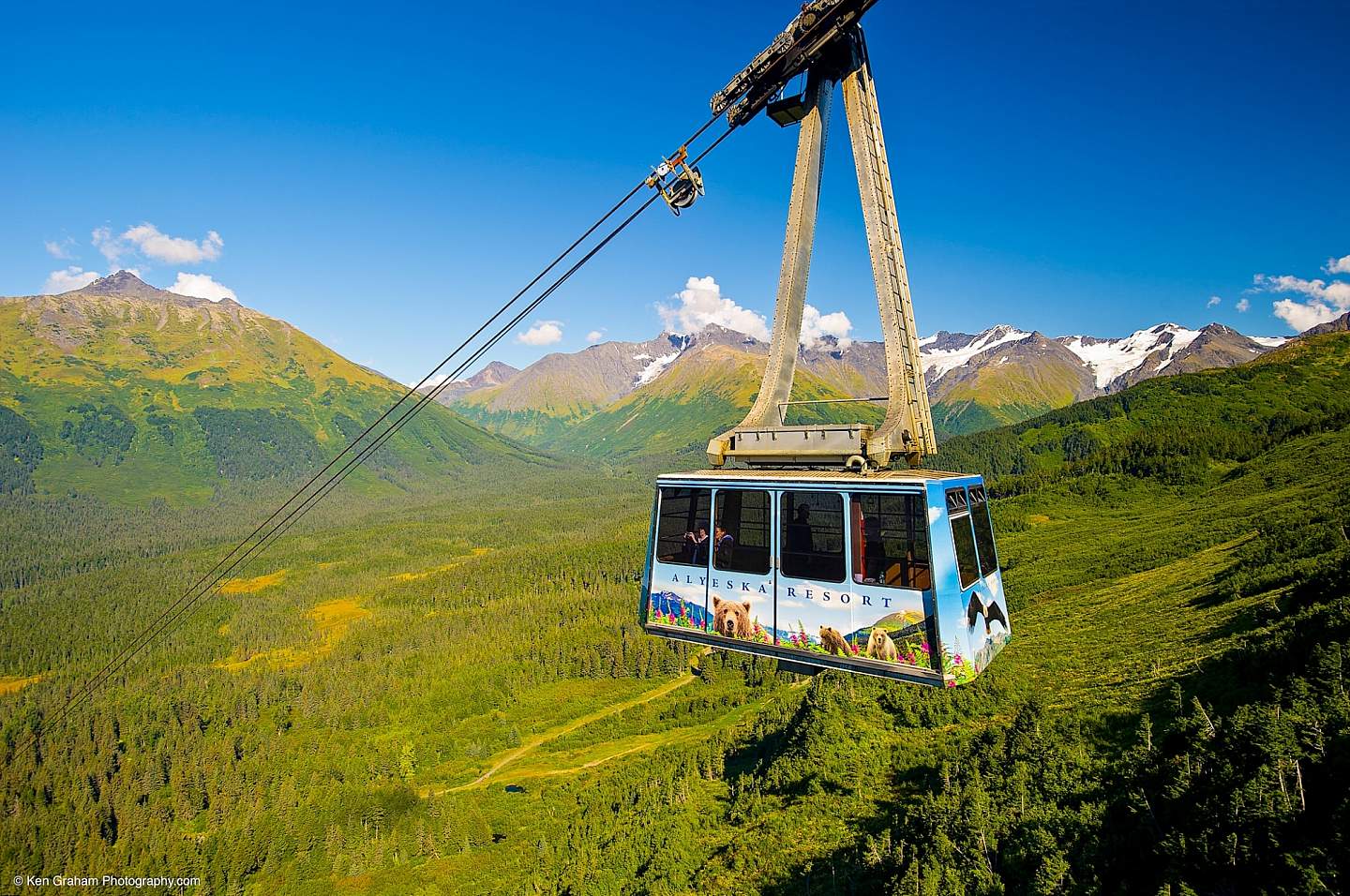 You can also ask the front desk to point you in the right direction for adventures right on the mountain, such as the many hiking, biking, (and in the winter, skiing or fat biking) trails around the hotel. The Winner Creek Trail, for instance, starts at the Tram base: It's a mellow, six-mile hike through the Chugach National Forest. At the five mile point, there's a hand-tram at Glacier Creek. Or, challenge yourself to the North Face Trail, an advanced hiking trail that winds up the face of Mount Alyeska through a series of switchbacks. This trail is a favorite in the area. When you reach the top you will be rewarded with spectacular views, as well as a free tram ride back to the bottom.
Another fun option is to rent a bicycle—choosing either a cruiser for a mellow ride around town (or along the famed Bird to Gird Trail, along Turnagain Arm), or a mountain bike (with body armor and lessons) for some thrilling, two-wheel adventures down the mountain. Or, ride the resort's 60-passenger tramway to the 2,300-foot level of Mount Alyeska and hike around the alpine tundra.
Bliss Out Back at the Hotel
No matter what you choose to do during the day, the hotel makes a fabulous place to rest and recharge afterward. The Seven Glaciers Restaurant, perched atop Mount Alyeska, has a AAA Four Diamond rating, and emphasizes locally sourced seafood, game and produce in its menu—like Kodiak scallops, braised boar, and king crab legs, any of which is nicely finished off with the house dessert, Baked Alyeska. Just be sure to reserve your table ahead of time at this favorite spot: Advance bookings even get rewarded with free tram tickets.
Unwinding at the hotel also means you get to make the most of the hotel's fitness center, enclosed with a vaulted wood-beam ceiling. Take a dip in the saltwater lap pool, or immerse yourself in the 16-person hot tub—they're both wonderful places to relax after, say, dog mushing on a glacier. The fitness center's bay windows also let you soak up a view of the pond and north face of Mt. Alyeska. Or, book a treatment at the hotel spa: Choose from treatments like the Rosemary Citron Sensation scrub or the Body Melt Back Therapy, which uses steaming-hot towels, steeped in lavender and other herbs, to help you relax and recharge for your next adventure.